Board games are back in vogue. Following are some of the new board games that will surely have people talking...and playing.
Fight Like A Turtle
Upper Deck Entertainment and the Konami Corporation have collaborated to create Turtles Unleashed (price to be determined), a two-player game based on the animated television series The Teenage Mutant Ninja Turtles. In this game, players create their own deck of Attack, Event, Character and Item cards, which represents various characters and martial arts moves in which to fight their opponent. The set contains two card decks (40 cards each), a rule book, and game mat. There are also booster packs which contain 9 cards each. The entire set consists of 55 common cards and 100 foil cards, including 10 "Super Rare" cards and 10 "Ultra Rare" cards. Additional booster sets will be released in May and September, adding an additional 100 cards to the game.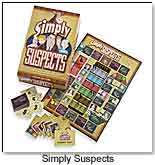 The Verdict Is In
Spy Alley Partners has created Simply Suspects ($24.95), a game in which everyone playing is a suspect. The object of the game is to successfully hide your own identity and tamper with the evidence so that it points to other suspects. If the evidence points to you when you meet the Grand Jury, you are eliminated from the game. This is a fast paced, suspenseful, and ever-changing game which commands skills of analysis, deduction and cleverness.
Off To Rio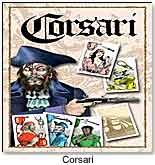 Rio Grande Games (ToyShow) has a hot new selection of games hitting the market:
In Corsari ($11.95), players are pirate captains who must recruit crews for their ships. However, in an effort to avoid fights between pirates, players can recruit from only two select groups. Once the ships set sail, pirates that do not belong on a player's ships will cause those players to lose points.
The latest version of Ricochet Robots ($24.95) can be played on its own or added to the original version. The object of the game is to be the first player to find the best routes for the robots to get to their targets. To add variety, the game also includes a 5th Black robot.
In Samurai ($39.95), each player must use their group of warriors, priests, and peasants to surround important power figures of Old Japan, thus gaining control of
them. The player who gains the highest level of dominance and support from the "powers" wins the game. The game requires careful planning and strategy.
The famous heroes of the Iliad are brought to life in Hector and Achilles ($29.95). One player represents the Trojan Army and the other player represents the Achaean army. Players use the colorful cards to engage in a series of fast-paced battles to defeat their opponent.
Goa ($32.95) allows players to test their skills in strategy and planning. The object of the game is to create the most successful business, which is accomplished by virtue of managing spices, attracting colonists and building ships and plantations.
St. Petersburg ($27.95) is a card game of beautiful living on the Neva. The game rewards players with points for the creation of impressive and grandiose buildings, but players may sabotage one another's plans by slyly obtaining the pertinent cards.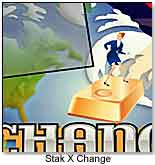 Money, Money, Money
Momentum (4) Fun Incorporated ($34.95) has released StakXchange, a game about trading commodities and making money in a market that is unpredictable. The object is the build the largest portfolio of money and contracts. Besides being a highly enjoyable game, the vivid, eye-catching graphics make it particularly appealing.
Redeem Yourself
Fans of the Redemption card game by Cactus Game Design will be pleased to hear that there is now a 3rd Edition Redemption Starter Deck ($9.99) of the game which will be replacing the 2nd Edition. The new 3rd Edition Deck contains 94 brand new biblically inspired cards and 6 key cards being reprinted from the 2nd Edition Deck. It also contains a new rulebook which covers all of the Redemption cards currently in print.
An Endless Variety of Games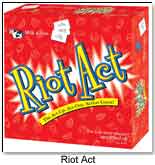 Endless Games has brought new meaning to the word "charades" with Riot Act™ ($19.99). Requiring players to act out the combined message of an "action" card with a "word" card makes for some wacky entertainment. For example, will players be able to lay an egg, sadly or walk in high heels, excitedly? More importantly, will their teammates be clever enough to decipher the answers in just thirty seconds? If so, they will be allowed to progress across the board. Riot Act will be available in stores in August, 2004.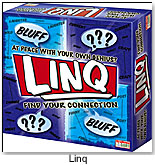 Also from Endless Games, Linq™ ($19.99), challenges players to guess what two players have been dealt the same word, thus making that pair the "linq." In order to successfully guess the linq, players will need to demonstrate skills in analysis and bluffing as well as sound judgment. The game will be available in stores in August, 2004.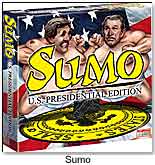 Endless Games has also created a new game that puts politics in the same arena with some wrestlers. In Presidential Sumo™ ($9.99), players can place their favorite democratic hopeful in the Sumo ring with President Bush. The game requires tactics and intuition, and the ability to outwit their opponents. Each player controls one Sumo wrestler using three techniques: Charge, Counter and Defend. The winner of each hand pushes the loser further out of the ring. The first player to push his opponent outside of the ring becomes the new President of the United States. Presidential Sumo will be available in stores in August, 2004.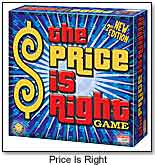 The Price Is Right™ ($19.99) is yet another addition to the Endless Games collection. Just as in the popular television game show, players can compete in a qualifying round to see if they can most closely guess an item's price. Once all ten solo games have been completed, there is a Showcase Game leading to the "Showcase Showdown." The Price Is Right will be available in stores in August, 2004.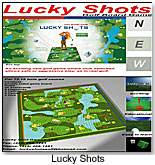 A Hole in One Roll
Lucky Shots by Lucky Shot Games ($29.95) (ToyShow) is an exciting game that combines the use of dice with the concept of golf. Players select a club to determine a particular shot distance, and then roll the dice - one for distance and another for direction. The course presents challenges as well as hazards. All types of formats can be played, such as match and skins.
Social Interaction in a Box
Quirky, kooky and laugh out loud challenges such as having to make the sound of a hairball, pantomiming a wedgie and getting blindfolded and taste-testing merlot make up Rigamarole ($34.95; age 16 and up) (ToyDirectory) by Hidden Talents, LLC, a new board game that continues the popular "variety game" trend. Rigamarole takes the variety to the next level with five categories of fresh new games that both challenge the intellect and tickle the funny bone.
Designer Board Game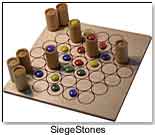 More a designer game than a traditional family game, SiegeStones ($24.95) by Live Oak Games (ToyShow) is a new abstract strategy game featuring simple rules and a classic looking wooden board. Played with wooden towers and brightly colored stones within a grid of circles, players take turns either placing a tower or a stone in one of the circles. A mix between chess and chinese checkers, the interaction between the pieces is the crux of the game.

Let the Battles Begin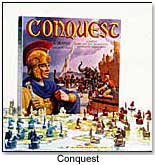 For those who have been drawn to the game Risk but frustrated by its shortcomings, look no further. Donald Benge's Conquest (ToyShow) (ages 10 and up) is a strategic war game that brilliantly depicts the adventure and calamity of medieval warfare. The game board consists of a colorful medieval map over which players must maneuver their pieces in an attempt to gain the best positional advantage and to capture the pieces of their opponents. While doing so, soldiers can ride in chariots and ships, as well as on the backs of elephants. Players are given 20 moves per turn, but whenever a capture is made, the opponent is given a chance to retaliate. As is the case with many of the world's best games, Conquest is easy to learn but may take a lifetime to master. For the past several years, it has been among the most reviewed and acclaimed games in Germany. There is a two player version ($20.00, or $47.50 for metal piece edition) and a four player version ($32.00, or $85.00 for metal piece edition). The game also comes with a puzzle book, which is designed to increase the skill of players by teaching them the many methods of tactical maneuvering necessary to win.