War is a thousand stories of courage that converge into a single victory or defeat. Today, that rich history is being retold in die-cast metal, with the latest technologies being used to preserve iconic fighting machines from the last century to last year.
Saving the Sherman´s Roll in History

Where Corgi (ToyDirectory,ToyShow) goes, so goes the die-cast industry. Corgi has turned the clock back to D-Day with a precision that will enthrall World War II buffs. Sticklers for accuracy will applaud the exhaust stacks on the 1:50 scale M4 A3 Sherman ($39.99, ages 14 and above) that helped secure the allies´ victory at Normandy. Corgi´s Shermans arrive in two D-Day waves: 741st Tank Battalion and Company A, both with vehicle numbers painstakingly painted on. Notably absent are the white stars and bumper identifications, a decision that is accurate for the Shermans that conquered the Easy Red flank of Omaha Beach.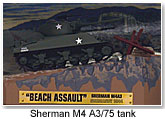 World Wars to Remember
Matchbox has recreated a mix of icons from both World Wars, including the 1:48 scale Fokker DR1 Biplane, 1:72 scale Republic P-47D Thunderbolt and 1:72 scale Sherman M4 A3/76 tank. The models are displayed in a battle scene diorama ($14.99 each; ages 14 and above).
Return of the Liberators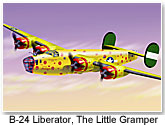 Since the Franklin Mint was founded in 1964, it has become a leader for adult die-cast collectibles, totaling $750 million in annual sales. The Armour Collection, based in the United Kingdom, has become one of the Franklin Mint´s most popular product lines, with a new 1:48 scale B-24 Liberator series due out in July. Each plane (price not yet determined) accurately depicts actual World War II insignias and nose art, recreating the famous The Dragon and His Tail, Night Mission, The Squaw and The Little Gramper themes.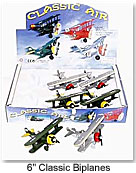 Fun for Non-Collectors
Sailing (U.S.) International Corporation (ToyDirectory) has produced handsome planes whose propellers spin after their landing gear are rolled backwards and then released. The 1:60 scale 6" Classic Biplane ($2.99, ages 11 and up) editions are made of die-cast and plastic parts, come in green or silver and are a fitting tribute to WW I aerobatics.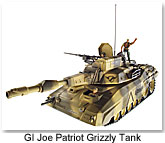 Welcome Back Two Modern Gladiators
Hasbro (ToyDirectory) offers make-believe fun for kids with military budgets large or small. GI Joe´s Patriot Grizzly Tank ($34.99;ages 5 and up) rolls off the assembly line with mechanized sound effects and the largest dimensions in the toy store. GI Joe turns 40 this year, and after a 15-year hiatus, Micro Machines is celebrating with the Mission Tank Terrain play set ($9.99). Pull back the tank and then unleash it to wreak havoc on a battlefield teeming with mines and impetuous enemies.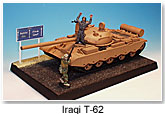 Monument to "Operation Iraqi Freedom"
Serious collectors will marvel at the detailed resin and metal materials incorporated into the latest 1:48 tank models offered by On-Site Enterprises. Extra authenticity was built into the Iraqi T-62 ($89.95) with lower suspension and track parts. Merely 1,000 of these models have been produced, and each arrives in a richly detailed diorama setting accompanied by soldiers.
By Land & Air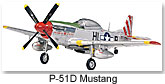 AUTOart (ToyDirectory) is synonymous with sleek sports cars, but the Orange County, California company is also adept with military vehicles (price yet to be determined). With the addition of AEROart, it is poised to take skies by storm. The 1:24 scale die-cast P-51D Mustang is patterned after Captain John Voll´s "American Beauty" (price to be determined). In its cockpit, the 21-year-old aviator downed eight German fighter planes during his 57 missions in seven months.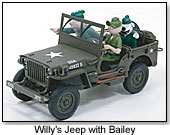 Stan and Ollie Ride Again!
Gateway Global´s (ToyDirectory) GATE division injects patriotic fun into their four 1:18 scale Willy´s Jeep models, featuring Beetle Bailey Jeep Adventures, Laurel and Hardy Jeep Adventures, Laurel and Hardy Go to Sea, and a solitary unmanned Willy ($29.99; ages 14 and up). Gate´s die-cast Jeep is outfitted with plastic accessories and features a block engine under the hood. Both serious and amateur collectors will be reluctant to disturb the packaging, illustrated with amusing cartoons. Figures of Stan and Laurel in sailors´ uniforms and civilian outfits, Beetle Bailey, Sarge and his dog Otto are also included.