Board games are a great way for families to spend quality time together, and, for a few precious hours, become millionaires, detectives or their favorite television characters. But with the advent of video games, dice and play-boards lost some of their appeal. But in games as in life, everything old is new again.

Simple Yet Fascinating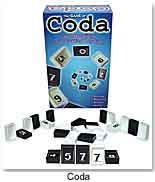 Winning Moves Games (ToyDirectory) offers simple yet imaginative board games that the entire family can enjoy. Coda ($9.95; ages 8 and up) is a board game that enjoyed instant success when it was launched in Japan last year and is now being introduced to the U.S. As the name implies, it´s a code-breaking game where players try to crack their opponents' number code before their own number is revealed. A simple, but extremely fascinating game of strategy and deduction.
The Pit 100th Anniversary Special Edition ($15.95; ages 7 and up) features two decks of cards: the original ones from 1904 as well as a completely new deck with new commodities to trade in the 2004 version. Choose to play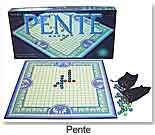 the 1904 or 2004 stock market. Also includes an interesting booklet about the history of the game.
Pente (14.95; ages 8 and up), the classic game of "capture and 5-in-a-row," is back. It features the original board game design and beautiful colored stones. Players place their stones, one at a time, on the grid of the board. A player wins by capturing ten stones or placing five of their own stones in a row.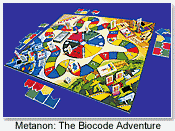 DNAdventure
Kids can learn about science and DNA with Metanon: The Biocode Adventure ($29.99; ages 5 and up) by Ksero (ToyDirectory). Players blast off into space to find themselves stranded on the planet Metanon. In order to return home, they must find three missing items and put them in their spaceship, but first they must collect Biocodes ™ and put them together in the right shape and color combinations.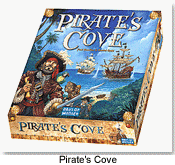 Adventures on Land and Sea
Days of Wonder's (ToyDirectory,ToyShow) newest board game, Pirate's Cove ™ ($49.95; ages 8 and up), has players battling and defeating each other for control of islands, then strengthening their ships to sail faster and carry more treasure than their opponents. Terra ($19.95; ages 8 and up) requires players to compete and collaborate to save Earth from disaster. Points are scored for jointly solving a crisis, but players must also keep as many precious resources to themselves as they can in order to win the game.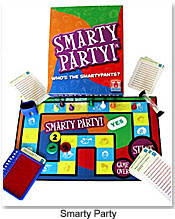 Family R&R
New from R&R Games (ToyDirectory, ToyShow) , the fast-action game First Hand ($9.95; ages 6 and up) requires players to use their own hands to match the hands pictured on each game card. The slowest player becomes the new judge for the next round. The player with the least cards wins. It's all about coming in last in Smarty Party ($24.95; ages 12 and up), where players draw category cards and try to come up with all the answers on each card. Players answering incorrectly get a penalty; those who answer correctly get to wear an actual little pair of pants called the Smartypants. Last player to wear the pants wins.