Video game developers weave stories through electronic mazes of traps, mutants and lush landscapes. These new worlds can be educational for younger children, such as Scholastic's I Spy Challenger and Learning Company's Strawberry Shortcake video games. For older children, wild terrains and vivid details make video games like THQ's Tak and the Power of Juju, Electronic Art´s Looney Tunes: Back in Action and Microsoft's Grabbed by the Ghoulies sensationally stimulating.
From Joystick to the Small Screen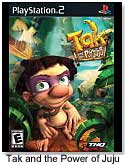 A collaboration between THQ, Inc. and top-rated cable network for kids, Nickelodeon, has led to Tak and the Power of Juju (Rated 'E' for Everyone; available for Sony Playstation 2 ($39.99), Nintendo GameCube ($39.99) and Nintendo Game Boy Advance systems ($29.99), the first of future video games that will morph into TV shows, shifting convention into reverse. In this game, a single player helps Tak, a Mayan-ish munchkin, recover the powerful moonstones of the Moon Juju Goddess from sinister Tlaloc. Ever resourceful, Tak uses his noggin and a rhino as a battering ram and gains extra protection by flapping around in a chicken suit. His tribal buddies Shaman Jibolba, often-inept Lok and enemy henchmen Pins and Needles increase the squawk and suspense in the rollicking jungle, dark canyons, humid temples and rough dunes.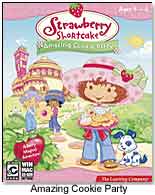 Strawberryland Reopens for Business
The Learning Company, a Riverdeep Interactive Learning Limited subsidiary, has cast Strawberry Shortcake and her equally adorable friends and pets in Strawberry Shortcake's Amazing Cookie Party ($19.99; ages 4-6; Win/Mac compatible). The game goes beyond cartoon clichés with a treasure trove of cookie recipes and, most of all, four fun activities, including a treasure hunt and cookie-making celebration. At play, preschoolers hone their strategic thinking, listening and spatial reasoning skills. This is an opportunity to tap into Strawberry Shortcake's recent 80´s retro revival.
Friendly Fright
Ninja imps, boxing skeletons and peg-legged pirates are just a few of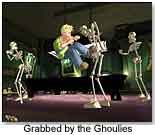 the 25 kinds of Ghoulies disrupting Kid Cooper's efforts to rescue his girlfriend, who has been Grabbed by the Ghoulies ($39.99; Rated E; Microsoft Xbox), a new video game from Microsoft. In this energetic game invented by the creators of Donkey Kong, the action canvasses 100 scenes filled with dirty tricks, dangerous traps and disastrous setbacks as players try to avoid electrocution, evil curses and rabid bites. They venture forth with access to 15 power-ups, including Power, Speed, Energy and such Super Weapons as "miniature coopers." This fiendishly, upbeat game can be chilling, but always in an innocuous, wacky way.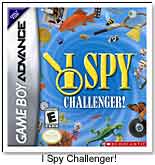 Eaglet Eyes
Scholastic, the renowned book publisher for children and teens, has entered the video game market through I Spy Challenger ($29.99; ages 6-10; Game Boy Advance). Following the deciphering million-selling CD-ROM, award-winning book and now HBO Family television series, I Spy Challenger the video game is loaded with 84 levels of play, secret codes, wild cards, fun activities and, of course, hidden objects. The pace is fast and the riddles develop the grammar school child's thinking ability anytime, anywhere.
Broomsticks, Do-gooders and Exploding Cigars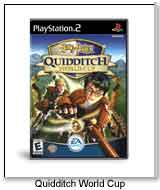 Scholastic publishes the best-selling Harry Potter books, but the orphan's video games are Electronic Art's domain. Harry Potter: Quidditch World Cup ($39.99; Rated E; Xbox, GameCube, PlayStation 2; $29.95 – PC, Game Boy Advance) shows why. Besides featuring competitions between the four Hogwarts House teams, there are also nine national teams, including USA, Japan and Bulgaria. EA has also translated LEGO's Bionicle ($39.99; ages 6 to 12; PlayStation 2, GameCube, Xbox, PC-CD) into a puzzling game, featuring six "Toa" heroes venturing across the perplexing island of Mata Nui as they battle to squelch the evil designs of Makuta. The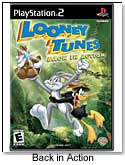 PC-CD version delivers superb 3D graphics, pushing the Intel Pentium 4 Processor with HT Technology to its limit.
Based on the movie, the EA video game Looney Tunes: Back in Action ($39.99; Rated E; PlayStation 2, GameCube; $29.95 - Game Boy Advance) is right on target, thanks to such interactive attractions as the alien-populated Area 52, Warner Bros. Studios lot and the steaming jungles of Africa. With Bugs Bunny and Daffy Duck, the player is always in fun company in an always-changing adventure in search of the Blue Monkey Diamond.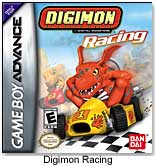 No Lollygagging Allowed
From the sleepy hollows of Cypress, California screams Digimon Racing ($29.99; Rated E; Game Boy Advance) from Bandai. Up to four players burn rubber with their Digimon heroes behind the wheels of blazing karts. They can also take the race in cyberspace with the Game Boy Advance Game Link Cable.