The video game industry has mastered the art of bringing America's favorite characters to the gaming screen, to be controlled exclusively by means of one's fingertips. Here are some of the latest character-based video games:
Bandai's On the Right Track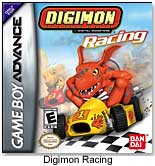 In Bandai's Digimon: Start Your Engines ($29.99, GameBoy Advance), players will recognize the ever popular Digimon from the animated television series as they blast their favorite characters along in an off road racing bonanza. There are over 15 tracks which feature various cities, jungles, and even glowing perils such as hot lava fields. A number of game modes are also included, such as Single Race, Cup Race, Boss Challenges and Time Trial. The game accommodates up to 4 players; the game can be connected with Advance Game Link Cable for head to head action.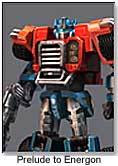 Transforming the Market, Atari-Style
Nearly twenty years old and still running strong, Transformers have made their way as the subjects of Atari's latest videogame, Transformers Armada: Prelude to Energon ($49.95, PlayStation 2). This third person, three-dimensional action adventure enables players to control one of three autobots. The robots can travel by foot or switch to vehicle mode for more efficient travel. As in the series, the ultimate goal of the game is to prevent destruction by defeating Megatron warrior and his army of Decepticlones.
Electronic Arts "Spells" Harry Potter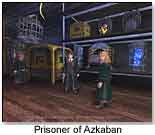 Electronic Arts has continued to make sure that Harry Potter fans have more video game options than ever. In their latest, Harry Potter and the Prisoner of Azkaban, (Available for PlayStation 2, Xbox, Nintendo Game Cube, Gameboy Advance, and PC CD-ROM. The estimated suggested retail price is $29.95 to $39.95, depending on the game system) players can play as Harry Potter himself or his friends, Ron Weasley and Hermione Granger. The trio will continue to hone their skills, learn new spells and face new opponents, such as the escaped convict, Sirius Black as well as the guards of the Azkaban prison. Unique features about this game involve the ability to fly on a Hippogriff as well as engage in various two-player challenges.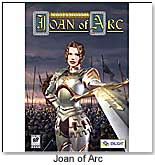 Enlight Goes Medieval
Enlight has brought the Hundred Years' War between France and England to the gaming screen in Wars and Warriors: Joan of Arc ($44.95), for the Xbox. The game allows players to experience the intense and crude combat of the 15th century, where they can command military units as Joan of Arc did in order to lead the resistance to the England's attack on France.
Activision's Got a Funny Green Thing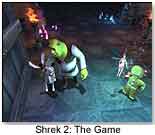 Activision has made sure that once Shrek fans see the highly anticipated sequel to the movie, which releases on May 21, 2004, they can continue to get their fill by playing Shrek 2: The Game (PlayStation and Xbox). This game brings Shrek and his friends on an exciting new quest. While on route, Shrek and the crew must solve challenging puzzles as well as fight a slew of monsters. The game features scenes from the movie as well as new locations and characters.
Let the Battles Begin
Nintendo has created an appealing follow up to their popular Pokémon Stadium and Pokemon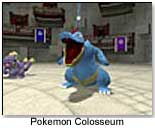 Stadium 2 games for Nintendo® 64. In Pokémon Colosseum ($49.99), players have the opportunity to upload more than 200 Pokémon from their Game Boy® Advance games (Pokémon Ruby and Pokémon Sapphire), and battle up to three of their friends through Nintendo GameCube. There are a variety of arenas to choose from; players can enter their Pokémon in a tournament or battle their opponents in four-player multi-battles. They can also team up with a friend and combine their strengths in two-on-two battles.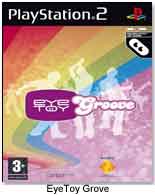 Sony is in the Groove
In 2003, Sony released the highly successful EyeToy (PlayStation 2). Now, they have released EyeToy: Groove, a promising and innovative follow up. Like the original Eye Toy, EyeToy: Groove is the first game of its kind in that, due to a USB camera which links to a PlayStation 2, players appear live on the television screen. However, in EyeToy: Groove, players are awarded points based on how well they dance, specifically on their technique, style and timing. There are 25 licensed songs to choose from.
Sony's In the Game
With eleven extensive gameplay options, MLB 2005 ($39.99, PlayStation 2) is perhaps one of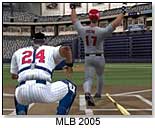 the most extensive baseball videogames ever created. One of the gameplay options gives players the complete ability to run a baseball franchise. Another option allows players to watch games unfold as they "call the shots" or "jump in" and make game altering decisions. With regard to playability, the pitcher/batter controls and interfaces have been redesigned, giving players the option to custom adjust their controller options. There is also game consultation and motion capture from more than 24 Major League All-Stars, as well as commentaries from ESPN's Dave Campbell and Sand Diego Padres' Mattt Vasgersian.