Whether it's a visit to Aunt Hildie's or a trip to Europe, travel is a great way for families to enjoy quality time together. But a long car ride or flight can be tedious and downright boring for kids—not to mention aggravating for Mom and Dad.
From snapping crocodiles to a card game that helps kids developing math and reading skills, here's a selection of travel toys that'll have families packing their bags and saying Bon Voyage! Armed with these toys handy for travelers, parents can keep kids engaged and content—anytime, anywhere.
Pieces Stay Put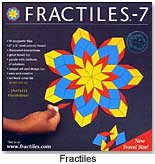 Using angles that are based on the number seven, Fractiles (ToyShow) ($19.95) allows kids to make their own aesthetically unique designs with brightly colored, flexible magnetic tiles. By using repeating and non-repeating patterns, kids can create everything from starbursts, spirals and butterflies to spaceships, 3D illusions and more. A record album-style package makes it easy to store and save designs on the 8" x 8" steel activity board.
Gone Crazy Yet?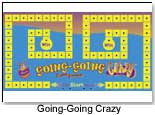 A board game that's safe for the car? Going-Going Crazy (ToyShow) has it…and kids want it! The new Going-Going Crazy Travel Version helps make travel more enjoyable for the entire family. Complete with a handy carrying case, the game simply folds in half when put away, and includes a belt clip so kids can carry it with them wherever they go. Players roll dice to determine how many spaces to move and spin the spinner to find out which way to go. The first player to land on win, either forward or backward, wins!
Rubik's 4x4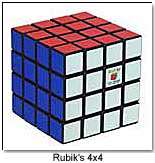 Just when users thought they had mastered the original, Rubik's 4x4 ($19.99; ages 8 and up) by Winning Moves Games (ToyDirectory) is now bigger and more challenging than ever, with four cubes per side instead of three. Turn the backseat into a dentist's office with Crocodile Dentist ($11.99; ages 4 and up). Players can find the tooth that's bothering the poor old croc; choose the wrong tooth and users will be surprised! Every time he opens his mouth, a new tooth will act as the trigger. No loose parts means no lost parts.
When All Else Fails…Turn Up the Tunes!
Madacy Kids' (ToyShow) Crayola™ Music Box (ages 3 and up; $13.98), a two-CD set, offers new versions of children's favorites with a variety of musical styles, including a spicy calypso Baa-Baa Black Sheep, a rousing country hoedown version of Do Your Ears Hang Low?, and many more. Includes a sing along lyric book and 50-page coloring book with 8 crayons.