The post-Eisenhower era still deeply venerated the WWII military in 1964 when Hasbro introduced America to G. I. Joe. The Action Figure market segment , currently estimated at about 1.4 billion per annum in the United States, was essentially born with this perennial character.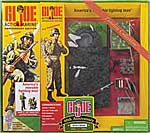 The changes in G. I. Joe thematically and technically over the years created the market today populated by Yu-Gi-Oh!, Marvel Legends and Return of the King figures. And Joe is still there, his value now coming full circle with the re-release of the seminal G. I. Joe special edition figures ($39.99), authentic reproductions of the original four G.I. Joe figures launched in 1964.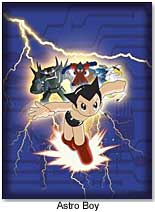 But G. I. Joe has a challenger to the action figure throne, not only in terms of longevity and nostalgia, but in the direction the market is moving in the 21st Century: Astro Boy.
Created in the fifties by Osamu Tetzuka, Japan´s "God of Comics," and the first Japanese show imported to the U.S. in 1963, the animated Astro Boy quickly became one of the country´s top-rated syndicated series.
According to the original plot, the robot Astro Boy, a sort-of Pinnochio of the future, was created in 2030 by a scientist mourning the loss of his son to a tragic accident after neglecting the boy in favor of his career.
Endowed with super-human strength, rocket-powered flight and amazing perception abilities, Astro Boy fights mankind´s worst enemies: rebellious robots!!
The Astro Boy media assault in 2004 will include 51 half-hour full color action-adventure episodes on DVD from Manga Entertainment, Astro Boy, the new Sony animated series Saturday mornings on Kids´ WB, and the Columbia Pictures Astro Boy film collaboration between Sony and Jim Hensons Muppets.
Bandai America hits shelves this summer with Astro Boy action figures and playsets. A deluxe, 11-inch electronic interactive Astro Boy sports features such as X-ray eyes and a glowing chest (List price & image not available at press time).
There is even an electronic role-play accessory in the shape of Astro´s arm to give kids the character´s fist-punching action ability, with circuitry hidden in interior compartments.

´´There´s definitely a nostalgia wave going on,´´ said Christina Charasse, senior account manager for toys at NPD Group. The young boys who watch action cartoons and play video games grow into generations of teenagers and adults who outgrow the demographic for toys, but retain the identification with their childhood heroes.
With Japan as the world´s leader in creating popular action figures, Charasse believes it´s "the multitude of characters that works´´ for the Japanese figure manufacturers.
For struggling retailers, it doesn´t hurt to have products supported with plenty of video, TV and film programming.
"The release of an action-figure-intensive film can bolster the entire market by 10 percent or more," says Michael Redmond, a senior analyst at NPD.
Cross marketing entertainment programming and toys is the current cultural confluence of the industry. Which begs the question, "From whence will the next G. I. Joe come?"
Enter HellBoy!
Set to launch with the release of Revolution Studios´ film production of Hellboy, Dark Horse (ToyDirectory) debuted in March a new collectible action figure ($165 each) based on Mike Mignola´s Hellboy comic book character, created by designer Eric So, in the "Hong Kong" style of vinyl action figures.
Mezco Toyz´ Hellboy action figure ($40) is a highly detailed deluxe version of the movie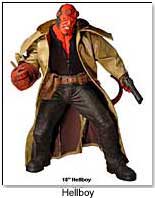 character. The 18" figure has intricately sculpted features with highly realistic accessories. Hellboy wears a cloth jacket with buttons and buckles and his boots have leather tooling and laces. He´s armed with wooden rosary beads and a horseshoe that tucks into his belt loop. Hellboy´s trusty Samaritan secures into a removable holster, which straps onto his belt. The pistol´s chamber spins and the bullets can be removed.
The dark sensibility and alternative sensibility of Hellboy and his cohorts illustrates the outre nature of many of the new action figure and collectible market figures. Appealing to increasingly sophisticated generations reared on cartoons and video games developed to intrigue adults as well as their children, the new breed embraces the notions of society gone bad, rampant evil rising to threaten civilization and a refugee sensibility among the youth.
Dave Gonzalez´s Homies line of figurines reflects the new "streetwise" direction that ermits toy creators to deliver play objects that can form an alternate community to the troubled world for modern children.
There are retail shops springing up around the country such as, San Francisco´s Kidrobot and Los Angeles´ Munky King, that cater to the alternative aesthetics of this breed of designer toys. This year´s Toy Fair featured a section devoted entirely to boutique manufacturers.
As Wal-Mart challenges Toys-R-Us and Target with below-cost toy pricing to induce parents into the stores in the hopes they will make other purchases while they are there, specialty shops may need to redefine themselves as purveyors of unique products.
Action figures and Collectibles have been evergreen markets, but with changing norms and an overwhelming number of new toys introduced each year, retail buyers will need to be increasingly savvy about their product mix and local markets preferences.