Whether on a long flight, road trip, or even a quick jaunt to a friend's house, children need the right toys to prevent restlessness and boredom. Here are some kid-tested/parent approved recommendations for making each mile as pleasant as the last:
Micro Music For the Macro Miles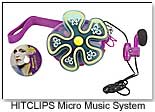 No matter where you are, no matter where you're going, there is room for the HITCLIPS Micro Music System by Hasbro ($14.99; ages 5 and up). The tiny music system has been improved for 2004, with a funky new look and better sound quality.
- The silver dollar sized, wearable system plays interchangeable 60-120 second clips of today's most popular songs.
- The system plays music both in the format of the original square clips and the new round ones, so kids can add to their current collection of HITCLIPS.
- The package comes complete with a micro music disc and disc case.
Just Say The Word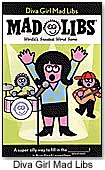 That wacky word game, Mad Libs by Price Stern Sloan ($3.99; all ages), is back with some great new themes including Diva Girl Mad Libs and The Mad Libs Worst-Case Scenario Survival Handbook.
- For children ages 5 to 8, there is also Mad Libs Junior which includes titles such as Sports Star, Super Silly, and Alphabet.
- Mad Libs is a great way to inspire kids to read and learn the various parts of speech.
A CD Or Not To Be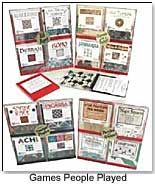 Games People Played ($6 each or $22 for a set of four; ages 6 and up) by Center for Hands-On Learning is a collection of 16 mini games from around the world that can easily be brought, well, around the world. This is because each game is conveniently stored in a case similar to those used for compact discs.
- Among the many games are Achi, a game from Ghana that is similar to tic-tac-toe; a game from Mexico called Coyotes and Chickens, which pits one coyote against 12 lambs; and a "race game" from Egypt called Snake Race.
- Each game comes with a distinctive history of that particular game.
Nine Is Enough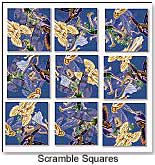 Lewis and Clark Scramble Squares ($9.95; ages 4 and up) by b.dazzle, Inc. (ToyDirectory), was the winner of the iParenting Media 'Best Gift Product' Award for 2004. There are only nine pieces to each puzzle, but don't let that small number fool you. The beautiful puzzles are said to be as challenging as a 1,000 piece jigsaw puzzle, but without the pieces to lose or the mess.
- The puzzles come in a variety of topic categories, many of which involve educational subject matter, including nature, history, culture, geography, science, technology, occupations, hobbies and activities.
Put A Lid On It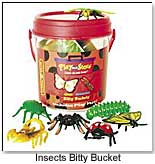 If all toys came with their own portable containers, there might just be more happy parents out there. The idea behind Play and Store Bitty Buckets by Action Products ($3.49; ages 4 and up) is that every toy has its own place, making it extremely easy to clean up and go.
- Each bucket includes an array of miniature and colorful toys as well as a playmate.
- The Bitty Bucket line of Play and Store products consists of over ten Bitty Bucket styles.
- Themes include dinosaurs, wild animals, sea life, insects, construction, space, firefighting heroes, and more.
The Kid's Got A Flick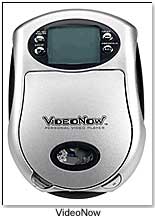 Perfect for car rides, the VideoNow Player by Hasbro ($49.99; ages 6 and up) is a pocket-size black and white personal video player designed just for kids.
- There are no wires to hook up!
- LCD screen features sixteen levels of grayscale and a high quality picture
- Kids can enjoy up to thirty minutes of their favorite shows such as America's Funniest Home Videos, as well as new episodes of American Idol, Fear Factor, I love Lucy, SpongeBob Squarepants, Jimmy Neutron, etc. ($7.99 each). In addition, kids can now watch feature length films such as Cody Banks, Snoopy Come Home, and A Boy Named Charlie Brown (14.99 each).
Better, Brighter Video Game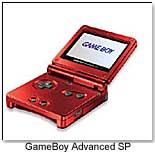 The Gameboy Advance SP by Nintendo ($99.99)has more light and bolder graphics than the Gameboy Advance, making it an ideal choice for kids (truth be told, or adults) even during the darkness of a nighttime flight or drive.
- Current popular video games include Shrek 2, Harry Potter and the Prisoner from Azkaban, and Mario vs. Donkey Kong.
Spiderman Earns Frequent Flyer Miles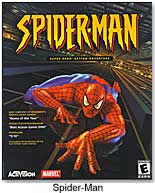 Okay, maybe you can't play this one on an airplane or in a car (unless there's a TV), but Spiderman® TV Games ($20), the product of a collaboration by JAKKS Pacific, Inc. and Marvel Enterprises, is an exceptional travel game.
- All of the hardware is built into each lightweight handheld unit, which can simply be plugged into the audio and video jacks of any standard television set.
- The unit contains five original Spiderman games, all programmed into the unit, so there are no game discs to account for or possibly lose.
Are We There Yet?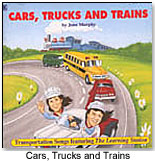 Kimbo Educational (ToyDirectory) offers Zip-A-Dee-Do-Dah tunes, compiled into a CD. "Car Songs: Songs To Sing Anywhere" and "Cars, Trucks and Trains" ($14.95 each), musically appease children that find themselves sliding down the backseat of the car. The family road trip can become cheerful and upbeat with classic favorites like Puff the Magic Dragon and Supercalifragilistic…
-"Car Songs: Songs To Sing Anywhere" includes 22 family and traditional songs
-"Cars, Trucks and Trains" includes 13 longer, educational songs that teach kids about the sounds and working compartments of vehicles. "Cars, Trucks and Trains" highlights the importance of wheels and how transportation affects our everyday lives, with lively songs like Lizzie the Snowplow, Cement Mixer and The School Bus
The United States in a Backpack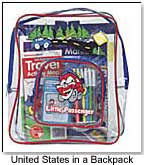 The people from Universal Map have created a must-have for traveling children. The contents in the Sparky Backpack ($21.95; ages 8-12) will entertain children for hours, as well as provide valuable and educational lessons in U.S. geography. The attractive, transparent backpack comes with books containing crossword puzzles and other games, as well as activity maps, markers, and geography playing cards. What is equally as impressive as the activities themselves is the quality of the materials provided. This lightweight, easy to store product is perhaps the next best thing to a rolling classroom.