When travelers quip that getting there is half the fun, they probably have not traveled before with an infant. Colorful toys and other mentally stimulating distractions are in order to make for a smooth flight, train ride or long road trip.
Several toy companies have come up with some great ideas to stimulate an infant´s mind during travel time.
Manhattan Toy Co. (ToyDirectory)

The Heart Brings You Back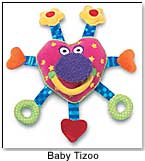 A member of the Whoozit characters, Baby Tizoo ($10; 0-18 months) features a heart-shaped face, bright colors, shapes and contrasting features. Made of soft velour, Baby Tizoo attaches to most strollers, carriers and car seats, or can be tucked easily inside a purse or diaper bag.
Accommodations With a Gym
Folding flat for easy transport, the Whoozit Gym to Go ($50; 0-9 months) is a great toy to take along, with a convenient outside pocket for diapers, bottles and other necessities. The three-dimensional play gym features a mirror, bright colors and bold patterns to stimulate baby´s visual senses. Additional toys are attached onto the two arches at different heights to encourage reaching and exploring.
What a Card!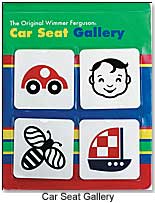 Containing 10 reversible cards with both black and white and color graphics, the Wimmer-Ferguson Car Seat Gallery ($13; 0-12 months) cards help babies discover light and dark contrast and begin pattern recognition. A convenient hook and loop strap allows for convenient attaching to either a front- or rear-facing car seat.
Baby Einstein (ToyDirectory)

Make Beautiful Music Together
Symphony Sounds Musical Pals Assortment ($7.99 each; 0-3 years) lets parents and babies choose from three characters, straight from the Baby Einstein videos and DVDs. The perfect size for a little pair of arms, these huggable critters play classical music whenever squeezed. The Dragon plays Mozart, the Bunny plays Bach and the Duck plays Vivaldi.
Puppet Shows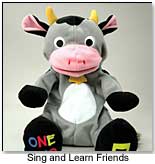 In three colorful characters - a Dragon, Tiger or Cow - the Sing and Learn Friends ($14.99 each; 0-3 years) are puppets that provide entertainment on a long road trip. Press the Cow´s left foot and he´ll sing "Old MacDonald Had a Farm." Press his right foot and he´ll count to 10 in Spanish and English. The Dragon sings "Row Row Your Boat" and the "Alphabet Song." The Tiger sings "London Bridge" when pressing the left foot, and recites one through 10 in English when pressing the right foot.
Thanks, Buddy
Soft, squishy toys, measuring about 3 1/2" high, My First Buddies Assortment ($4.99 per set of three; 6 months and up) easily fit into a diaper bag or Mom´s purse. Made especially for little hands, these toys have the added feature of a baby powder scent. The toys come in sets of three, which includes a Cow, Dog and Lion, or Turtle, Octopus or Duck.

Tiny Love (ToyDirectory)

Ready To Roll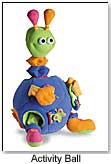 The Activity Ball ($24.95; 6-36 months) will not only keep baby amused in a car seat or on an airplane, but also promotes developmental functions such perception and cognition, the use of motor skills and problem solving. The retractable character is cute and cuddly, and will quickly become any baby's favorite companion. At different angles around the ball, there are encouraging activities such as rattling beads, a peek a boo magnet arm, jittering legs, as well as a variety of textures. When the ball is tapped on, one of five pre-programmed sounds will teach baby cause and effect. The ball also encourages sitting and crawling.
Two Toys in One!
The Musical Stack & Play ($19.95; 3-36 months), is a stacking toy featuring brightly colored soft rings when removing the top. Baby can also explore the inside of the toy by replacing the top and dropping rattling balls down the tube and watching them roll out the bottom. When balls reach the bottom, baby is rewarded with lights and music.

Baby Road Trip (ToyDirectory)
It´s a Big World Out There, Baby!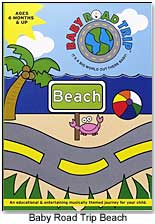 Baby Road Trip (VHS $14.99; DVD $18.99; age 0-4) is a DVD/VHS series specifically designed with the little traveler in mind, encouraging travel as an integral part of a child´s development and education. This award-winning video series was created to nurture cognitive, sensory and emotional developments throughout a child´s first four years. Fit for any auto or laptop DVD, their newest releases, Baby Road Trip Beach and Baby Road Trip Jungle each have their own unique music to match the theme. "Beach" incorporates baby reggae, calypso and surf and island music. In
"Jungle," it is safari sambas, and jungle foot-tapping music, coinciding with the sounds of the wild. Each program features images of unusual toys, delightful puppets, exotic animals and children at play.