Handheld or mini versions of entertainment are becoming increasingly popular in today's bustling world. Many games are created with portability in mind, but other hot games have released travel versions to help people on the go.
Pocket Play-Mate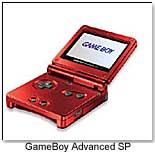 Nintendo continues to improve on its portable video game systems. The Nintendo Game Boy Advance SP ($99) has a newly designed shell and is easier to play at night or in the dark. Players can quietly enjoy stereo surround sound with purchase of the Game Boy Advance SP headphone jack adapter.
-More travel friendly and compact than the original Nintendo Advance
-Front lights added for increased visibility
-New mini lap top shape
-Games are compatible with Game Boy Advance; Game Boy and Game Boy Color
-Connects to Nintendo GameCube
-Use with GameCube can possibly unlock hidden levels in games

Fractiles For Miles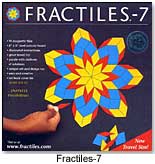 Fractiles, Inc. (ToyShow), the makers of Fractiles-7, the multi-colored magnetic tiles that use angles based on the number 7 to create geometric beauty, has released Fractiles Travel Edition ($19.95). The Travel Edition comes with the same magnetic tiles as the larger version, allowing one to make alluring, detailed patterns but only smaller. It comes with an 8" x 8" steel board and 96 colored tiles, small enough to fit into a briefcase, purse or backpack.

-22 gauge steel, powder coated board will outlive many trips, bumps and scratches
-Package makes for easy storage of board and tiles
-Travel Edition has all of the creative possibilities of other Fractile editions, only petit-sized
An Excuse To Be Nosey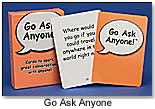 Go Ask Anyone cards ($7.95-$8.99) by Go Ask Anyone, Inc (ToyDirectory). are a great way to spark conversations during travel and learn a little about traveling companions. Owner, Maura Cassidy was inspired to create a way to initiate conversations between fathers and teenagers. Now, there are six decks, with 20 more in the works.

-52 cards in each deck: Go Ask Your Father!; Go Ask Your Mother!; Go Ask Your Grandparent!; Go Ask Your Teenager!; Go Ask Your Girlfriends! and Go Ask Anyone!
-Parents can ask their teenager questions without seeming like they are probing into their business
-Grandchildren can ask questions to grandparents and discover a little about their history
-"What major weather storms have you experienced in your lifetime?"
-Girlfriends can chat about fun topics with Go Ask your Girlfriends!
-"What magazine cover would you like to be on?"
Para Dice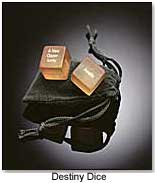 Travel Cubes, Tropical Cubes and Cruise Cubes ($9-12), by Destiny Dice (ToyDirectory) provide dozens of options, offering suggestions for where to travel, what to do or visit while traveling and even what to eat while on vacation.
-Twelve sides to every pair of dice for dozens of exciting and humorous options
-Cruise Cubes focus on one of the most tantalizing themes of a cruise – the food
-Vacationing in the tropics? "Become One With……A Tropical Drink"
-If players are having trouble deciding where to vacation, they can just roll the dice for a few tips
-There are 19 themed pairs of Destiny Dice, including Make Up Your Mind Menu Cubes and Casino Cubes
Cranium Flex
Cranium releases Cranium Zigity, a new pocket-sized card game with the same explosive fun as other Cranium games. Players have four ways to eliminate their cards. The deck comes in a compact tin box.
-Cards are durable enough to withstand an accidental wash in the laundry machine
-4 activity chances to be the first to get rid of cards
-Data Head (add to 11 using numbers on cards)
-Word Worm (spell using letters on cards)
-Creative Cat (complete a mini puzzle)
-Star Performer (create matching sets of musical instruments)
-2 or more players, ages 8 to Adult
-Available initially only at Starbucks for $12.95 and to additional retailers in early 2005
Brain Bender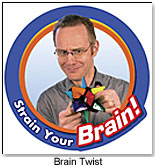 Available July, 2004, is another mind-boggling puzzle from Hoberman Designs. The Brain Twist challenges even geniuses the same way Rubick's Cube stumped millions.
-Players can try and match the colors on each side by twisting the corners of the puzzle
-The puzzle changes shape and "flips inside-out"
-Stuck? A Helpful Hints sheet is included
-Retails for $9.99 for ages 8 and up
Bonkers For Board Games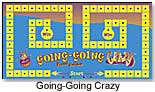 A travel game parents can play with their kids is Going-Going Crazy, Travel Version by Going Crazy Inc (ToyShow). In this family game, everyone experiences the frustration of going forward and backwards, over and over and over again. The object is to reach the end first, but each time players roll the dice, they also have to spin the dial to determine which direction to go.
-Portable version of the Going-Going Crazy Board Game
-Travel version includes 4 mini-pegs and one pair of dice and a mini-board for full-sized fun