Bud Damberg, marketing vice president at PEZ, claims its product is the original interactive candy/toy combination, introduced in 1952. There is nothing static about PEZ, with hundreds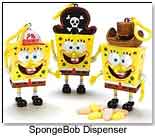 of variations launched throughout the years. New introductions included the recent SpongeBob SquarePants dispenser and a July re-launch of Spiderman. In May, retailers can stock up on the cola-flavored PEZ candies (SRP .99-1.69) . Also this year, PEZ is offering a Formula One Racecar dispenser with pull and go action.
Breaking the toy candy mold are Sucks Ups from Innovative Candy Concepts. Lisa Westerfield, national director of communications, says its bottle-shaped candy is unique because it features a real baby nipple. The Jammy Juice you suck out is actually a healthier candy for kids, since it is made with juice concentrate and fruit bits. "It tastes like strawberry preserves to me," claims Westerfield.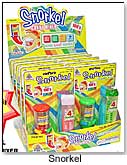 Brand new on the shelf is Kandy Kastle, offering four products, including a cannon with sound effects that is worn on the wrist and shoots candy. They also manufacture The Snorkel, toy candy that lets kids mix candy powder flavors by pushing a button and a series of suckers with games on the end of a stick. Carol Prior, vice president of marketing, says the buyers she talks with are most excited about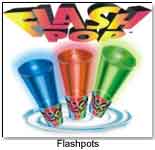 Brain Drain, a plastic brain-shaped toy that squirts red gel.
KidsMania, Inc. has developed over 100 candy novelties, but President Foreman Lam says every retailer should stock up on Flashpops, a light-up pop. "We can't keep them in the warehouse."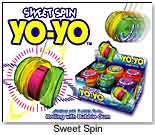 Rose Downey, marketing manager at Au'some Candies, says, "We introduce seven or eight new products a year because retailers and kids get tired of the same things. You have to keep up with the trends." New this year are Sweet Spin, candy filled yo-yos, as well as a number of items under their Marvel licenses featuring Spiderman, including Snerdles, their version of the healthier candy with real fruit bites and Vitamin C.