Licensed products can generate billions of dollars in sales annually. Nowhere is this truer than in the licensed toy candy industry. "Branding our candy with a license allows both the retailer and vendor to capitalize on a hot property," said Meredith Partain, brand manager for JAKKS-Pacific. "The license makes our product more recognizable and ensures our customers that the item is trustworthy."
Katherine Owens, vice president of business development at Sherwood Brands, agrees that licensed products are something customers want. "Licensing is as strong as ever, if not more so," said Owens. "As a company, we try to stay away from fads and go after a brand for the long term. Our customers then become comfortable with a highly recognizable, stable product."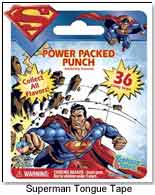 Other candy manufacturers have followed suit this year, releasing licensed toy candy products at a record rate.
Tongue-Twisting Candy
Tongue Tape—a candy version of mint breath strips— by JAKKS-Pacific is now available in collectible canisters featuring licensed characters such as Kim Possible, Strawberry Shortcake and Hello Kitty. Canisters featuring Batman and Superman are due to hit retail shelves in the fall. Containers of 24 tangy strips retail for $2.99.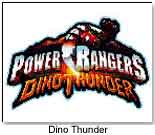 Candy Full of Power and Thunder
Building on last year's extension into the candy aisle, Bandai Creation, a division of Bandai America, Inc., has a new line of Power Rangers/Dino Thunder interactive candy. Products include DinoThunder Power Pops Candy (retail $1.99), featuring helmets that slide back to reveal a lollipop, and DinoThunder Mega-Pop Megazords Candy (retail $3.99) that reveals a lollipop when a button is pushed.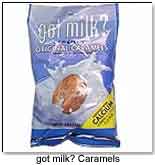 Got Candy?
Capitalizing on the got milk?® slogan allowed Sherwood Brands to position their got milk?® Caramels (SRP $1.99-$2.49 per 5.8 ounce bag) as part of an incredibly popular national ad campaign. One serving has as much calcium as an 8 fl. oz. glass of milk and caramels are available in original, chocolate and strawberry. In addition, Sherwood holds licenses with World Wrestling Entertainment, Marvel, Animal Planet, NASCAR, and The Muppets.
Light Up Your Sweet Tooth
Malibu Toys has exclusive licensing agreements with top entertainment properties such as Teenage Mutant Ninja Turtles™, Cat in the Hat™, Peter Pan, The Lord of the Rings, and Peanuts® for their Flashin' Lix light-up lollipops (retail $1.99). Flashin' Lix light up with every lick by utilizing cutting-edge patented technology.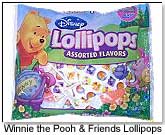 New Company, New Candy
American Licorice Company, Ferrara Pan Candy Company, New England Confectionery Company (NECCO), R.M. Palmer Company and Spangler Candy Company joined forces late in 2003 to create Imagination Confections. With an exclusive licensing agreement with Disney Consumer Products, this new venture released two new products in time for Easter: Winnie the Pooh & Friends Lollipops and Marshmallow Treats (price not yet determined).