Children's Books

Fairy Tales Favorites: Books That Cross Boundaries
By Karen Mendez Smith
October 2003





Swan Sister

The appeal of folk tales, legends, and fairy tales is universal, transcending sex, age and culture. Because of their timeless quality, they continue to form a steady backlist for publishers. Fresh versions of old tales and new anthologies from other cultures are solid additions to any bookshelf. Here is a sampling of notable offerings this fall.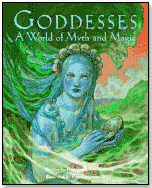 Goddesses: A World of Myth and Magic

SWAN SISTER: FAIRYTALES RETOLD is an inspired compilation of traditional stories by Ellen Datlow from Simon & Schuster. From Scholastic Reference comes GODS, GODDESSES AND MONSTERS: A BOOK OF WORLD MYTHOLOGY by Sheila Keenan, illustrated with museum art from around the world. Barefoot Books brings us GODDESSES: A WORLD OF MYTH AND MAGIC by Burleigh Mutén and illustrated by Rebecca Guay, and CELTIC MEMORIES, an anthology of stories and blessings by Caitlin Matthews and Olwyn Whelan. Also with an Irish accent is A POT O' GOLD: A TREASURY OF IRISH STORIES, POETRY, FOLKLORE AND (OF COURSE) BLARNEY by Kathleen Krull and illustrated by David McPhail (Houghton-Mifflin). THE ILLUSTRATED TREASURY OF FAIRY TALES from The Creative Company and CLASSIC FAIRY TALES, illustrated by Scott Gustafson from Greenwich Workshop Press, are two fresh collections. Taking a different perspective is THE POND GOD AND OTHER STORIES, 43 myths based on shamanic visions by Samuel Jay Keyser from Front Street.




Rapunzel: A groovy Fairy Tale

RAPUNZEL: A GROOVY FAIRY TALE by Lynn Roberts with art by David Roberts is a familiar story with a 1970s twist (Abrams). The classic Grimm Brothers tale THE GOOSE GIRL is retold by Shannon Hale (Bloomsbury). Candlewick Press feeds the fire with CINDERLILY: A FLORAL FAIRY TALE by Christine Tagg with pictures by David Ellwand, and LOONY LITTLE by Diane Hutts Aston, illustrated by Kelly Murphy, is a different take on the beloved chicken little tale. THUMBELINA makes a reappearance, from Harper/Greenwillow with new pictures by Brian Pinkney. A retelling of a classic Aesop story from North-South is THE FOX AND THE STORK by Karl Ruhmann with art by Alessandria Roberti.

The Day it Snowed Tortillas

With Southwestern flair, Farrar offers OLD GRANNY AND THE BEAN THIEF by Cynthia DeFelice, illustrated by Cat Bowman Smith. The wilder side of the west is seen in THUNDER ROSE by Jerdine Nolen, illustrated by Kadir Nelson from Harcourt/Silver Whistle. Children's Book Press offers BABY RATTLESNAKE / VIBORITA DE CASCABE, a bilingual Chicasaw tale by Te Ata and Lynn Moroney with art by Mira Reisberg. From New Mexico, Cinco Puntos Press publishes 10 bilingual stories in THE DAY IT SNOWED TORTILLAS / ELDIA QUE NEVARON TORTILLAS by Joe Hayes and illustrated by Antonio Castro. And from south of the border, HORSE HOOVES AND CHICKEN FEET: MEXICAN FOLKLORE by Neil Philip and Jaqueline Mair makes tracks (Clarion). Even teenagers, when pressed, will admit to enjoying classic tales. Try them, and you'll be surprised at how these steady sellers resonate with both girls and boys, who may even discover that their favorite movie or cartoon has a storyline that somehow suspiciously resembles ancient history.

Writer's Bio: Karen Mendez Smith has been involved in children's media for over twenty years as a literary agent, writer, and creator of animated television and film. Co-founder of Satori Organics and M/Path Press, she is a parent to eight children and five incredible grandchildren (and counting).
---
---