You Got Game: Educational Games for Today
By Cynthia Boris
October 2003



Let's face the facts: Every game you play is a learning experience. Battleship teaches how to use logic. Monopoly educates about real estate. Sorry teaches the joy of getting revenge on those who have unjustly sent you back to start – over and over, and over again. But to cater to those who really want to get more IQ points for their pennies, check out these new and classic educational games that make learning fun.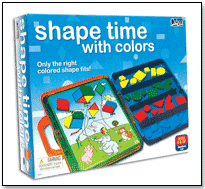 Shape Time

Cadaco's Shape Time (ToyShow) ($17.99) helps preschoolers learn all about matching colors and shapes. The game comes with a collection of soft foam cutouts and lively boards full of clowns and furry animals. Like Cadaco's other educational games, Sum Time and Spell Time, Shape Time is packaged in a plastic suitcase, making it a great take-along game for long waits at the post office or on airplane trips.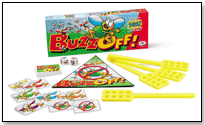 Buzz Off

Pre-K's will get a kick out of Aristoplay's new color matching game called Buzz Off ($16) (ToyDirectory). Armed with foam fly swatters, children are challenged to smash the proper colored fly before their opponent does. Perfect for the kid who dreams of being an exterminator when he grows up.

Lolo Company's Bucket Blast (ToyShow) boasts 15 different games that cover both indoor and outdoor fun for kids 5 and up ($29.95). With buckets, beanbags, blindfolds, cones and more, Bucket Blast is ready to teach younger kids skills like teamwork, strategy, counting and most importantly, fun. The game comes equipped to keep a bevy of kids busy, and best of all, parents, kids and teachers can pack of the equipment into a compact totebag, making it easy for them to transport it.

After twenty years in the educational toy market, Aristoplay has brought back two of their most popular educational board games, each designed with Social Studies in mind.

Long before Carmen San Diego made the idea famous, Aristoplay developed Where in the World ($30) (ToyDirectory), a game where players use their knowledge of geography to "claim" a country. Imagine owning Italy, and you don't even have to speak the language.

Made for Trade ($25) (ToyDirectory) lets players live life in Colonial America, buying and trading goods in order to survive, all the while learning lessons in economy and history. Think of it as an early American Monopoly.

From the Revolution Game to the Civil War Game, EMA Learningames (ToyShow) has been selling historically based board games to museums and teachers for more than thirty years. This year they are bringing back an updated classic, just in time for the 200th anniversary of the Lewis and Clark expedition. Expansion of the US ($14.95) takes players on a grand adventure with the famous explorers. Players travel along on the 18-month journey, discovering new and wondrous sights west of the Mississippi. As a bonus for the true history buff, all EMA games come complete with an educational poster and a booklet of additional historical resources.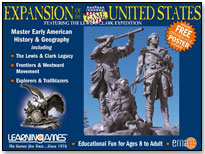 Expansion of the US

Widely known for their puzzle game Rush Hour, Binary Arts is pressing forward to help reorganize the educational toy world. Changing their name to ThinkFun (ToyShow), the company is challenging themselves and their buyers. New to ThinkFun's roster is River Crossing ($14.99) for ages 8 and up. Like Rush Hour, players are presented with a visual challenge – in this case, how to use a set of planks and logs to traverse a river full of hungry alligators. This perilous plank puzzle will remind kids of The Crocodile Hunter, providing hours of suspense-filled fun.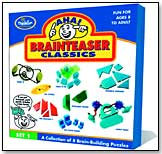 Aha! Brainteaser Classics
And for something really simple, ThinkFun has packed a box full of great brainteasers. Can you turn four shapes into the letter "T"? Remove a ring from the metal puzzle? Turn only two blocks into a pyramid? They all look easy, but they're not. Packed in a box of eight for $19.99, Aha! Brainteaser Classics are sure to be a favorite with kids, if they can get them away from mom and dad.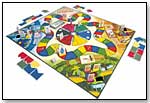 Metanon
Metanon, a new board game by the educational experts at kSero (ToyShow), gives kids an entertaining introduction to genetics and other scientific topics. Players take a Candyland-type jaunt around the board collecting "biocodes" and assembling them into patterns to obtain parts for their spaceship. Children ages 5 and up can choose from six different alien characters as playing pieces ($29.99).
---
---