Learning Kits: Education in a Box
By Amelia Brown
October 2003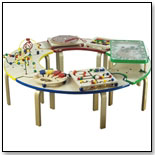 Anatex's Circle of Fun



Keyboard Scramble from Educational Insights

Educational toys and learning kits create a win-win situation: children have fun and parents feel good. From exploring insect life to building electronic gadgets, today's learning kit market offers something for every age group in every subject matter.


Children are learning their ABCs and colors before even entering kindergarten these days, and educational toys are helping. Anatex Enterprises Inc. (ToyDirectory) has been crafting colorful toys that stimulate young children's sensory and motor skills for decades. Anatex is responsible for many of the activity tables that children (and especially parents) are so thankful to find in the doctor's waiting room, as well as the original Rollercoaster, the colorful abacus that kids can't keep their hands off of. Described as "a multi-sensory adventure," their Circle of Fun ($300), with its rollercoaster abacus, magnetic games, pathfinders and mazes is a combination of seven award-winning toys. Children as young as 3 years old can begin exploring basic geometry with Anatex's Geo-Lastic Art Kit ($25). With soft elastic parts and smooth plastic pegs, this kit is designed with child safety foremost in mind.

Capsula Aqua Explorer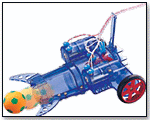 Air Zinger 9003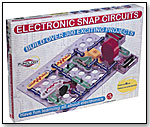 Snap Circuits



Teaching Tank from Longevity Lifestyles
Another product geared toward early learning is the Keyboard Scramble (ages 4 and up, $49.95) from Educational Insights (ToyDirectory). This fast-paced game introduces children to the computer keyboard while working on reading skills.
Educational Insights has also developed a line of kits for the young robot builder. The Capsela Bug Builder (7 and up, $34.95) assists children in learning about gears, motors and electric circuits while they construct moving insects. The Capsela Aqua Explorer (7 and up, $64.95) produces a motorized amphibious vehicle.
OWI Robotic Kits (ToyShow) produce a variety of kits for building your own robotic creatures (ages 14 and up). Using air technology, the Air Zinger 9003 ($44.95) creates a robot that can inhale or blast a ball (included) out of a cannon-like projectile.
Elenco Inc. (ToyShow) has created a popular line called Snap Circuits ($29.95-$89.95) for ages 8 and up. Using a kid friendly manual and a set of colorful circuitry, children learn all about electronics while building radios, voice recorders, alarm systems and even electronic games. These kits come in 3 sizes (30 parts, 60 parts, 75 parts) for progressively more difficult projects.
The Teaching Tank from Longevity Lifestyles (ToyDirectory) ($39.95), coupled with "discovery books" ("how-to" books filled with exciting experiments), gives kids and adults a real view of scientific phenomena. Countless experiments, including chemistry, physics and biology can be performed in a see-through tank for a first-hand experience that can't be achieved with mere textbooks. These tanks are a favorite of homeschooling parents and teachers alike.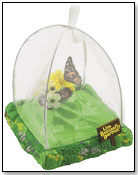 Butterfly Garden



My Bird Diner Kit
Insect Lore (ToyDirectory) produces kits that allow children to experience the marvel of metamorphosis up close. Their Butterfly Garden includes a vibrant habitat, five Painted lady butterfly larvae, with special food and complete instructions (ages 4 and up, $19.95).
Balitono's Paint the Wild Kits (ToyDirectory) provide a superb way of integrating creativity with education. Their newest kits include My Bird Diner Kit ($17), an award-winning kit that provides all the supplies necessary to decorate a bird feeder for attracting local wildlife to childrens' backyards.
Writer's Bio: Amelia Brown is a freelance writer/artist residing in Canyon Lake, California. As a mother of two young children, writing for a toy magazine provides valuable insight. In addition to writing and designing custom greeting cards, Amelia works as an associate director for a non-profit organization.
---
---