Toys Make Recycling Part of Playtime
By Beth Michaels
October 2003



The best toys teach children positive life lessons. Today's toy makers are providing a number of environmentally friendly products that teach about recycling and saving the planet.

Trucks Are the Way to Go

Many U.S. cities have recycling trucks that visit once a week to cart away salvageable trash. Children no doubt recall those big, rumbling trucks with some admiration. Now, they can pretend they are behind the wheel working to help save the environment.






Jumbo Recycling Truck

BRIO Corporation's colorful Jumbo Recycling Truck ($36, ages 2 and up) (ToyDirectory) from their Earlyplay Toys line has a detachable loading bin and works like a real recycling truck, lifting a trashcan over the truck and dumping the trash inside. The 16-inch recycling truck was the winner of the 1999 CBS Toy Test award. The recycling truck and other Earlyplay vehicles are sturdy enough for both indoor and outdoor play. There are no small parts and no sharp edges. The plastic construction is made with 100 percent recyclable materials.

Playmobil Recycling Truck
The Playmobil Recycling Truck ($42.99, ages 4 and up) (ToyDirectory) has a garbage container and bins that open and close to fill and empty with trash. The bins clip to the truck and move up and down using a side-mounted lever. The approximately 12-inch recycler comes with a toolbox and two figurines, and also feature a yellow blinking light (2 batteries required) and a removable roof.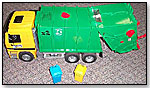 MB Garbage Truck
Bruder Toys (ToyDirectory) has two versions of a recycling truck, the MAN Truck with One Large Garbage Bin ($45.50) and the MB Garbage Truck with Two Recycling Containers ($59.99), both for ages 3-10. The MAN Truck comes with swing-out mirrors, sculptured tires, a tipping platform, hinged sidewalls and two opening recycling containers.
The MB Garbage Truck, available in orange or green, is more than 24 inches long. The truck has soft rubber tires and the driver's cab opens to view the engine. There is a side dial that actually scoops the trash from the loading section and dumps trash from the bins into the body of the truck.
Mark Caso, vice president of sales at Bruder America, states that Bruder Toys are made from the highest quality plastic, with excess plastic from toy molds reused to make more toys.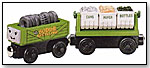 Thomas & Friends Wooden Railway
Trains and Wagons
Learning Curve International Inc. (ToyDirectory) has a solution for keeping Thomas & Friends Wooden Railway and the Island of Sodor free of litter. The train has a two-car pack of Recycling Cars. One car carries three recycle bins for separating paper, cans and bottles, and the other carries removable "used" vehicle and engine tires for proper disposal. ($16.99, ages 2-5).


Earth Wagon

Plastic Lumber Specialties Inc. (ToyDirectory) specializes in maintenance-free outdoor building materials, which is how they got into re-creating an environment-friendly version of the classic wagon called Earth Wagon ($129.99). The wagon body is made of 100-percent recycled plastic. The equivalent of 230 one-gallon milk jugs have been diverted from landfills to make each 36-inch long Earth Wagon! The plastic won't rot, split or chip and the sides can be removed.

Science Projects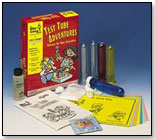 Test Tube Adventures
Kids can also do a little experimenting while learning about recycling with the Test Tube Adventures kit by Wild Goose Company (ToyDirectory). Test Tube Adventures ($13.00, ages 4 and up) includes many experiments to teach children how the world around them functions on scientific principles. The kit includes a light-hearted instruction guide that experiments with recycling.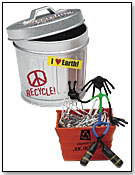 Recycling Joe Bender

Huggable Plush

Recycling Joe Bender by Hog Wild Toys (ToyDirectory) is a unique way to remind older kids and adults about the importance of recycling. The Benders are durable, pose-able, plastic-coated wire characters that have magnets in their hands and feet. Recycling Joe Bender comes in a tin shaped like a garbage can and has a recycling tub to store coins, paperclips and other precious metals. The set ($9.99) comes with Bender and a tub packed inside the 3-inch high tin container, as well as a four-color storybook to illustrate a variety of poses.

Books


Garbage and Recycling
Garbage and Recycling (Young Discoverers: Environmental Facts and Experiments) by Rosie Harlow with contributor Sally Morgan is a 32-page paperback that explains the difference between biodegradable and non-biodegradable garbage. It shows how glass, metal and wool can be easily recycled and offers suggestions for kids interested in recycling at home (Houghton Mifflin Co., $7.95, ages 4 to 8).


Recycle! A Handbook for Kids

Recycle! A Handbook for Kids by Gail Gibbons interprets the step-by-step process of recycling in a simple manner younger kids can understand. The 32-page paperback discusses what happens to paper, glass, aluminum cans and plastic when they are recycled into new products (Little Brown & Co., $6.95, ages 4 to 8).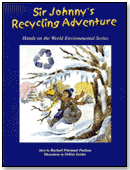 Sir Johnny's Recycling Adventure

Sir Johnny's Recycling Adventure by Rachael P. Paulson with illustrator Delton Gerdes is the story of how one person made a big difference in protecting the earth. The 32-page paperback teaches kids how the recycling process works and why it is important to get involved (Crestmont Publishing, paperback, $9.95, ages 9 to 12).

---
---