Electronic Learning Aids Bring Education to Life
By Lynda Lin
October 2003



From Furbies to the latest from Leapfrog, electronic educational toys are becoming increasingly sophisticated. New interactive capabilities strive to promote both cognitive and social development. The latest electronic educational toys encourage cooperative learning, and some even help boost a young learner's language skills or math abilities.


Bilingual Series
Tableta Genio PC by VTech (ToyDirectory)

Recognizing parents' desire to teach their children a second language, VTech's Bilingual Series teaches young children lessons in verbal communication and culture. The flashy laptop boasts "artificial intelligence" that automatically adjusts the appropriate level of difficulty based on performance. CD-ROM games in topics such as geography, history and language immerse children in a variety of learning activities. The Tableta Genio PC also features a spoken translator to guarantee that your child will habla espanol with the completion of the 10 different activities (ages 5 and up, $69.99).


Musini
Neurosmith's Musini MagicSensor (ToyDirectory)
Perfect for little dancers, the Musini music box is a virtual music video waiting to happen. Neurosmith's patented MusicSensor detects every move a child makes and translates it into a distinctive musical response ranging from jazz to classical ($59.99). Musini's sensors pick up the strength and speed of each movement and turn your child into a virtual moving band. Musini is designed for children 3 years old and up and requires either a DC power adaptor or four "C" batteries to rock the body.

TLJ Phonics Laptop

The Learning Journey's TLJ Phonics Laptop Model (ToyDirectory)

The Learning Journey presents a portable classroom that provides educational games geared towards scholars 3 years old and up. For $39.99, this lightweight version uses games to teach spelling, addition, subtraction, the alphabet and word sounds on an easy-to-use model that every child can easily negotiate.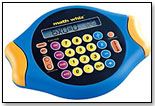 MathWhiz

MathWhiz (ToyDirectory)

For right-brainers with artistic skills, MathWhiz promises math made fun and easy. Electronic video games and electronic flash cards challenge children to think on their feet as fast as the problems appear on the LCD screen. MathWhiz boasts eight skill levels for children 6 years old and up ($19.90).

Fisher Price's Kasey the Kinderbot Learning System (ToyDirectory)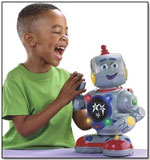 Kasey the Kinderbot

A robotic electronic educational toy that moves and chats, Kasey teaches important subjects like reading, science and math, as well as interpersonal skills. As soon as parents insert three "D" batteries, Kasey will stress the importance of good manners to a target audience of ages 3 to 7 years. After spending some time with Kasey, a child will not only know his ABCs, but also the importance of saying "please" and "thank you" ($70). To read about Fisher Price's new Powertouch, click here.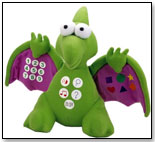 Tilly
Team Concepts' Tilly Pterodactyl (ToyDirectory)

Tilly, a small, plush dinosaur by Team Concepts, features a fully animated talking mouth; membrane keys that teach numbers, shapes and colors; fun sound effects and hug-worthy softness ($29.99).





Oregon Scientifics' Barbie B-Book Learning Laptop Computer


Oregon Scientifics' Barbie B-Book Learning Laptop Computer (ToyDirectory)

The union of Barbie and Oregon Scientific fosters "the personality and friendliness of a best friend" in a laptop computer filled with games to teach rhyming words, numbers, colors, shapes, pairs and directions. At $49.99, the B-Book resembles a professional laptop, but its educational games are designed to challenge Barbie fans ages 5 to 12.


---
---