Learn and Play: Educational Tools Make Playtime Soar
By Tamara Halbritter
October 2003



Kids may grimace at the word "educational," but the latest educational toys give the word new meaning. For children both at home and in school, these toys help them open up a whole new world of sound, movement, color and knowledge.

Musical Activities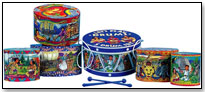 Let's Play Drums!
Five fascinating drums by WJ Fantasy (ToyDirectory) introduce children to other cultures and the gift of making music. Let's Play Drums! – Building Blocks ($19.95) comes with drumsticks and multicultural images of societies around the world: Early America, Asia, Africa, Native America and South America.

Piano Stepper

Piano Stepper by Imagiix ($44.95) (ToyDirectory) is an oversized piano keyboard (31" x 43") that plays piano and organ sounds with the touch of a hand or the stomp of a foot. Kids ages 4 and up can create their own compositions or use instructions to play six classics. The oversized keyboard mat is made of foam and is also surrounded by 16 colorful jigsaw pieces for added construction play.



Writing Skills Table

Expanding Minds

Future Hemmingways (or any 4-5 year old) can hone their writing skills with the Writing Skills Table by Tag Toys ($110) (ToyDirectory) . The table holds a 400-foot roll of paper, plexiglas tracing plate, worksheets, templates and writing instruments for preparatory exercises that develop fine motor skills and hand-eye coordination. Chair, paper and templates are sold separately. A smaller version, Tag Toy Table Top Only ($24.50), can be placed on a standard table or desk to help develop memory and sensory-motor skills.



Mega Sphere

Expanding the Universe

Hoberman (ToyDirectory), has expanded the universe for children ages 6 and up. The Hoberman Mega Sphere (big version $64.99, four and a half feet in diameter) is big enough for kids to climb in and create their own earth. This bendable playhouse ball has six latches and expands and contracts for indoor and outdoor fun. For younger children (ages 3 and up), Carson Optical's TwistLight Kaleidoscope ($25) (ToyDirectory) also creates a magical environment. When you twist the body, it provides lush images, and when you flip the switch, the colors and shapes intensify.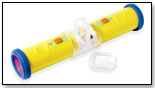 Carson TwistLight Kaleidoscope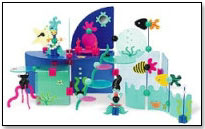 Aquaria People Places and Things
While most building blocks and construction toys are geared toward boys, Mattel has hopped on the "Go Girl" train with their 2003 Oppenheim Toy Portfolio Platinum award-winning Ello Creation System (ToyDirectory). The Ello-opolis set lets girls work on their spatial relations and math skills through Matisse-inspired cutout disks connected with square and circular parts, string and slender sticks (201 colorful pieces, $19.99). The 168-piece Ello Aquaria People Places and Things Set ($19.99) has young artists finding the lost city of Atlantis in a room with ocean-like creatures and pieces that kids can use to design their own underwater environment.
Writer's Bio: Tamara Halbritter has been teaching creative movement and dance to children for over 15 years. As a professional dancer and freelance writer, she puts plenty of playtime into her schedule. Currently, she is writing a book about a gifted pair who see other people's dreams.
---
---