Skill Toys Offer A Wide World of Fun
By Letitia Monaco and Pennie Hoover
October 2003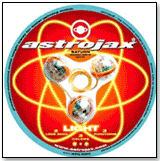 Saturn

Astrojax

Skill toys usually have a scientific explanation behind the tricks they inspire. For Astrojax (ToyDirectory), that secret ability is based on rotational dynamics.

"It's a free dimensional orbiter," explained Harold Chizick, director of marketing for Spin Master Ltd. "The inventor is Larry Shaw, a theoretical physicist. The optimization of the contouring and internal weighting of the center ball to insure that the string never tangles required two and a half years of experimentation and calculation."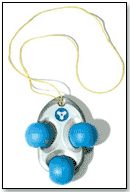 Astrojax Plus

Astrojax looks like three balls on a string, but each ball has a precision-machined metal weight inside. Each set of Astrojax comes with a trick sheet and an aj-dos™ (Astrojax Docking Station™), which is useful for carrying or storing Astrojax. Choose either the Astrojax Plus, good for starting out because it has rubber balls; the Astrojax Saturn, which has a button to light up the balls (disco mode included); and the professional grade Astrojax VMAX (prices for Astrojax products range from $7 to $9.99 each).

Duncan


Duncan Speed Beetle



Flying Panda
"The skill toy market is 99 percent boys aged 9 to 15," said Steve Brown, marketing and promotions coordinator for Duncan Toys Company (ToyDirectory), "but girls are getting into it now, too. At the 2003 Singapore National Championships, a girl won. She competed in the freestyle, which is two hands, and blew the guys away."
That girl was Chinese 16-year-old Winnie Goh, and her yo-yo of choice is the newly released Duncan Speed Beetle ($10). The Speed Beetle was designed to be used right out of the package, needing as little maintenance as possible, especially for high speed looping.
Sales of yo-yos are increasing by 60 to 100 percent every quarter, according to Brown, who expects the numbers to continue to climb. Another recent release by Duncan that's expected to boost sales numbers is the Flying Panda ($20), which is designed to be used with or without the string. Departing from the traditional Imperial yo-yo shape, its profile is stepped down to cut down wind that can slow a good spin.
Arrowcopter

The "made in the USA" tag is rare in the toy market today. The Arrowcopter (ToyDirectory) is proud to be back, revived from its fame in the 1960s and now being re-discovered by kids everywhere ($4/single pack; $7/double pack). Arrowcopters are truly all-American: the sticks are from Maine, the rubberbands are from Kentucky and the plastic is from New Jersey. "Hobby and kite stores carry us, but it's mostly fairs and outdoor vendors where the toy can be demonstrated," said Betty Evanoff, whose husband was involved with the first Arrowcopter craze.
Stuff Design
Stuff Design's BeamO is an oversized (30" diameter) flying frisbee great for younger children as well as adults (ages 6 and up). Made of friendly soft fabric materials, the giant fabric disc is easy to throw and catch, and travels up to 130 feet for older users. A favorite of TDmonthly staffers, BeamO recently won an Oppenheim Toy Portfolio Gold Seal Award for 2003 ($25).


Trompo Grande



Spinabolo, Jr.

Spintastics

Spintastics (ToyDirectory) has created the mind blowing Eclipse series that includes the red glowing Solar Eclipse ($27). This yo-yo is beautiful, radiating red light. The Eclipse ($25) is a single-bearing yo-yo for all-around play, which includes customized weight rings: one metal and one rubber. The new bearing looper yo-yo, the Riot ($16), has a narrow gap and greased bearing. Similar to the earlier Spinstastics Spintega, it is made with a wider gap to prevent downward looping. New spin tops from Spintastics are the Trompo Grande ($12), with steel fixed point; and the Trompo Bearing ($16), with a brass ball-bearing point. Both are 2.5 inches in diameter and 3.5 inches tall. Featured colors include blue and red, or a blue-red combo.

Spinabolo and Spinabolo, Jr. look like the traditional Diablo, but have a one-way bearing innovation that increases how fast and how many tricks one can learn, with or without sticks. The company website boasts that a 6-year-old can do his first trick within ten minutes. A mostly unnoticeable diameter length (for amateurs) is the only difference between the two. Suggested retail for Spinabolo, Jr., which was the winning skill toy of Japan's 2003 National Diablo competition, is $16.


Xodus


Ripken Quick Ball
Yomega (ToyDirectory)
The newest yo-yo from Yomega, released in summer 2003, is Xodus, a versatile on-or-off string yo-yo. The player throws Xodus up and catches it back on the string. The Xodus can also be used as a traditional yo-yo by attaching the string to the axle. The Xodus is targeted to yo-yo players ages 8 -15 ($19.95).
Ripken Quick Ball by Yomega includes a wide range of challenging baseball games that can be played by as few as two players or as many as 30 people in competitive or novice-friendly arenas. The Quick Ball, a high tech improvement on the whiffle ball, is made of a special polymer and is smaller than an actual baseball. The Quick Ball features a patented blend of raised seams and "EZ Curve" slots allowing for super curves and other challenging pitches. The Quick Ball is hit with a hard plastic bat and soars like a baseball. The Cal Ripken endorsement premiered in August 2003, and the package includes six balls, the bat and special wrapping tape for the bat handle ($12.95).
What's Next Manufacturing


RD-1
Tom Kuhn, declared the father of the modern yo-yo by Donald F. Duncan Jr., celebrated his 25th year since creating the first detachable yo-yo by designing the RD-1 (RD stands for Recreational Device.). Marketed by What's Next Manufacturing (ToyDirectory), the RD-1 is a custom wooden model of the pro aluminum Tom Cat yo-yo (which sells for $125). The RD-1 has patented the same Turbo Disc Technology but retails for only $19.95. "Kids like things they can take apart," said Brad Countryman, president and founder of What's Next. "We've found in our research that kids want the ability to customize their yo-yo; they love different parts."
---
---