Design Inspiration

FIT's Toy Design Program: 14 Years Young and Staying That Way
By Tim Connolly
October 2003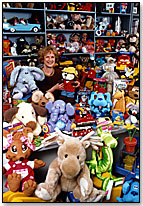 Judy Ellis with her Students' Creations

In 1989, the Toy Design Department at New York's Fashion Institute of Technology became the first of its kind in the world. The program's alumni continue to create toys for many of the major players in the industry, including Disney, Gund, Hasbro, Leapfrog, Learning Curve International, Lego, Lucas Arts, Mattel/Fisher-Price and McFarlane Toys. And that's only up to "M" on the list.

TDmonthly spoke with Judy Ellis, chairperson of the Toy Design Department, to find out how the school remains relevant in an evolving industry.

TDmonthly: Why do manufacturers say that FIT's students are "two years ahead of other recent hires"?

Judy Ellis: I would imagine that it's because FIT Toy Design students come to the table with life experience. A great number of our applicants have entered the program with a four-year degree and/or work experience in a related area. They may have a master's degree in child development, industrial design or engineering, or a degree in fine arts, but they all come to us with prior knowledge and we build upon that. Of course, because of the intensity and exactness of the curriculum, it's not unusual to hear students comparing it to medical school.

TDM: What is FIT's relationship with the Toy Industry Association (TIA)?

JE: FIT Toy Design was developed in conjunction with the TIA. We began working together in 1987 and opened our doors in 1989. We have continued to work very closely with them over the past 14 years to ensure that our students have the most current information with regard to safety and safety standards. Both groups share similar values to support the positive development of children.

Currently, we also create an online technology magazine provided to all members of the TIA to keep them informed of new technological resources available for the design of innovative children's product. This helps fulfill a mutual goal of marrying scientific progression with the principles of sound design—to enhance our children's lives.

TDM: Can you comment on the "Discover Together" program? Do you see toys designed for "special needs" children as a market the industry is taking seriously?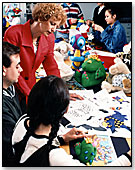 Judy Ellis with FIT Toy Design Students
JE: The industry is very focused on the issue of special needs. It is a particularly challenging design assignment, because children with special needs want most to be respected as people. The product designed for them must be aesthetically pleasing to anyone – it must not make the child feel alienated, but rather help to make them feel included with the mainstream. Of course, all design should be people-driven and arise in response to specific needs.
Discover Together is a program in which we team students with children of various ages for the purpose of exploring playtime activities together. This allows students to learn directly from their audience.
As part of Discover Together, our students have had the wonderful opportunity to work with These Our Treasures, Inc. based in Bronx, NY. For several years These Our Treasures provided a number of child-development experts, who visited with our department to evaluate student designs in a number of categories, so that we would understand what children with special needs require.
A number of companies have designed product to this end. Toy R Us publishes a Guide for Differently Abled Kids, which points out toys that are duel purpose. It is endorsed by the National Parent Network on Disabilities. For several years, the TIA has also published a Guide to Toys for Children who are Blind or Visually Impaired.
TDM: The FIT toy design program draws upon a large pool of applicants with diverse backgrounds, yet accepts only 22 per year. Is there a defining set of characteristics someone must possess to be a successful toy designer?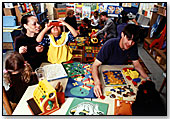 FIT Toy Design Students interacting with Children
JE: Honestly, it requires an incredible sensitivity. It requires a real commitment to being responsible. Children are little people. We have to affect them in a positive manner.
We are highly selective. It is not enough to have just drawing or design talent. Applicants must also be curious, utilize their sense of humor and have the openness and imagination of a child. It is of the utmost importance to us that our students hold children in the highest regard. We will always strive to provide the industry with designers who can produce cost-effective product that enhances the life of the child, but we will not accept a prodigious industrial designer who isn't capable of having fun. At the end of the day, if the product is not fun, you have not been successful.
TDM: What do you see in the future for FIT's program? Do you foresee toy design becoming an increasingly common field of study in colleges across America?
JE: Toy design is one of the most challenging design disciplines to teach, because it encompasses so many different areas: safety and environmental factors, as well as engineering and manufacturing. Does the product you're developing inspire and nurture the growth and development of a child's imagination? Does it encourage open-ended play? It took several very intense years to develop a program that could address all of the industry's needs.
For me, it has been the most challenging project I have undertaken. Thankfully, our students have risen to the occasion, making a significant and lasting contribution to the marketplace and to the lives of the people who interact with their products.
For the future, I expect that our program will instill a balance of technology and humanity, which is the essential focus for the toys of the future. Our motto is that a good toy is a safe one that reflects the play needs of a child, and a successful toy exhibits a keen understanding of the market. But a great toy combines those elements and adds the elusive yet paramount ingredient: inspiration.
---
---