"Every time [retailers] loan out a Cogno game, it doesn't come back. They just get a call with a credit card to pay for it." — Jennie Kretchmar, DoubleStar, LLC

Although selling toys is understandably the focus for retailers, lending them is a trend that may hook customers. Toy loans often turn into toy sales, according to both retailers and manufacturers interviewed by

TD

monthly Magazine

.

Two years ago, Trish Garlock, owner of The Treasured Child in La Grange, Ky., established a lending library of about 20 games. "It works well, especially for the more expensive games and games that are more difficult to demo. On the whole, I haven't had any bad experiences with it." [Update 2009: Sadly, Trish passed away in May 2007.]


Garlock got the idea for a toy library when one toy maker offered her a free game to put in a lending library if she bought six more. Since then, Garlock has approached other manufacturers and has found many who liked the idea.

When customers check out a game, they leave a $5 deposit, which they get back when they return the product.

Many manufacturers see a lending library as a way to benefit both retailers and toy makers.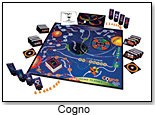 "We had one retailer tell us that every time they loan out a Cogno game, it doesn't come back. They just get a call with a credit card to pay for it," said Jennie Kretchmar, director of operations and marketing for DoubleStar, LLC (ToyDirectory), makers of Cogno products.
Although the idea is new to her, Brandy Lindstrom, owner of Little Blue Choo Choo in Scottsdale, Ariz., thought the concept sounded promising.
"It does seem like a good idea with some of the more expensive games. It gives people a chance to get to know the product."
The idea of a toy lending library ihas been around at least since the Great Depression. The nonprofit Los Angeles Toy Loan Project, in operation since the 1930s, allows children to borrow and even earn new toys, said director Sylvia Bratincevic.
Games work well in lending libraries, as would other items if made available.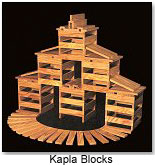 Toys such as Kapla blocks are best shown and appreciated by hands-on trial and building, noted Marjorie Israel Chayette, general partner for Kapla USA. "I would definitely support and recommend a lending program or a three-day trial period. Kids love to build and a program like this would add value to the Kapla experience."
Dan Levy, owner of Funstreet, Inc., said he favors anything that gives his games more exposure. He noted that it has been well worth it for him to give samples of his card game Ruckus to stores, as well as copies to a few employees at each retail location.
One manufacturer, however, thought that retailers, not manufacturers, should bear the cost of toys and games for a lending library.
"My budget is so tight, that wouldn't be something my limited budget can cover," stated Kathy Palker, vice president of sales and marketing for Brand New World (ToyDirectory), which markets such items as dress-ups and manipulatives.
And retailer Diana Nelson, owner of Kazoo Toys in Denver, noted that while she has operated a lending program for more than 20 years for elementary schools and preschools, she doesn't see the benefit of having such a program for the general public. In her experience, very few vendors send demonstration units of their products.
"If a store does this for a customer or school, they do it out of the generosity of their hearts. They cannot turn around and resell (the product)," she said. "The economy is tough. Everyone is watching overhead expenses."
Although not everyone believes in the value of a toy library, retailers and manufacturers may consider it as a unique way to increase sales and gain more exposure for their products.