---
Children Don Clothes of the Future
Pretend Play Reaches a Whole New Level in 2006
"Preschool kids wonder what school's all about and parents can give them a taste with this kit." — Kim McLynn, Learning Resources

Let's face it: Kids are just a bunch of wanna-be grown-ups. They wanna be doctors and they wanna be teachers and they wanna be firemen … and they wanna be glamorous no matter what. Role impersonation kits help kids don new personas using tools of the trade. Elaborate multipart costumes lead the pack of top-sellers.

Marc Truax, store manager of Try & Buy Toy Stores in Katonah, N.Y., told TDmonthly Magazine that the Parents Magazine Animal Hospital kit by Battat Inc. is popular with little girls. But Sandy Kozlowski, sales associate at Toy Loft Ltd in East Aurora, N.Y., said the International Playthings Inc. doctor and veterinarian kits don't sell as well as the Small Miracles dress-up outfits at her location. Why do the dress-up kits sell better?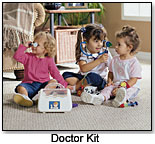 "They're mostly for little girls, and they're frilly and fancy," she explained.

While Sue Tice, IPI's public relations director and product manager, said the gender-neutral doctor kit does quite well for this product category, she noted that that the hands-down best seller is My First Purse. "It may even be the best seller in the whole company," she said.

"For girls, what's popular are still the tutus, red glitter Dorothy shoes (from 'The Wizard of Oz') and fabulous dress-up costumes from companies like Fairy Finery (ToyShow) or A Wish Come True," said Diana Nelson, president of Kazoo Toys in Denver.

Boys clamor for costumes from Aeromax (ToyShow), she added. The popular line of boys' dress-up costumes stays on top with Junior Mail Courier and Junior Biker outfits debuting this year.

"Our best sellers are aimed at girls' glamour and mix-and-match dress-up. But boys' choices do hold their own," Small Miracles president Michael de Jong told TDmonthly. "One makes up in volume what the other does in variety and volume."

Still, many kids dress less for fantasy than to better understand reality. In Wappingers Falls, N.Y., Toys and More co-owner Jean Zoeller said that the Tool Case by Small World Toys sells better than the doctor kit she carries in her store. "Every little boy has seen his dad use a tool," she explained, noting that doctors in the home generally aren't a familiar sight.

Truax said the Deluxe Fire Fighter outfit set by Dress Up America (ToyShow) sells the best at his store. Why? Because 90 percent of the firefighting staff in Westchester County, where the store is located, comprises volunteers so most kids have a dad or an uncle or a neighbor on the force. All Dress Up America kits also contain lots of props to help kids complete their fantasy.

And, at Wayland Toy and Stationery in Providence, R.I., the Pretend & Play School Set from Learning Resources sells well. While people generally don't come into the store looking for this kit, "We try to push people towards that because the kids really like to play with them," owner Angela Toljan said. Other retailers TDmonthly spoke with also provided kudos for the product.

Kim McLynn, public relations manager, said the School Set is the best seller in the company's Pretend & Play line. New to the market as of February 2006 has been the Pretend & Play Office, which has also been a strong seller.

"Preschool kids wonder what school's all about and parents can give them a taste with this kit." McLynn explained. As for the office set, McLynn said kids are naturally curious about where their parents go and what they do during the day.

For a closer look at new and top-selling children's role playing kits, read on.









This kit includes everything kids need to nurse little pet patients back to health. It includes a complete set of play medical instruments for performing checkups and administering medicines. When kids need to make a house call, they just pack up their tools into the lid of the animal hospital and carry them along. Each door has a color and shape coded key to make sure the animals stay safe and secure. It includes three plush animals (parrot, dog, cat) and eight instruments (stethoscope, syringe, flashlight, mirror, tweezers, pet vitamins and boo boo cream. The included flashlight requires one AA battery (not included) and measures 12" by 12" by 5".

.

AD
---






Everything a kid needs for pretend construction play! The 22-piece set includes a wrench, hammer, work-board, 4 nails, 4 nuts and bolts, pliers, screwdriver, drill plus 3 drill bits. The drill even makes a realistic drilling sound when it is used! Pieces store securely in the hard plastic carrying case with window, snap closures and convenient handle.

.

AD
---






.

AD
---






.

AD
---






Available in five sizes, this tough-looking attire will get kids' motors running. It includes a button down vest, matching chaps, a head wrap and biker fingerless gloves.

.

AD
---






.

AD
---






This doctor kit features an electronic stethoscope that makes a heartbeat and coughing sound. It also includes a blood pressure gauge complete with arm cuff, pump and spinning dial. Inside the doctor bag, young doctors will find a reflex hammer, thermometer, squeaking syringe, auriscope, laryngoscope and pretend bandage.

.

AD
---






.

AD
---






Crushed stretch velvet and fluffy boa make this the cape the best! Finish any outfit with this top quality, washable garment. Perfect for pageants, skating, or royal coronations! Velcro at neck makes it easy on and off- so safe! So many colors to choose from.

.

AD
---






Young imaginations will be recharged with creative role-playing. A Wish Come True lets girls and boys act out their favorite fantasies. Twirling tulle skirts, sparkling sequins and fabulous feathers are hard for any little girl to resist. Boys travel back into time in swashbuckling coats, character capes and hats sold separately. High quality dress-up and Halloween costumes, accessories, shoes, dress-up totes and trunks are also available.

.

AD
---






Talk about a convenience store — this shop is open and ready for business at a moment's notice! It comes with more than 104 pieces including snacks, play money, a write-and-wipe board for daily specials and many more shop items, all in a sturdy, tri-fold carrying board. All components store in vinyl pockets when not in use. The board measures 16" by 38" when open, and folds to a convenient 16" by 13" by 3" with a strap for fastening.

.

AD
---






.

AD
---






Everything your students need for a pretend day at the office is tucked into this official-looking briefcase. The realistic-looking 74-piece set includes a planner, pretend stapler, cell phone with sound, ID badge and many other office essentials — even a write-and-wipe paycheck and refillable crayon "pen"! The briefcase measures 11" by 9 1/4" by 3 3/4" and is made of top-quality nylon for durability. The cell phone requires two AA batteries that are not included.

.

AD
---






This Superman outfit is like no other: The "S" emblem on the jumpsuit lights up! The kit comes with a cape and jumpsuit with attached boot tops and a belt. It comes in four sizes: toddler, small, medium and large.

.

AD
---
THIS BANNER IS AN AD:
---
---