"Even the little girls now are into cars somewhat." — Brandy Lindstrom, Little Blue Choo Choo

Toy vehicles — perennial favorites for kids — become even more desirable when youngsters can construct the cars, trucks or trains themselves. New products from Automoblox (ToyShow) and HaPe International's (ToyShow) Woody Click line are having varying degrees of success, according to retailers who spoke with

TD

monthly

. And old standbys, such as LEGO, BRIO and Erector, continue to be popular.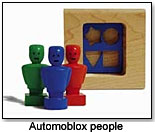 Although Automoblox just rolled onto the market in 2004, it's making huge inroads in the constructible vehicle business. The modular, lacquered wood vehicles are available in six designs and include interchangeable parts.
Betsy Judkins, owner of Betsy's on Ross in Auburn, Ala., said the X9 Sports Utility has been her biggest seller, probably because it comes with the most people. "(Customers) seem to like the ones with the most pieces."
Brandy Lindstrom, manager of Little Blue Choo Choo in Scottsdale, Ariz., said that although she has only been selling Automoblox for about five months, "people love them. Even the little girls now are into cars somewhat."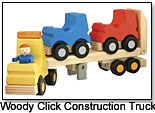 Dave Kessler, owner of Little Wonderland, a specialty online toy dealer, said he sells more Automobloxcars "by far" than other vehicles. He also mentioned Woody Click, with snap-together-parts, as a popular toy. "They are great quality and require no tools or glue or anything."

For Lindstrom, Woody Clicks have not enjoyed the same success as Automoblox but are increasing in popularity as more people find out about them.

In addition, brands that have been around longer continue to sell well. LEGO, for instance, has recently introduced the Ferrari Racing Collection, which features ready-to-build scale models. Erector has released The Best of 50 Models Erector Set with 605 parts that can build 50 different models.

Even BRIO now offers a line of wooden building sets called the BRIO Builder System. Senior product manager Kay Thomson told TDmonthly that the bestselling product in that line is the Construction Vehicles Set. Kathy Lorkovic, in marketing at online retailer Fat Brain Toys, agreed.

Belgian-made CLICS — on the market since 2001 — are small, plastic pieces that snap (or click) together. Judith De Bie, president of Toykimo (ToyShow), which imports and distributes CLICS in the United States, said, "We have specific packages" and is growing the brand.

Unique to the market are Dynatech Action Inc.'s (ToyShow) Atomic Blox — blocks with circuitry that causes them to light up. Andrew Kamondy, marketing manager, said the company will begin releasing rolling wheels for the Blox this year.

New to the market is Mighty World, play sets produced by International Playthings. The sets include constructible vehicles with interchangeable parts and toy trucks with alternate suspension parts as well as working tools.

"All of the existing trucks in the line can be taken apart down to just the chassis. Children can adjust the suspension to three different heights, add the transmission, drive shaft, exhaust, engine, battery and so on into their revised truck," explained Susan Tice, public relations director for the company.

"It has more details (than other similar toys) and it's multicultural," said Ricki Block, owner of Ariel's Child in New Windsor, N.Y. The whole line sells well at her store, but the police and fire sets are bestsellers. She added that the sets appeal to both sexes.

Take a look below to see details on some of the hottest vehicles that manufacturers are rolling out.

.

AD

The Automoblox M9 comfortably seats eight of our cool, blue people. The extra-long main passenger compartment and additional seating for four in the rear block give this vehicle the longest wheelbase in the line-up. Now your child can build a minivan like mom's that even dad will want to drive.

.

AD

The rich purple roof and soft rubber tires appropriately dress the Automoblox King of the Road. With an increased ride height and extra-large rims, this ride rolls with the big boys. Increased storage capacity in the rear block allows this ultimate lifestyle vehicle to be equally big on adventure and style.

.

AD

.

AD

.

AD

The T9 pick-up will have your children imagining daring adventures over tock-strewn trails and long trips to places only a beloved pick-up can take them.The will enjoy taking the T9 apart as well rebuilding it and dreaming up their own creations. Pop off the roof and quickly snap together the front and rear blocks or exchange them with parts from other models for countless hours of fun and learning.

.

AD

Woody Click offers a whole new world of adventure with build-your-own buildings and vehicles and delightful, poseable characters. With a simple "click," children add adventure to a variety of figures, houses, vehicles and accessories around community places like the fire or police station, hospital or rescue center, construction site, or family farm or city residences. With a few more clicks and a child's imagination these pieces of wood can become any building or vehicle or world the child chooses. Wood is the primary material for Woody Click, and its individual characteristics combined with fine craftsmanship make every piece of Woody Click unique. Water-based stains are used to maintain a natural and harmonious look and feel. The Fire Ladder Truck won a 2005 Parents' Choice Recommended Award and an Oppenheim Toy Portfolio Platinum Seal Award 2006.

.

AD

Using advanced technology, Atomic BLOX light up when connected to each other. The downside, of course, is that kids will never want to go to bed again after playing with these blocks in the dark. The blocks draw their energy from a battery-operated "Power Blox," which the blocks are built around.

.

AD

This 113-piece set includes an EMT mini-figure, stretcher and more. The back and side compartments of the ambulance open, adding to its realism.

.

AD

Builders can create a replica of the ultimate Ferrari with this 1:10 scale kit. Doors open and the hood can be raised to reveal the V12 engine. And the steering really works! The car measures 18" by 9".

.

AD

This 241-piece includes all the parts, tools and instructions needed to build a working power shovel, tipping dumper, tractor and trailer and two off-road vehicles.

.

AD

.

AD