"I thought it would be a different kind of event, having the kids meet a real inventor." — Ricki Block, Ariel's Child

Last month, Ariel's Child in New Windsor, N.Y., celebrated its first 20 years of success. Ricki Block, speech pathologist and store owner, manages to keep attracting new customers to her 5,000-square-foot store. For her anniversary, she organized a low-cost event with participants from a variety of industries, expertly networking and developing solid relationships.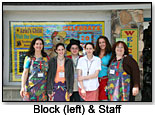 Block started planning her event in February. Hannaford's, a local supermarket, offered to cater the event for free. She added the Hannaford name to all of the promotional materials she sent out, including approximately 400 fliers she gave to customers in the store, 2500 emails to regular customers and one ad in the Clipper Magazine.

"Hannaford's got very good coverage. It's a great way to partner with a store in your area," she advised.


The weather cooperated, too.

"It was a beautiful sunny spring day," remarked Block. "We sectioned off a large portion of the back parking lot and provided most of the activities outside."

At the four-hour party, Rita's Ices handed out samples and coupons.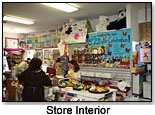 Block also teamed up with local talent. Kazi Oliver, a well-known drummer in the area, provided musical entertainment. Sheila Stepp, a physical ed instructor at the local college, led the kids in races with scooters and Plasmart's (ToyDirectory) Plasmacar.

There were also obstacle course races, including the Egg Race and Step-A-Sound Mat from International Playthings.

A retailer from a local yarn shop demonstrated weaving and crocheting. Kids also wrote stories about Ugly Dolls. A few arts & crafts activities were provided, including Decorate a Visor from Darice, I Dig Treasures kits from Action Products International Inc. and Paint a Train from RC2.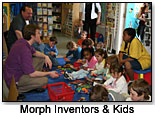 Block's extra-special guests were Mark McFarland and Wayne Ferreebee, founder and designer of the Zoomorphs construction sets. The inventors dumped out a big new tub of their Safarimorphs and Beachmorphs for kids and their parents.
"The Morphs building toy was one of the best-selling building toy for me this year," explained Block. "And I thought it would be a different kind of event, having the kids meet a real inventor. They loved it! I sold a lot of 'Morphs that day."
"Wayne and I want to do more of these events on a regular basis," McFarland told TDmonthly.
Block also used the party to move items that hadn't moved at all, offering drastically discounted and even free toys in boxes at the front of the store. Most of the freebies were claimed, she said.
Block intends to follow up with thank you notes to attendees.
"Good customer service is what it's all about," reminded Block, whose steadiest customers come into the store at least once a week. She knows all of their names, often surprising people who haven't been in the store a while.

Block specializes in providing toys for kids with special needs.

"I actually have customers who are starting to come back from years ago. Their children are grown and they are now coming back as grandparents or their kids are returning as teachers or parents. It's just wonderful!"
The relationships she's built over the first 20 years practically guarantee that her next 20 years will be just as successful.