"We observe children — at day cares, preschools, play groups — to understand the way kids really play." — Brian Kirkendall, Little Tikes

The problem with kids today may be that they have forgotten to play with their bodies as well as their minds. Toy manufacturers are recognizing the need to provide alternatives to electronic games and computers.

Little Tikes (ToyShow) has been an industry leader since 1970, developing "energy-burners" for those hours away from the LCD screen. Rubbermaid bought the business in 1984, and Newell acquired Rubbermaid in 1999. These transitions brought an influx of capital and resources.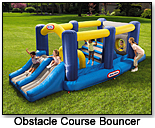 Brian Kirkendall, vice president of marketing for Little Tikes, joined the company five years ago. He previously worked for Scotts Lawn Care and Black & Decker.
"What has been surprising is the number of similarities between these industries — the primary one being the seasonality of the product," Kirkendall said.
He finds toys more exciting than hardware, yet applies the same marketing techniques. "I have secured relationships with new advertising, public relations and media buying agencies that have given us a fresh new approach to communications, as well as keeping us front and center with media outlets and consumers."
By selecting separate agencies, Little Tikes partners with groups that specialize in one area, enabling them to get the best efficiency and creative output. The company treats outside agencies as part of their internal team with active involvement at meetings and consumer touch points.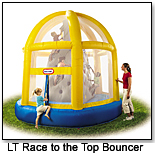 His product and channel marketing teams have strengthened the North American operation, which functions independently of the European and Asian Pacific centers. The overseas entities have their own strategic business plans.
"Many times they will produce the same items as Little Tikes North America, but typically they design products that best meet the requirements of their particular countries and end consumers," Kirkendall told TDmonthly Magazine.
This is not a new procedure, but typical of many Newell Rubbermaid divisions. There is little crossover between U.S. and international markets. The large size of their products prohibits shipping abroad, and safety regulations vary between countries, limiting distribution.
Kirkendall asserted that success starts with the end user. "We observe children — at day cares, preschools, play groups — to understand the way kids really play."
He explained that a concept will go through many phases as parents and children insure Little Tikes has a good product. Once the company has a prototype, it is previewed with the retail customer base.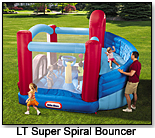 Little Tikes' best-selling product is the Cozy Coupe Car with sales at over 20 million. They refreshed the line in 2006, adding a Princess version with a cell phone and a Fire and Rescue Coupe. Other classic high sellers include the Turtle Sandbox, Mulching Mower and Shopping Cart.

Key style components of Little Tikes' products are soft rounded curves, bold design and color. The company is currently focusing on outdoor toys and role-play items to provide an "anti-couch-potato" option as America battles obesity.

"We update our product line to match the changing needs and trends of our consumers. This includes refreshing colors and designs — as well as entering into new categories like inflatables," he said.

Also called "bouncers", inflatables like the Jump 'n Slide are the company's emerging growth category. For the same price as a rental, a consumer can buy one, and portability enhances its appeal. They will introduce five new designs in 2006, featuring more complex and creative activities.

What follows is information on the newest and most popular Little Tikes products.

This Thomas the Tank Engine flashlight lights up and the whistle toots when kids squeeze the handle. They can roll the wheels to hear its "chugga-chugga" sounds. It Includes auto shut off and is ideal for children age 18 months and up.

.

AD

Designed especially for girls, this ride-on car features a high seat back and storage in the rear. The driver's door opens and closes. The vehicle comes with a battery-operated pretend cell phone in a holder that lights up and makes sounds. It is designed for age 18 months to 5 years.

.

AD

Designed for pretend rescue missions, this ride-on car features a high seat back and storage in the rear. The driver's door opens and closes. The vehicle has flashing lights, makes rescue sounds and comes with a microphone in a holder along with a decal kit. This is meant for age 18 months to 5 years.

.

AD

This inflatable bouncer features two tunnels, a climbing wall, crawl bars and two wavy slides. Built of puncture-resistance material with mesh netting, stakes anchor it in place, while a blower with GCFI provides continuous airflow. It includes a repair kit and storage bag.

.

AD

This inflatable gym features a jumping area with a six-foot spiral slide, hoop and ball, rock climbing wall and mesh netting for safety. Stakes anchor it in place, while a blower with GCFI provides continuous airflow. It includes a repair kit and storage bag.

.

AD

This compact corner kitchen encourages side-by-side pretend play. It includes a towel bar, towel, "granite" counter top and tiled back splash, faucet, oven, refrigerator, coffee pot and a bay window with a view. It comes with 18 accessories. It will be launched in August 2006.

.

AD

This large inflatable bouncer features interior obstacles and two cool slides. There are no worries with this inflatable, as the bouncer will stay in place with stakes anchoring it to the ground wherever it is set up.

.

AD

Fun flashlights lets kids play with their Sesame Street pals Elmo and Cookie Monster. If they squeeze the handle, the flashlight will light up and Elmo will giggle and Cookie Monster will exclaim, "Cookie!"

.

AD