Ann Brazil, a working mother of three and president of Pausitive Programs, LLC. (ToyShow), made the final round of auditions for the ABC television show, "American Inventor" with her children's DVD, "TimeOut Tot." She was one of 300 inventors out of 10,000 to make the cut. Although judges were enamored with the concept and impressed by the music and production quality, they felt her one-of-a-kind DVD was too far along in the production process to be eligible to win the competition.
"TimeOut Tot", now available on DVD, teaches children good behavior. The 90-minute DVD includes a 30-minute "Tot to the Rescue" show in which Tot (a lovable squirrel, made by a Jim Henson puppet maker) rescues boys and girls from timeout and teaches them right from wrong.
In her own words, Brazil discusses the DVD and how it came into being.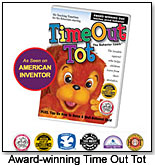 I am a working mother of three with a 20-year-old son who is mildly retarded, a daughter who is a hard-working high school student and a son who is a leukemia survivor now thriving in middle school. My personal experiences as a mother and 20 years in the "special ed" classroom taught me how to create stories, songs and games to meet the uniquely different needs of children.

When my "special" son stood at graduation to receive the You Make A Difference Award for his outstanding character and community service, my eyes welled with tears and a weight lifted from my shoulder — I don't have to worry about Brian anymore. His ability to win the respect of those around him will bring him happiness and success — something all parents hope for their child.

"Why then, is it that we put academic development before character development," I asked myself? We make our child learn their numbers, and yet we don't make our child sit at the table until everyone is done. TimeOut Tot helps parents teach self-control — the foundation upon which character is built, with "ready made" lessons for children.

There have been countless cartoons, fairy tales and fanciful stories presented on television, video and DVD with good moral lessons for young children, but never before has anyone thought to create children's lessons that define right from wrong — let alone lessons taught by a non-judgmental and non-punitive puppet who interacts with actual children and their parents by showing real-life examples and singing songs to teach the differences between acceptable and UNacceptable behavior. Unlike some DVDs that feature abstract concepts for children or "soft sell" social skills, TimeOut Tot is clear-cut and well defines positive character traits.

Tot's real-life settings offer children a unique opportunity to see how unattractive tantrums are and how annoying whining is. It's a glimpse in the mirror at how they're perceived by their peers when they "act out," cut in line, push or grab. And ... it's so much easier to learn what "not" to do through someone else's mistakes.

Never did I realize how much work (and money) it would take to introduce a new product into the marketplace. I thought I would be ahead of the game because my product was "one-of-a-kind." Instead, it has made it an even tougher journey, because there is no category for "character development" … yet.

Brazil has managed to find a home for her DVD and related products in retail stores across the country. Look for Pausitive Programs to continue expansion as word catches on. What follows is more detailed information on a few of the company's products.

Tot PlushPuppet is the perfect pal to comfort children when they have made a mistake. This is because Tot is not only soft and cuddly, but he is also a nonjudgmental friend who understands that we all make mistakes — and that's OK, as long as we learn from them. Tot sees everything (just like Santa) because he lives in the big tree down the road from children. When Tot sees them doing the right thing, Tot rewards them with his Acorn Treat. He comes with a plush acorn that has a zippered pouch that can be filled with small rewards to be handed out to good children.

.

AD

Tot's Tunes is a CD collection of songs from the award-wining TimeOut Tot DVD, with musical role-play games using their social skills. Tot's Acorn Treat is passed like a "hot potato," and when the music stops the person holding the acorn role-plays the "appropriate behavior" for a given situation. Learning "the rules" has never been more FUN!

.

AD

Timeout isn't necessarily the right discipline for every misbehavior, but it certainly is for the impulsive misbehaviors. Find out what these are, and get a step-by-step guide on how to use this discipline technique effectively. Written by Ann Brazil, creator of the multiple award-winning "TimeOut Tot" DVD that teaches good behavior to 3- to 6-year-olds. The softbound book is 5.5'' by 7.7''.

.

AD

Winner of seven nationally acclaimed awards including the Parents' Choice Award, the TimeOut Tot DVD helps parents teach their young children (3-7) good behavior. It offers "how to" lessons for parents and "ready made" lessons for their children taught by the lovable squirrel named TimeOut Tot who teaches the difference between acceptable and unacceptable behavior using music, stories and real-life examples. Sometimes it takes a third party to teach the behavior lesson. Tot is a non-threatening friend kids listen to at a time when they shut their ears to adults. "No other product shows kids in bad behavior like this, and shows them how ugly tantrums and this sort of behavior can be," Creator Ann Brazil told TDmonthly. "TimeOut Tot lets kids learn from other people's mistakes."

.

AD