Tools:








June Peeks
TDmonthly Staff Sparkled Plenty at These New Toys
School's out for the summer and it's time to play! Every kid on the block will be racing to bring the coolest new toy into the neighborhood.

TD

monthly

Staff members thought the following playful items were enticing enough to give the cleverest of kids pause for thought.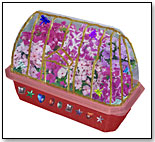 MSRP: $14.99

Age Range: 4 and upSKU or Item #: PG-0022Gender: Girls





The perfect little garden for that perfect little princess. With this mini-greenhouse, any child can safely grow beautiful, blooming plants in a setting overflowing with magical treasures. The seeds will sprout in a week and bloom within three months, and a princess can personalize her royal greenhouse with glitter glue, silver flower beads and jewel dragonflies. The kit includes a pack of impatiens seeds, a windowsill greenhouse, a bag of purple gravel, a bag of pink gravel, a bag of mixed silver flower beads, stick-on jewels, jewel dragonflies, a tube of glitter glue, planting mixture, instructions and an information sheet.

ToyDirectory Product ID#: 7184

(added 3/9/2006)

.

AD
---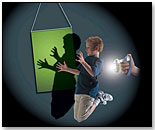 With a flash of light, kids' shadows are "caught" on a glowing screen — that's the magic of Shadow Magic. The Shadow Magic Light Blaster emits a high-intensity flash of strobe light manually or automatically. The 23" by 28" sheet of vinyl has one side coated with a special photoluminescent material. This material captures the shadow of an object as it's exposed to the flash of light, hence the term glow-in-the-dark. The built-in penlight on the light blaster allows kids to "draw" on the glow screen. A door clip and string lets kids hang the screen on a door.

ToyDirectory Product ID#: 7760

(added 5/2/2006)

.

AD
---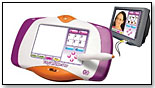 MSRP: $59.99

Gender: Girls





Through a partnership with Sega Toys, Radica has plans to develop, manufacture and distribute Digi Makeover. Digi Makeover includes a makeup case-style touch pad with a digital camera that plugs directly into the television. Girls take their picture and digitally enhance the image by adding makeup, hairstyles and accessories. Digi Makeover is expected to hit retail shelves in the fall of 2006.

ToyDirectory Product ID#: 7762

(added 5/2/2006)

.

AD
---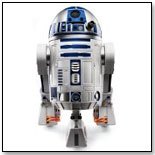 This useful metal pal is a replica of celebrity robot R2-D2. He obeys more than 40 voice commands such as "Turn around!" and "Move forward two units!" and plays games like tag, using an infrared sensor to search for people in a room. He can use this sensor to sound an alarm when a secured area is invaded by unwanted guests such as little brothers or small rodents. He makes happy and sad sounds and even gets in bad moods. (A simple command of, "R2, behave yourself!" snaps him out of it.) He weighs 6 pounds and is 15" by 7 1/2" by 10 1/2".

ToyDirectory Product ID#: 7761

(added 5/2/2006)

.

AD
---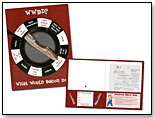 This 9 1/2" by 12" glossy folder from Accoutrements features classic spinner technology that helps the bored student or CEO in training decide how to conquer life, one spin of the giant bacon pointer at a time. For instance, "I need to get this 20-page report in tomorrow but I haven't compiled any research yet and my computer is broken. What Would Bacon Do?" one might ask. The response? "Raise Cholesterol." Useful advice. Or the response may be, "Spit Hot Grease." Very smart — for bacon, that is.

ToyDirectory Product ID#: 7763

(added 5/2/2006)

.

AD
---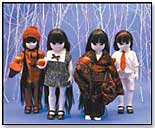 These eerie dolls — their faces not fully formed — are designed by Ufuoma Urie and stand around 14" tall. Each comes with a beautiful multilayered fabric costume and its own 'little apple' complete with metal pins. These dolls are based on a new mythology that echos the spirit of Japanese Horror Classics and Dark Anime Fantasy. The characters are without key facial features, which renders them both monstrous and beautiful. Series 3 and 4 are now available.

ToyDirectory Product ID#: 7772

(added 5/3/2006)

.

AD
---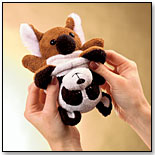 These little plush toys have a surprise inside: another plush toy! The pink pig reverses to become a green frog, the lion reverses to become an elephant and the monkey has an inner hippo. The Pair 'O Pals are available in 3" ($3.49), 6" (depicted here) and 12" ($15.00). New pairs for 2006 include an Easter themed chick/lamb. Displays are available to encourage impulse buys. Pair 'O Pals have won numerous awards, including an iParenting Media award and Creative Child Seal of Excellence.

ToyDirectory Product ID#: 7877

(added 5/18/2006)

.

AD
---
Catalog Request Form
THIS BANNER IS AN AD:
---
---