---
Building Toys on a Small Scale
Construction Choices Limited Only by Imagination
"There is no replacement for the basics. Lincoln Logs building sets have been around so long for a reason." — Kathy Lorkovic, Fat Brain Toys

Although building blocks have been around for years, brands and sets that offer a different twist enjoy strong sales, particularly at Christmas time.

According to Becky Baur, owner of online retailer PADilly.com, which specializes in European toys, products like Wonder Work's (ToyShow) Anchor Stones and HABA (ToyShow) blocks are strong sellers because of their uniqueness.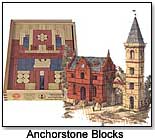 Baur has been selling Anchor Stones since she and her husband launched their business more than two years ago. The blocks, first made in Germany more than a century ago, come in three different colors to simulate terra cotta brick, natural sandstone and the blue slate of European roof tiles.

"It's a completely different feeling when you build with them," Baur told TDmonthly Magazine. She credits this to the unique texture and smell of the "stones," which are composed of a mixture of quartz sand, chalk and linseed oil.

HABA blocks, which have been manufactured in Germany for 65 years but only reached the United States in 2002, are proving to be a big hit with consumers. HABA's architecture sets include dome-shaped, arched and other interesting forms that allow builders to construct scale models of real buildings.

"HABA wooden block sets are a beautiful art and architecture resource," Lorkovic noted. "The pleasing blocks provide hands-on understanding of fundamental architectural principles. One of our customers said it best, noting these blocks add 'elegance and art to the living room floor.'"

Some construction toys have stood the test of time, such as Lincoln Logs (today manufactured by K'NEX), which continue to be top sellers for online retailer Fat Brain Toys, according to Kathy Lorkovic in marketing.

"There is no replacement for the basics. Lincoln Logs building sets have been around so long for a reason," she said.

Other construction toys are newer to the market, but appear well on their way to becoming classics. Take Kapla, for instance. Invented in France in 1988, these marine pine planks, all measuring 1" by 4 ½" by ¼", have been available in the United States on a small scale (mainly in museums and through a few specialty stores) since 1995. But response has been so good that in January 2006 the company created Kapla USA to distribute the product throughout the United States, according to Marjorie Israel Chayette, general partner for Kapla USA.

One online retailer, Ryoko Hirano who owns woodworkerstoy.com, said that consumers "go crazy" once they understand the creative possibilities with Kapla. "You can create anything by stacking the planks," Hirano said. "Your imagination is the only limitation."

Budding bricklayers can test their trowels on Intelligence Mini-Buildings offered by Joyco International and Young Architects Brick and Mortar Construction Kits by Educational Insights (ToyDirectory). The mortar used to hold the pieces together easily dissolves in water, allowing for the structures to be built, dismantled and built again.

Woody Click Smart Living offers another way for children to build houses, according to Tony Wang of HaPe International (ToyShow), manufacturer of Woody Click. The Smart Living kits, which were developed in 2005, allow children to "build beautiful houses the way they want," Wang said.

With the Smart Living — Family Home kit, children can click levels and walls together in a variety of ways. Woody Click vehicles are also popular sellers.

Below are a few sets that will allow builders to let their imaginations run wild as they construct structures of all kinds.









This beautiful set contains all wooden pieces stained to match those of the original Lincoln Logs. Its red chimneys and green slats rekindle memories of classic Lincoln Logs building fun. The keepsake wooden storage case is individually numbered for true collector quality.

.

AD
---






This kit has everything for little knights and their big castle: towers, battlements, two fabric flags and much more. It includes a total of 59 building block pieces.

.

AD
---






Young builders can recreate a piece of Amsterdam with this 166-piece set that includes natural and stained beech wood blocks.

.

AD
---






The 36 wooden blocks in this set can be stacked in limitless combinations to create a metropolis. The set comes with trees, figures and a small dog. It's made of unfinished beech wood.

.

AD
---






Kapla has won a Parent's Choice Award and a Dr. Toy's Smart Play, Smart Toys award and has even been named to Dr. Toy's 100 Best Classic Toys list for 2006. Kapla produces wooden building planks that stimulate the imagination and artistic side of everyone. Made of high-quality marine pine, children can build large bridges, skyscrapers, castles, and more using the Kapla 200 Building Set. This set comes with 200 planks and an illustrative booklet. It can be used in the classroom to foster discussion and at home as a bonding activity with the family. Wooden planks are also available in various colors.

.

AD
---






The Intelligence Mini-Building puts the construction in construction toys! Each set comes with real pottery bricks and mortar, complete with building plans for kids to construct their own villa, castle, or anything that they can imagine. It´s like LEGO building sets only with a twist of realism. It´s a great toy to stimulate future architects and civil engineers.

.

AD
---






With this line of building toys young architects can experience the excitement and pride of building their own ready-to-display stone replicas of world-famous architectural masterpieces. The kit comes with mortar, a mini wheelbarrow, a trowel, an L-shaped ruler and an 8-page instruction guide. The mortar dissolves in water, making it possible to build the structure again and again.

.

AD
---






.

AD
---






Amateur architects can construct a replica of this New York City landmark. This kit includes bricks, mortar, a mini wheelbarrow, a trowel, an L-shaped ruler and an instruction book. The mortar dissolves in water, making it possible to build the structure again and again.

.

AD
---






Children can use their imaginations to put this house together the way they like by clicking together the components. It includes furnishings for a kitchen, TV room, bath and patio.

.

AD
---






This holiday home can be assembled in any way the child prefers. It includes three sets of spiral staircases and rooms, including a bathroom, kitchen and living area. Modern furnishings are included.

.

AD
---
THIS BANNER IS AN AD:
---
---