---
Novelty Toys Stuff Stockings
Unusual Gifts Make Holidays Memorable
"Novelty gifts are important today because the world is getting too serious." — Russ Colby, Spitfire Ventures

Novelty toys that manufacturers say are hit-bound for the holiday season 2006 let kids of all ages blow humongous bubbles, munch on sweet explosions, carry their favorite characters in their pockets and brighten dreary office desks. They're small, cheap and fit nicely in stockings.

"Novelty gifts are important today because the world is getting too serious," Russ Colby, president of Spitfire Ventures (ToyDirectory), which produces a talking toilet paper roll, told TDmonthly Magazine.

"Everyone needs a break!" agreed Scott Henderson, president of Funworks, makers of Shake n Shimmer lights.

"Novelties put smiles on people's faces!" said Julian Parry, founder of Fun Friends, whose products transform cell phones into plush characters.

"The most likely people to purchase novelty gifts think outside of the box and desire edgy, unique and creative products," added Jeffrey Assisi, spokesperson for Pop Rocks candies.

Manufacturers fill that desire with toys that are full of surprises.

The Talking TP, for instance, lets pranksters record their voices on a toilet paper spindle. When an unsuspecting victim uses the facilities, he can hear anything from "Hey! Watch where you're aiming!" to "Mind if I join you?"

"We had thought the Talking TP would be purchased mainly by men, but in our large initial tests run on the Internet, well over 50% of the purchasers were women," said Colby. "It's a great stocking stuffer. The best."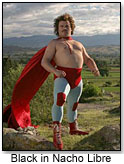 Talking stuff sells big, agreed Jay Kamhi of Kamhi World (ToyShow). After months of success with Family Guy talking pens, figurines and keychains, he's snagged licensing rights to the upcoming Nacho Libre, starring Jack Black.
"We haven't told anyone else," Kamhi shared with TDmonthly . "But we're really excited about it. We've seen the advanced art on it and it looks just great."
They're doing pens, key chains and figures, too, all of which will be ready in time for Holiday orders.
"We take the hottest characters in Hollywood and TV and turn them into the world's coolest talking toys," continued Kamhi. "They lighten up the day a bit."
So does Funworks' Shake and Shimmer lamp — a small lava-lamp-type item that Henderson calls "a great office diversion. It's being bought by a lot of gift stores as counter-top gifts and as a last-minute impulse buy."
Talk about hits? Let's talk hit men. Emanation (ToyShow) just released a talking "Scarface" key chain with key phrases spoken by Scar star Al Pacino.
"It just started selling this week and we think it's going to be fantastic," said operations coordinator Max Eremine, "'Scarface' is a classic. A majority of the phrases have become aphorisms."
Those who want to do their own talking will appreciate the Kids' Rubber Stamp Kit by Magnetic Poetry.
"Kids can do crafts while they play with words," said public relations manager Joyce Johannson. "They attach rubber word stamps to a magnetic bar and create their own birthday cards, thank you cards and secret notes."
Other products that are sure to stick around are the holiday-themed magnetic photo cards by Sunshine Girl Creations. Naomi Rappaport, president, told TDmonthly , "They'll do well because holiday photo greeting cards are popular and this one has the added feature of a magnet, so you can put it up."
Kids and adults craving a new sensation for the holidays might prefer to gobble Pop Rocks Candy Cane Flavor candy. Jeffrey Assissi, junior account executive for The Steven Style Group, which handles Pop Rocks, told TDmonthly , "Combining the patented popping properties that only Pop Rocks possess with the time-honored candy cane flavor is sure to be a Christmas holiday hit with young and old candy lovers alike."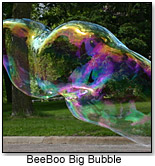 For those who'd rather blow bubbles than chew, The BeeBoo Big Bubble Mix by Xtreme Bubbles LLC (ToyShow) creates world-record size bubbles. And that's not empty bragging:

"Once we found the formula to create a big bubble product that's easy, fun and convenient, we knew we had something special," explained John Erck, CEO of Extreme Bubbles. "So we set a Guinness World Record for the world's largest free-floating soap bubble in Farmington, Minn., on October 9, 2005. There's nothing on the market like it."

Leslie Cohen of Cow-Egg LLC doesn't bubble, but she does bobble. She and her company invented an electronic base that keeps bobbleheads bouncing.

For those who like their bobbles infused with holiday spirit, Regena Sims, president of BobblesUSA.com, brings out her Santa, Rudolph and Frosty the Snowman bobble heads.

"People always ask for them at the holidays." Why? Sims wasn't sure, but Kamhi had the answer:

"It's fun," he summed up. "It's just fun!"

The following is more information on novelty products that will be available this holiday season.









.

AD
---






This mini metal lava lamp is more than groovy — it shakes and lights up, too. "It's a great office present," suggested Scott Henderson, president of Funworks. Gift stores should place them at point of purchase, he suggested, because their hand-holdable size makes them the perfect impulse item. Batteries are included.

.

AD
---






This is the newest version of Magnetic Poetry's popular Word Stamp Kits — especially for kids. The kit contains 85 magnetized rubber stamps with kid-friendly words to make their own birthday invitations, thank you cards, gift tags and anything else they can think of. The message is arranged magnet side up, then kids pick it up with the metal-plated stamping block and stamp away. The kits, complete with ink pad and storage tin, include word and icon stamps such as a birthday cake and smiley face. It was launched in early 2006.

.

AD
---






The Word Play Board lets kids indulge in Magnetic Poetry word play without having to stand in front of the refrigerator. Instead, kids of all ages can create their own phrases, poetry and messages on this colorful round metal play board and stand, which are perfect for kids' bedrooms, playrooms and even beside the computer (just not on it, please!). With 200 word magnets, words and stories almost magically appear. Kids just add their creativity and imagination. Launch date: November 2006.

.

AD
---






Can Rudolph pull Santa's sleigh? Yes, he can, he says, by bobbing his head up and down with conviction. This little bobble-headed reindeer will keep the holiday spirit alive and in motion, as he has for many Christmases past.

.

AD
---






The Bobble Bouncer (TM & Pat. Pending) is a new electronic bobblehead display case with a base that nudges your bobblehead doll so the head bounces (as life intended). The base contains state-of-the-art electronics specifically programmed to nudge a bobblehead doll approximately every 10 seconds for a 15 minute period and then automatically shut off. Base of the unit measures approximately 3.75" square with a 3.5" cushioned platform designed to accommodate most standard-size bobblehead dolls. Several units can be linked together to run off one plug-in adapter. Plastic molded dust cover also included. It debuted at Toy Fair 2006.

.

AD
---






.

AD
---






Magnet Mailers transform any 4" by 6" photo into a personalized photo postcard and magnetic photo frame all in one. Simply insert a photo between the plastic cover and paper postcard backer, seal shut, add a message and send through the mail. The embedded magnet enables recipients to instantly stick it to any metal surface.

.

AD
---






Fun Friends are cute and cuddly critters that cover cell phones. Fun Friends define novelty … they make ordinary cell phones new, original and different, which gives Fun Friend owners a feeling of being unique. Fun Friends can be changed for all the different holidays and seasons, or even every day! There are Halloween monster, Santa Claus, Valentine's bear and Easter bunny models, as well as animal characters to keep cell phones looking posh and plush.

.

AD
---






One of the most memorable characters in movie history, the 40-year-old virgin Andy Stitzer has now been immortalized in this finely sculpted talking figure. Sculpted by famed American artist Paul Brooke, this talking doll says nine different lines from the hit movie, "The 40 Year Old Virgin," in Andy's own voice. He proudly stands with hands on hips, wearing nothing but his boxer shorts and a smile. His chest hair has been recently waxed. Hear Andy Say ... "It loses its value if you take it out of its packaging!" "Is it true that if you don't use it, you lose it?" and many more memorable lines.

.

AD
---






Officially licensed by Fox, these four collectible Family Guy Talking Pens each say six different lines from memorable Family Guy episodes — in each Family Guy character's own voice! Stewie, Brian, Peter and Quagmire are there to provide advice and comfort any time their pen top is clicked. These are great fun for school, the office or home.

.

AD
---






These glow-in-the-dark bubbles look like spectacular iridescent planets floating around. As the bubbles burst they look like an explosion and create an atmosphere of shooting stars and stardust. No blacklight is required.

.

AD
---






There is nothing to compare to this bubble mix: It's in the Guinness Book of World Records (world's largest bubble). The beeboo Big Bubble Mix makes blowing big bubbles easy and fun, and is as simple as mixing one gallon of water with one bottle (17fl. oz.) of concentrate. Coupled with the beeboo Big Bubble Wand (each wand is constructed using two 30" wooden handles and a section of super-absorbent cotton cloth), the whole kit creates huge, colorful, long-lasting bubbles. This product received a 2007 Oppenheim Gold Award.

.

AD
---






Buddha was born in Nepal some 2500 years ago, but he is still a revered and loved figure in all cultures. Soon after he was born, it was evident to all of those around him that he would be a very enlightened soul. Rocket USA hopes to capture this enlightenment with its six 8" tall figurine/banks made of durable poly resin, each of which represent not only a different color but a state of being for which Buddha himself would strive. The Buddha Buddha Bank comes in six assorted colors/enlightened states: blue (serenity), red (love), pink (peace), gold (happiness), yellow (praise), and green (faith).

.

AD
---
THIS BANNER IS AN AD:
---
---