"After riding my bike to the beach (I live three miles away) I detach the speaker from the bike in about a second and put it on my beach chair." — Mick Kless, Active Tunes

Mick Kless had a dream: To rock out while safely pedaling through traffic. With his new i-RIDE portable stereo system, he now has the ability to groove to sweet tunes while cruising city streets. And he (and his product) are gaining momentum. Even despite naysayers.

"One particular important distributor in the industry told me that the idea was laughable," Kless told TDmonthly Magazine. "Now that distributor's biggest competitor is distributing the i-RIDE to his dealers and the dealers are selling above list price. Who's laughing now?"

Kless, founder and president of Active Tunes (ToyShow), started his company two and half years ago when he licensed the i-TRAVELER mini speaker, a true portable mini speaker for the iPOD and MP3 market. The product, unfortunately, was not unique, and Kless found it difficult to operate a company that manufactured only the one product.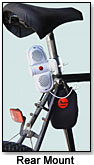 Inspiration struck last May, however, when riding bikes with his daughter. "She was about to put her earbuds in her ears and I wouldn't let her because of the safety issue," Kless recalled. "There are two kinds of cyclists who ride with earbuds: Those who have been hit by cars and those who are going to be hit by cars."
After searching for a product that could attach to his bike and play his iPOD, Kless came up short. So he developed a mounting bracket that would accommodate the i-TRAVELER mini speaker.
"It turned us from a 'me too'-product company into one with vision that is now poised to be the market leader," Kless beamed.
While there are other portable stereo products that fit onto bicycle handlebars currently on the market, they are nothing like the i-RIDE. According to Kless, others have some type of clamp that requires shims to accommodate different diameter tubes. The i-RIDE, on the other hand, has a universal mounting bracket that fits on nearly all bicy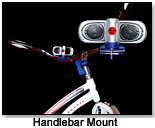 cle handlebars, bike frames as well as many baby strollers and jogging strollers.

"After riding my bike to the beach (I live three miles away) I detach the speaker from the bike in about a second and put it on my beach chair," Kless said.

But he's not relaxing full time just yet. After selling the product door-to-door to local bicycle stores, he then located those stores' distributors and began selling upstream to those distributors who have hundreds of dealers.

"Before I knew it, we had five regional distributors selling the i-RIDE … all of this has transpired in a very short time," Kless said.

With more than 90 million cyclists in North America alone, and with iPODs seemingly here to stay, Kless expects to have his hands full with new orders. The i-RIDE is primed to meet crossover sales at electronics stores, sporting goods retailers and even specialty toy shops across the country.

What follows are a few more details on the Active Tune's products:

i-RIDE bicycle stereo allows bike riders to safely listen to their favorite tunes without tuning out the world and the traffic around them. They simply plug their iPOD, MP3 player or any portable audio device into the mini stereo speaker with the included audio cable and snap it into the universal mounting bracket. They are now ready take their favorite tunes on the road.

.

AD

Powered by USB cable (included) or three AAA batteries (not included) this pair of mini-speakers conveniently fit into pockets of active people. Less than 6" long when fully unfolded, they plug into any audio device and were specially designed to work with an iPod, satellite, WalkMan, RIO, MP3 player or any device with a headphone jack.

.

AD