---
Retailer Spotlight: Red Wagon Toy Co.
Elements of Style Draw Customers to Family-Owned Store
"I realized I could make more money if I brought in clothing." — Kim Smith, Red Wagon Toy Co.

After returning to her hometown of Woodstock, Vt., in 2001 after living in Florida for a few years, Kim Smith realized that her surrounding community lacked any kind of children's shop, she told

TD

monthly Magazine. The nearest place for children's merchandise was in West Lebanon, 45 minutes away.

INVESTING IN CHILDREN



Inspired by her preschool-age children and knowing that local and tourist shoppers in Woodstock/Killington value specialty items and quality design, she allotted $100,000 of her own money to begin a specialty children's shop, Red Wagon Toy Co. She invested $70,000 in the initial start-up and gradually tapped into the remaining $30,000 until reaching a profit.

"If you can make it past three years, you're good," she said. "The startup expense is a lot."

Trying to keep costs down during those first years was a challenge, Kim said. She didn't have a full-time manager, and simultaneously running a household and raising two children proved difficult. But she was able to juggle the responsibilities, and today the business is truly a family venture.

WORKING FAMILY TIES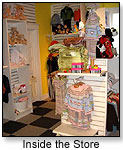 Kim's preteen daughter Alison, who helps Kim's sister, PJ, with purchasing decisions, "is really loving the retail business," Kim told

TD

monthly. And both PJ and Kim's husband manage the Red Wagon website.

Running a family business can be stressful, but the family members love each other and "it all works out in the long run," she pointed out.

DRESSING UP WITH GIFTS

With no big box stores nearby and only a smattering of independent toy stores throughout the state of Vermont, Kim has little competition, which allows her to take more chances.

"I realized I could make some more money if I brought in some clothing," she said.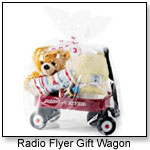 Kim added to her clothing line as demand grew, and noted that infant clothing sells especially well. She merchandises the store by theme to accommodate gift buying, which accounts for up to 80 percent of her business.

"I always try to buy fun clothing that complements the toys, or the toys complement the clothing," she told

TD

monthly. "Themed presentation is a great way to pick up an add-on item — or two or three."

Kim also caters to gift givers by offering a custom gift-filled Radio Flyer wagon online and by using popcorn boxes with a Red Wagon sticker for wrapping. She often tells customers that adding another small purchase, such as a rattle, to the outside of the box makes an attractive presentation.

PRESS-ING ON

Red Wagon Toy Co. was itself on display when Newsweek magazine listed the store's website in a Thanksgiving 2005 feature on the Rody Horse by Toymarketing International. That coverage — all because Newsweek was impressed with her site — resulted in thousands of orders at the beginning of the crucial holiday season, Kim said.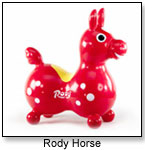 Additionally, in spring 2006, Child magazine listed Red Wagon as one of the top-100 kids' shops in the country.

Kim does little advertising, but in the past has used Google adwords, she told

TD

monthly. She doesn't utilize it as much "now that we are up in the rankings," though, because the charge per click can really add up.

Running a children's store is fun and rewarding, Kim concluded, but it's a "lot of hard work, too, so be ready."

To see Kim's most popular items, read My Best Sellers: Red Wagon Toy Co.

Writer's Bio:
A professional writer/editor since 1984, Christine has spent much of her career in business and technical writing/editing. Her technical communications expertise is complemented by work developing curriculum materials for both print and on-line use in personnel training, and by work as both a software applications trainer and a writing skills tutor/one-on-one instructor.
Read more articles by this author
THIS BANNER IS AN AD:
---
---