---
TDmonthly's Psychologist Mom
She'll Put Your Toys on the Couch
Dr. Wright doesn't just look at toys; she analyzes them. In and out of the box, she scrutinizes them for playability, appropriateness and educational value. The latter quality is especially important to this psychologist/mother, who also homeschools her three children.

This month,

TD

monthly Magazine's Psychologist Mom goes head to "headz" at a loud baseball game, parties in the swamp with Shrek and much more, rating each product with 1 to 5

TD

stars (for

TD

monthly!); 5 is the top mark.


Amazing Places: National Parks by BIRDCAGE PRESS
Age: All Ages


Gender: Boys and Girls
Category: Card Games
MSRP: $9.95



TD

monthly rating:



The Dr.'s Impressions: Amazing Places: National Parks is a traditional playing card deck with suits that include pictures of national park locations and little facts about the park. You can play any card game, but games that require you to collect groups — such as Go Fish — are well suited because instead of collecting 4s or 7s you are collecting canyons, mountains, deserts and caves.

Kids' Perspective: My boys (ages 8 and 10) did not particularly care for the deck at first. They found it unwieldy to shuffle and hold. However, they did like the pictures, and when friends came over they took the cards out to show off their new deck and played with it for at least an hour. They played slap the mountain (an alternative to slap jack), in which the first person to slap a picture with a mountain won the cards.

Recommendation: This is a wonderfully educational card game that would be particularly fun for travel. Imagine taking a road trip to the place on the card! Of course, it would make a great gift and also fits in the stocking for Christmas.

---
Shrek Swamp Party DVD Game by b EQUAL
Age: 6 and Up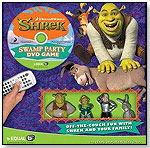 Gender: Boys and Girls
Category: General Games
MSRP: $24.99



TD

monthly rating:



The Dr.'s Impressions: This game includes a DVD that guides you through play, Fiona, Donkey, Prince Charming and Shrek figurines, an activity mat, a ring toss in the shape of Shrek ears and a donkey bean bag. The DVD games are intellectually stimulating and visually sophisticated. For instance, in one game you combine two pictures to make a word (i.e. a picture of a frog and a picture of a bull makes bullfrog,) and in another activity you do tongue twisters.

Kids' Perspective: With TV, Shrek and fun puzzles that are both physical and mental, what is not to like? My 8- and 10-year-old boys loved playing but wished they could play with more people. Unfortunately, the game is only for one to two players.

Recommendation: I really liked this game's activities, especially the word games. The game is educational; however, the age range probably caps at 10 or 11. I did enjoy watching the kids play this game, as it's very fun to both play and watch.

---
Griddly Headz Baseball Game by GRIDDLY GAMES INC.
Age: 8 and Up


Gender: Boys and Girls
Category: Board Games
MSRP: $49.95



TD

monthly rating:



The Dr.'s Impressions: This very large, two-tiered board game is quite impressive. Griddly Headz is a set of nasty looking characters that you join to play a game of baseball. The game is well packaged and easy to store, and has well-designed graphics. Players pick their team members and start with 12 pieces of gear. If a player forfeits all 12 pieces, he loses.

Kids' Perspective: The directions for this game were difficult to navigate, so it took us quite awhile to figure out how to play. However, once we did, we had a good time. It is a loud, boisterous, high-energy game that is perfect for little baseball players.

Recommendation: This game is very exciting but very competitive. A major component is shouting and taunting your opponents. But it is fun to play and could really liven up a slow winter day. Griddly Headz Baseball is a sizeable game, but even so, the price is a little high. I would also recommend simplifying the instruction booklet.

---
Spider-Man Reversible Deluxe Action Suit by DISGUISE INC.
Age: 4 to 8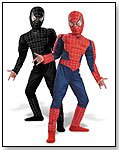 Gender: Boys
Category: Costumes & Accessories
MSRP: $24.99




TD

monthly rating:



The Dr.'s Impressions: This Spider-Man full jumpsuit costume is made of fairly nice material and is colorful and full of realistic detail. Perhaps the best part is that it is reversible so a child can wear the traditional red-and-blue suit or the all-black version.

Kids' Perspective: I tested this costume on a little 6-year-old boy, and his mother said he has not taken it off in over a month (except to bathe and wash.) He likes the "puffy" chest and the hood with "see-through" eyes.

Recommendation: Just in time for Halloween, the Spider-Man Reversible Deluxe Action Suit is a must-have for little super heroes.

---
Erector Tuning Radio Control Light and Music System Car by NIKKO AMERICA INC.
Age: 8 and Up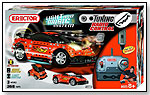 Gender: Boys and Girls
Category: Remote Controlled
MSRP: $99.00



TD

monthly rating:



The Dr.'s Impressions: Erector sets are always a favorite, but this one is especially cool. The kit includes 368 parts, an assembly instruction booklet and a power tool. It builds three different remote-controlled cars, all of which have lights and sound and are very fast!

Kids' Perspective: My 8-year-old boy, who is very adept at assembling LEGOS, puzzles and 3-D models, had a difficult time with this kit. He was able to complete the cars, but with effort. My 10-year-old found it much easier, and they both spent hours putting the car together and driving it all over the house. They loved the power screwdriver, too.

Recommendation: I would highly recommend this fun and colorful car kit for any child. Erector sets are one of the greatest educational toys on the market and can last a lifetime.

Writer's Bio:
Dr. Tiffany Wright doesn't just look at toys; she analyzes them. In and out of the box, she scrutinizes them for playability, appropriateness and educational value. The latter quality is especially important to this stay-at-home psychologist/mother, who also homeschools her three youngest children. Her daughter attends UCLA. Dr. Wright earned her Ph.D. in personality psychology from University of California, Riverside. She is always on the lookout for toys and games that inspire creativity and impart knowledge while bringing fun and laughter to her home.
Read more articles by this author
THIS BANNER IS AN AD:
---
---