Tools:








TDmonthly's Toy Videos
TDmonthly Magazine's Toy Videos give you instant access to toy demos so you can evaluate a product before you buy it. If it works, it shows. If not, that shows, too. Seeing is believing, but hearing doesn't hurt, either. Does TDmonthly's ToyTV work for you? Let us know.
Get my toy on

TD

monthly

's Toy Videos!
Videography by Rob Poswall. Edited by Alison Marek.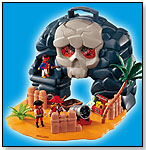 Pirates' Take Along Island by PLAYMOBIL INC.

This three-in-one playset can be used for travel, play and storage. It includes three pirate figurines, a cannon, swords, a canoe, gold treasure, a skeleton and more. The case includes a top handle for easy transport. Both sets, Take-Along Castle and Island easily accommodate the toys they come with plus space for lots more. (

Watch Video)




To see archived videos sorted by category, please click here.


You can also watch manufacturer demos from 2007 and 2006 trade shows.


And here are the new videos for this month (

NOTE:

More videos are coming this week, so check back soon!):









This flyer does not require batteries and soars up to 35' high. Users simply pull back the knob on the launcher to send the flyer skyward. It works best when launched into the wind.

.

AD
---






This all-in-one bookmark can fit neatly into a child's stocking and includes a metronome, A440 tuner and practice timer. The metronome allows one to guide a music student with the countdown timer, setting it for 15, 20, 30 minutes or more with the touch of a button. When the practice session is over, an alarm will sound. The cumulative timer can be used to accumulate total practice time over multiple practice sessions. All of these features can be used simultaneously. This product has received awards from the National Association of Music Merchants, iParenting and Children's Technology Review.

.

AD
---






.

AD
---






Axl, a crab fisherman by day, takes on the specialty task of deep sea recovery and has completed 205 missions. His tool of choice is the Tallen 205. Launch date: July 2006.

.

AD
---






Suitable for miniature gaming, these 15 recto-verso gaming tiles represent the inside of the factory-world Damocles. Launch date: July 2007.

.

AD
---






This addition to the Toob line comes in a desert theme. Twelve hand-painted and authentic-looking replicas are neatly packed in a reusable acetate tube, capped with a spinning world. The phthalate-free PVC collectible miniatures are designed for school projects, dioramas and desktops. The replicas vary in size from 1-1/2" to 3". The Toob line already features over 40 different themes, including Pirates, Cowboys, Rainforest, Coral Reef, Dinosaurs, Horses, Pets, Penguins, Reptiles, Sharks and many more.

.

AD
---






The vibrant and colorful metal pieces stack on a magnetic base to create endless whimsical sculptures. The Solar System includes nine planets, a space ship and an astronaut. An educational leaflet is included describing each planet. The magnetic sculptures line includes 15 themes, among them exotic birds, America the beautiful, Egyptian, knights and maidens and more. The magnetic base is 3" in diameter and the individual magnetic pieces are 0.5" in length.

.

AD
---






.

AD
---






This set includes a bright fishing pole with a strong magnetic hook that easily catches all three of the included sea squirts. The fishing reel makes a clicking sound, and the squirts float, squirt water and sink when filled with water.

.

AD
---






Magic Mesh is perfect for moms who want to have fun and be creative with their kids without the messy cleanup: just cut, emboss, weave, layer and more. Magic Mesh's self-adhesive quality makes it great for positioning and re-positioning on scrapbook pages, cards, gift tags and many other surfaces. Magic Mesh is also great for covering up torn pages and matting photos. A 36-page fully illustrated book offering a wide variety of tricks and tips to wow friends and family is available separately. Magic Mesh is available in four weaves (fine, medium, quilted and Dottie Ann) and 54 colors.

.

AD
---






When a child opens this early-learning laptop, his or her reflection will magically appear on the screen. Kids can learn and play with ABCs, 123s, colors, shapes, animal names, sounds and melodies. This product won a 2007 iParenting Media Award. Launch date: June 2007.

.

AD
---






.

AD
---






This kit gives future paleontologists an opportunity to discover firsthand what it's like to carefully excavate dinosaur bones from hard rock through role playing. It includes archaeological digging tools, eye goggles and a brush. Kids can excavate the stegosaurus skeleton, which comes encased in clay rock, and then assemble the pieces for display. Launch date: June 2007.

.

AD
---






Each kit contains code-making instructions, 16 sheets of notepaper, 16 envelopes, six postcards and two sheets of stickers. This one is assembled from the desk of missing explorer and amateur Egyptologist Emily Sands, and it allows other fans of Egyptology to communicate using hieroglyphics, which comes in hand when sharing secret discoveries. Launch date: November 2007.

.

AD
---






This non-toxic, non-allergenic plush toy is handcrafted by skilled artisans with the highest attention to detail. It is 6" long and has an embroidered face.

.

AD
---






.

AD
---






This 11" plush Dalmatian moves to the beat as he jams out to his own rendition of "Jingle Bells." The product is suitable for ages 18 months and up, and comes with four AA batteries.

.

AD
---






.

AD
---






.

AD
---






.

AD
---






.

AD
---






This puzzle kit comes complete with everything you need to build your own castle. The designs are already on the puzzle pieces and kids just need to pop them out and begin constructing.

.

AD
---






From the Mythical Realms line, this hand-painted piece is made from translucent phthalate-free PVC. Other creatures in the Mythical Realms collection include Poseidon, Griffin, Mermaid, Pegasus and Minotaur. Launch date: January 2008.

.

AD
---
Catalog Request Form
THIS BANNER IS AN AD:
---
---