---
Homeschoolers: Crafting on a Grid
Families Mesh Creativity With a New Medium
"I've never seen anything like it before." — Joe Ledford

This month,

TD

monthly Magazine's Homeschool Roundtable got creative with Magic Mesh, a repositionable, self-adhesive, reusable mesh available in a variety of sizes, colors and weaves.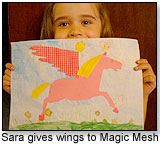 Roundtable participants include former corporate accountant Robbin Dawson with Ethan (8) and Sara (6); Alison Shanahan with Elizabeth (14), Emily (13) and Katie (7); Teresa Wilson, editor of "HOMES Newsletter," with Timothy (14), Andrew (11), Elise (8) and Steven (6); Jill Zuidema, former retail manager, with Alyssa (8); and Susan Ledford, editor of the "Homeschool Resources Directory for SC," with Victoria (12), Joe (8) and Griffin (2).

Magic Mesh by MAGIC MESH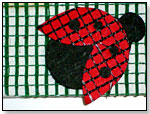 Age: 4 and Up
Gender: Boys and Girls
Category: Arts & Crafts
MSRP: Various



TD

monthly rating: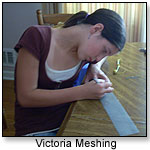 What It Is: Aimed at crafters in paper arts, Magic Mesh is a self-adhesive, repositionable material with many uses from practical to creative. It is available in numerous colors, widths and designs that multiply its versatility.

What the Moms Thought: "[Magic Mesh] added interesting texture to the projects," commented Shanahan, whose children used it for mosaics. Wilson "liked the simplicity of the package and the notation that it is packaged by work-at-home moms."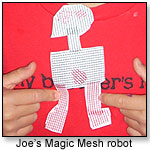 Ledford said it "has practical uses as well as creative applications." And Dawson found it "fairly easy for little scissors to cut and little fingers to stick." Both Dawson and Ledford appreciated "the minimal packaging materials" from an environmental point of view. "I enjoyed the fact that this product is not messy," Dawson added.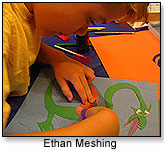 What the Kids Thought: "Everyone wanted to try it out," Shanahan said. "This mesh is completely new to us as a craft paper." Although Alyssa (8) found it "hard to get out of the package," she said it "looked cool on paper," noted Zuidema. Joe (8) said, "I've never seen anything like it before." Victoria (12) was inspired to find as many uses as possible for it, including hanging her earrings on her dresser mirror.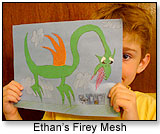 "Ethan (8) was glad (and relieved) that it could be repositioned easily," reported Dawson. The Wilson children also enjoyed repositioning Magic Mesh over and over.

How to Improve It: Dawson said, "The lack of colors and images on the inserts makes for a dull presentation that is at odds with the intended messages of creativity and endless possibilities."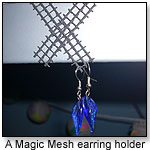 Wilson suggested that including "a small booklet or at least a card with specific instructions for one project may be beneficial for first-time users," since her family (like several of the Roundtable families) had to consult the website for suggested uses. Dawson also proposed different mesh designs for younger children: "spirals, zigzags, flowers, flames, stars."


Would You Want Another Toy Like This? Ledford's children made pencil grips, an earring holder, a water bottle wrap to denote the owner, artwork and a portable "road" for little brother Griff's small cars. "Creativity is encouraged, inspired, and goes in innovative directions, since there are so many possible applications for Magic Mesh," she said. Wilson commented, "The fact that it is self-adhesive and repositionable elevates its 'handi-ability.'"

Writer's Bio:
Susan Ledford is the writer, editor and publisher of the "Homeschool Resources Directory for S.C." She has been evaluating toys and games for
TDmonthly
's Roundtable reviews since 2005. She also is a homeschool veteran of seven years.
Read more articles by this author
THIS BANNER IS AN AD:
---
---