---
Conversations With Keithley
TIA's President Speaks on Product Safety
"We took the bold move of asking for the adoption of a new federal requirement for testing." — TIA President Carter Keithley
As retailers and manufacturers make plans for the 2008 Toy Fair in New York City, President Carter Keithley of Toy Industry Association recently took time out from his demanding schedule to speak with
TD
monthly Magazine about a topic that's on everyone's minds this fall — toy safety.
In mid-September, you spoke before a Senate subcommittee regarding toy safety. What was TIA able to bring to that hearing, and what was your impression of the outcome?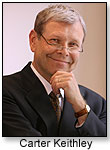 We basically were able to tell the subcommittee about our new initiatives to ensure that toy products conform to our stringent safety standards. We took the bold move of asking for the adoption of a new federal requirement for testing. Sen. Richard Durbin of Illinois opened our portion of the hearing by saying that he was pleased that the toy industry … had not gone into denial.

There is a pending piece of legislation on the Senate side — S.1833, sponsored by Sens. Nelson and Durbin, — that calls for the CPSC to impose a requirement for testing by third parties. We are not endorsing any particular piece of legislation, but we are in support of the principles contained in the Nelson-Durbin bill.

Safety statements on your website make it clear that recalls are the result of problems specific to companies and products. What is TIA doing to help companies address these problems?

We sent out a set of recommendations to our members of things they can do now to reassure themselves and their customers that their products meet all of our safety standards. We're very pleased that there have not been more recalls, because a lot of companies are already doing the kind of testing we're recommending. If they were finding lead, we would know it.

There's a lot of negative media attention on the toy industry as we approach the holiday season. Is there anything you can say to retail stores and consumers to reassure them?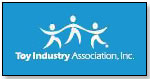 We're working on developing a campaign to do just that. The program we have proposed is a forward-looking program and will not be in place until the first of the year. It is known in the safety-standards environment as a conformity assessment program. It's an ongoing assessment of a product in production to assure that it conforms with safety standards. The recommendations regarding retesting are part of a campaign going into the holidays.

How do you expect safety concerns to affect TIA's October trade show in Dallas?

Our Fall Toy Preview has a different character from the normal open trade show. The mass merchant retailers are invited to come as customers to meet by appointment with major toy vendors to talk about new prototypes … for the holiday season 2008, and to give input on prototypes and new ideas. The focus will really be on that and not on safety issues, because all the manufacturers should have already taken necessary measures for safety.

TIA recently released a Member Code of Conduct that addresses safety concerns and fair labor practices. What kind of response has TIA received, and what do you hope it will accomplish?

We've gotten a great response from that. We hope that it will basically raise the consciousness of our members about the importance of conducting their businesses in an ethical manner. We don't have any enforcement powers, but we want them to know that TIA stands for the highest standards of conduct in our business, and we want our members to embrace the same standards. We also asked them to establish a code of conduct for their own companies. (Click here to see which companies have signed the Code of Conduct.)

Many toy companies are now using eco-friendly materials and production processes. Where does TIA see the industry going in terms of the green movement?

Our board chairman, Daniel Grossman, recently formed a new environmental protection task force to enable our trade association to help provide some leadership to the industry in environmental consciousness. Certainly, packaging is an area of interest, and as we go further into environmental issues, hopefully we will be able to address more as an industry.

Next month: Carter Keithley discusses why specialty toy store owners will benefit from the 2008 Toy Fair. Read what he says, and watch the video, too!

Writer's Bio:
Julie L. Jones has written articles for both newspapers and magazines. Before joining the staff of TDmonthly Magazine, she worked as a communications writer and provided editorial support for a market research company.
Read more articles by this author
THIS BANNER IS AN AD:
---
---