---
Insects Intrigue While Science Kits Fade
Creepy Crawlers Are Specialty Favorites
With additional reporting by regional correspondents Virginia Davis, Dennis Furlan, Terri Hughes-Lazzell, Christine Lebednik and Brenda Ruggiero

In the universe of science and nature toys, bug-related items are consistent sellers, ranging from simple butterfly nets to futuristic magnifying glasses, 32 toy-store owners told

TD

monthly Magazine. Meanwhile, with exceptions, several retailers agreed that science kits are fading.

WHAT'S SELLING


According to specialty retailers, kids are still fascinated with capturing and observing insects.

"We sell a lot of bug-catching things from Insect Lore. During the summer, we sell 12 a month," said Shirley Reilly, owner of Let's Play in Hillsboro, Ore.

Butterfly nets are catching kids, according to Donna Sedgwick, owner of Toy Mill in Tiverton, R.I. "Nets are the biggest seller around here — near the water use for both butterflies and fish," she said.

Children's Butterfly Net from Tweber is a favorite of Phil Wrzesinki, owner of Toy House and Baby Too, in Jackson, Mich.

One should never underestimate the appeal of the "ick" factor, such as Workman Press's classic "Owl Puke: The Book."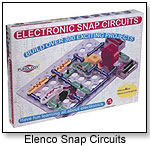 Scott Loveless, owner of Toys That Teach in Bothell, Wash, explained, "My son did an owl unit for the first grade and he loved it. What owls do is they eat an animal then spit out all the parts that aren't digestible. That's what the pellet is, which you proceed to dissect."

More nature close-up can be found in DuneCraft's plant kits, which sell at a rate of 20 per month according to Diana Glasier, owner of Curiosity Zone in Ashburn, Va. The terrarium kits include Grow Your Own Lily Pad, Desert Hothouse and Bonsai Village.

WHAT'S FADING

Despite Scientific Explorer's My First Chemistry Set place on TDmonthly's Top-10 Most Wanted Science Toys list, three of 32 specialty retailers believe desire for these kinds of sets has diminished.

"I think all science kits are fading," said Betsy Justings, owner of Betsy's On Ross in Auburn, Ala. "State parks probably do well with nature kits, but we don't have any call for them."

Isis Latham, owner of Sugar Snaps Kids in Nashua, N.H., gave her reasoning for the loss of interest: "People want the hardcore, more interesting (science) kits but don't want to spend money on them."

WHAT TO MAKE OF IT:


From butterflies to ants, 11 of 32 specialty retailers agree that buggy items soar.

"Anything related to insects, bug-catching," summed up Julie Manning, owner of Two Boys Toys in Palmer, Mass.

Here are a few kits to catch bug-catchers' interest: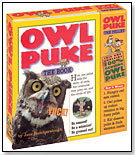 MSRP: $14.95

Age Range: 8 and upGender: Boys





Owl Puke: The Book, by Jane Hammerslough, is a kit that contains everything kids need to learn about the wonderful world of owl puke. Owls eat small rodents and then throw-up the indigestible parts in a fuzzy pellet. With the guidebook in hand, kids can inspect the professionally collected and heat-sterilized pellet for the bones of the animals that the owl has eaten. A plastic sorting tray is also included. It's a great science experiment and very gross.
— Kathy Uhtoff, co-founder of the Northwest Nature Shop in Ashland, Ore., thought this book was "very creative. It's educational, fun and disgusting. Kids like it, and even some university professors use it in their classes."
— Seattle Audubon Society's Nature Shop's Chuck Wosselly (a volunteer at the store), said that "kids really go for the owl puke. Well, at least the boys. The girls are a little more squeamish."

ToyDirectory Product ID#: 5225

(added 10/27/2005)

.

AD
---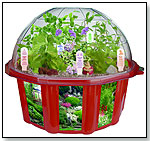 Wholesale Price: (Log in to view)

MSRP: $24.99

Age Range: 4 and upSKU or Item #: BV-0017Launch Date: October 2006Gender: Boys And Girls





The bonsai village includes elm, lilac, pea shrub, beauty bush, butterfly bush and more. The plants will begin growing in less than a week and live for years. "It teaches children all different kinds of techniques such as pruning, wiring, over-wintering and more. In other words, it helps bring learning to life," Dunecraft Inc. Public Relations Specialist Alicia Borley told TDmonthly. This product is a Spring 2007 National Parenting Center Seal of Approval Award winner. Launch date: October 2006.

ToyDirectory Product ID#: 14176

(added 7/19/2007)

.

AD
---
Desert Hothouse
by
DUNECRAFT INC.
Other products from DUNECRAFT INC.
TDmonthly rating: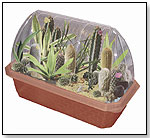 Wholesale Price: (Log in to view)

MSRP: $14.99

Age Range: 4 and upSKU or Item #: DH-0021Gender: Boys And Girls





With this kit, kids can create their own sandy, dusty desert scene. The Desert Hothouse comes with a variety of cacti and succulents including the giant sagauro, prickly pear, Joshua tree, century plant and more. Easy-to-grow plants will sprout in a week and last for years. They naturally mimic the art of Japanese Bonsai. "Children can learn all about water conservation and how certain plants are more adept at it. This exciting terrarium also shows how desert plants have adapted to life over numerous generations," PR Specialist Alicia Borley of DuneCraft told TDmonthly. The product received the Holiday Seal of Approval from The National Parenting Center in 2006.

ToyDirectory Product ID#: 13137

(added 5/24/2007)

.

AD
---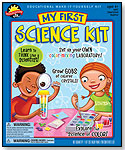 This science introduction kit for younger kids includes a color-mixing laboratory where kids can turn their favorite colors into soft crystals, capture a rainbow in a test tube and become color-mixing detectives.

— "Scientific Explorer kits, especially My First Science Kit" are a top-selling science item at

Tom's Toys Inc.

in Great Barrington, Mass., Owner Tom Levin told

TDmonthly

in August 2008.

— Seventeen percent of 65 retailers said Scientific Explorer was their top-selling science kit supplier.

— In late summer 2009, five of 38 retailers told

TDmonthly

that Scientific Explorer, or a specific kit in the line, accounts for their best-selling science and nature products, though one retailer showed concern about the brand's expansion. Our best-selling line is Scientific Explorer, but that remains to be seen now that they are all in the Barnes & Noble bookstores," Diana Nelson, owner of Kazoo & Co. in Denver, told

TDmonthly

.

ToyDirectory Product ID#: 3565

(added 5/12/2005)

.

AD
---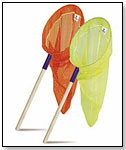 Kids can capture their favorite flutters while keeping an eye on the competition with these glow-in-the-dark butterfly nets.

ToyDirectory Product ID#: 15078

(added 9/6/2007)

.

AD
---






Kids can pop up their Port-A-Bug, put in some friendly insects, and they're ready for some fun with bugs. They can observe butterflies, ladybugs, and other friendly critters in the airy mesh habitat, then let them go. The Port-A-Bug compresses back into its tote-sack, clips to a kid's hip, and they're off and ready to explore some more. It features a lightweight and escape-proof ventilated mesh, and a convenient nylon carrying handle. The Port-A-Bug is a winner of the Oppenheim Toy Portfolio Gold Award.
— "We sell a lot of bug catching items from Insect Lore. It's collapsible. It's called Port-A-Bug," said Shirley Reilly, owner of Let's Play in Hillsboro, Ore.

ToyDirectory Product ID#: 14518

(added 8/7/2007)

.

AD
---

Writer's Bio:
Greg Rock is a freelance writer who lives in Los Angeles.
Read more articles by this author
THIS BANNER IS AN AD:
---
---