---
TDmonthly's DVD Expert
Animals Rule the Screen
This month's trio of DVDs feature playful dolphins, puppet pals and horses .. lots of them. But, zoology aside, they're all spot-on with their aim. These animals are for kids!

Indie's Great Teddy Bear Hunt by JUNO BABY INC.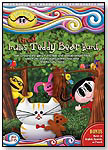 Age: 0 to 5
Gender: Boys and Girls
MSRP: $20.00

This DVD is about a little puppet cat on a world-hopping jaunt in search of his hidden teddy bear.

Fun voices (if a little South Parky); great-looking puppets and puppetry (strongest part of the DVD); some appealing songs done in a "classic" vein; and good green-screen design and execution.

The writing and direction are adequate. Some of the visual gags don't work because of missed execution. But overall, it's fun and cute, with nice music and fairly good production values and art direction.


| | |
| --- | --- |
| Budget | |
| Creativity | |
| Bells & Whistles | |
| Usefulness | |
---
Easy2Draw Dolphins & Reef Animals with Cordi by ARTRAGOUS DESIGNS


Age: 8 and up
Gender: Boys & Girls
MSRP: $24.95

Cordi gives six lessons about drawing undersea creatures. She's knowledgeable, thorough and full of good tips, from what to draw with to using hairspray as fixative.

This DVD is basic in its execution, but has solid instruction, going step-by-step from the underlying shape to the finished shading. There are "pause and draw" moments as the video progresses, to let the viewer work. This is great for kids and other viewers who have little art experience but lots of enthusiasm.

Along with the lessons come cool underwater footage (the cuttlefish was my favorite) and short underwater animal lessons (symbiosis, camouflage, etc.). It's an excellent journeyman's video for up-and-coming artists who want instruction on how to draw the creatures of the sea.


| | |
| --- | --- |
| Budget | |
| Creativity | |
| Bells & Whistles | |
| Usefulness | |
---
The Saddle Club: Horse of a Different Color by ALLUMINATION FILMWORKS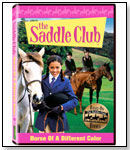 Age: 8 to 14
Gender: Girls
MSRP: $14.98

"The Saddle Club," an Australian-shot, Canadian co-production, has been around for awhile. This particular DVD is a feature-length (70-minute), two-pronged story in which the girls run into a new horse and a new person … and drama ensues.

Unfortunately, the problems in the first half are predictable. A surprise birthday party when the surpris-ee thinks no one remembered? The second half, however, deals with an injured international competitor who arrives with psychological scars and has some truthful moments.

Even with uneven directing, this DVD gets the job done. The key is to show tween girls acting like tween girls — sullen, obnoxious, snippy and cliquish. That's the attraction, in the end. It really does feel like regular girls doing regular things in a regular way. They don't sing well and don't act that well, but it's cool. And, there are horses.


| | |
| --- | --- |
| Budget | |
| Creativity | |
| Bells & Whistles | |
| Usefulness | |
Writer's Bio:
Mark Zaslove is an entertainment industry veteran in developing content (writing, directing and producing television and feature films) for the major studios, including Disney, Universal and Warner Bros. A two-time Emmy Award winner for writing and recipient of the Humanitas Prize (for writing uplifting human values in television and movies), Mark is also Head of Content Development for Nice Entertainment.
Read more articles by this author
THIS BANNER IS AN AD:
---
---