---
Paradoxy Products' Simple Puzzles Conceal Challenges
Innovative Designs Transform Puzzles Into Works of Art
"Find sales agents who genuinely understand the distinctiveness and desirability of your product." — Daniel Young, Paradoxy Products

Paradoxy Products Founder Daniel Young always harbored a passion for designing and inventing, but as an international trade lawyer for more than 30 years, was far removed from the toy business. "I wasn't interested in doing business as business. I was interested in injecting ideas into the world," he told

TD

monthly Magazine. And it was that passion and exploration of ideas that led to an unusual breakthrough.

UNLOCKING THE PUZZLE

While analyzing the ancient yin-yang symbol and trying to figure out how the opposing sides interacted, Daniel developed a 3-D form where two bean-shaped pieces could be combined to create the classic symbol.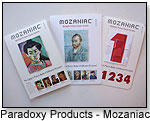 After turning the "beans" into square modular pieces and weaving them together, he added graphics to make a picture.

"When I took it apart, I realized enough surface material was still hidden underneath to make another picture."

"That was the 'eureka' moment," admitted Daniel, who adopted the name Paradoxy at the suggestion of his mentor, famed graphic designer Milton Glaser. With just six pieces, the puzzles look simple, yet there is a complexity beneath the surface that allows those six pieces to form four separate images.

HAVING TIME ON YOUR SIDE

Despite obtaining his first patent on what became the Mozaniac puzzles in 1993, Daniel didn't begin releasing them until 2007. He admitted that part of the delay was from an "inability to stick to one thing when so many new things are there for the creation."

However, he also feels creating something worthwhile is a slow process, and making sure the production meets your own standards is the biggest obstacle. "I know that these products will last 1,000 years, so there's no hurry," he told

TD

monthly. "They're going to be around for a long time."

CONFIDENCE REIGNS SUPREME

Daniel admits he has made mistakes, chief among them being sometimes entrusting responsibility to the wrong people. But, "in the product, I have made no mistakes," he said. He thinks belief is key, pointing out that creators "must have supreme and unshakeable confidence in the worthiness of the idea they are developing."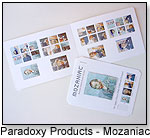 If confidence in your product is most important, seeking out others who share that confidence is a close second. "Find sales agents who genuinely understand the distinctiveness and desirability of your product," recommended Daniel, who found those connections through a museum store expo and combined his designs with images of famous paintings to tap into the right marketplace.

Since the puzzles become infinitely more challenging by varying the images and colors, he believes the six-piece puzzles are just the beginning. "These are deep toy inventions," Daniel told

TD

monthly. "It's a new system that the world has never seen."

From jigsaws to crosswords, puzzles hold a timeless appeal, and Paradoxy Products' distinctive offerings continue that tradition. "It's the beauty of its form and the depth of its challenge," Daniel added.

See some of Paradoxy Products' challenges below:







MOZANIAC is a patented, expandable picture-puzzle system in which the same flat, modular puzzle pieces can make four or more pictures. Everything depends on how the pieces go over and under each other, revealing and hiding part of what is printed on them. Each completed picture holds itself together as an integral unit until it is taken apart to form the next picture. MOZANIAC is the most important development in picture puzzles since John Spilsbury invented the jigsaw puzzle in the 1760s, according to Daniel Young, founder of Paradoxy Products. MOZANIAC presents new visual and physical challenges of a very high order. The first series of puzzles makes four different pictures with the same six pieces.

ToyDirectory Product ID#: 13496

(added 6/15/2007)

.

AD
---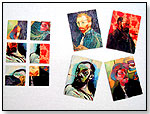 Wholesale Price: (Log in to view)

MSRP: $7.95

Age Range: 6 and upSKU or Item #: 5531401133Launch Date: April 2007Gender: Boys And Girls





The MOZANIAC Picture Puzzle System, in its simplest form, makes four consecutive pictures from the same six flat pieces. The system is expandable and will eventually offer more pieces and even more pictures from those pieces. In the Male Artists Puzzle, the six pieces on the left, printed front and back, make the four pictures on the right — Van Gogh, Cezanne, Matisse and Gaugin. Launch date: April 1, 2007.
— "MOZANIAC is a picture puzzle system based on interpenetrating modular pieces. It offers new visual, mental and physical challenges and will grow into a universe of puzzles over the next few hundred years. MOZANIAC requires [players] to both reveal and conceal visual material when they slide the pieces into each other, making it more challenging than a jigsaw puzzle, even with only six pieces," Founder and Inventor-in-Chief Daniel Young of Paradoxy Products told TDmonthly. "When we begin to produce puzzles with even more pieces, puzzle aficionados will faint with delight."

ToyDirectory Product ID#: 11470

(added 2/19/2007)

.

AD
---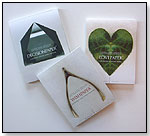 Offering a humane alternative to making decisions with a real wishbone, this 100-sheet notepad features an image of a wishbone on every page and utilizes the unpredictability of tearing paper to help decide your fate. Each sheet has a starting point for tearing, and the notepads are also available with a heart design (Lovepaper) or a triangle (Decisionpaper). Inventor Daniel Young described the appeal as the "thrill of submitting yourself to chance."

ToyDirectory Product ID#: 14790

(added 8/22/2007)

.

AD
---







This is a lightweight and simple, yet tenacious, game that features an 8.75" square board that allows flat game pieces to stand up with a full 3-D effect. The pieces are designed so that they can't be blown away or shaken out, and only move when a player wants them to. Also, a checker piece can turn into a king simply by rotating the piece to show its crown.

ToyDirectory Product ID#: 13497

(added 6/15/2007)

.

AD
---







These playful forms serve not only as magnets and decoration, but also form a simple puzzle. Solving the puzzle is just the beginning, however, as the product is designed to inspire creativity and insight. The bean shape is meant to represent the concept of yin and yang in a real and interactive way.

ToyDirectory Product ID#: 13498

(added 6/15/2007)

.

AD
---

Writer's Bio:
Lewis Helfand is a freelance writer based in Narberth, Pennsylvania. A contributing feature writer and columnist for a number of national magazines and websites, Helfand is also the writer and creator of a comic book series, "Wasted Minute," and an upcoming comic mini-series, "4320."
Read more articles by this author
THIS BANNER IS AN AD:
---
---