---
Babies: Simple Plush Fires Imaginations
Bear and Rag Doll Go Straight to the Heart
This month,

TD

monthly Magazine's Infant/Toddler Roundtable participants evaluated a rag doll Dwarf from the SILKE line and a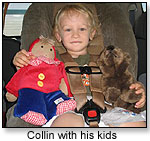 plush bear from the KOSEN line of Koesen USA. Both products received rave reviews.

Participating in this month's Roundtable were: Rebecca Heinrich, mother of Collin (3); Penelope Pauley, mother of Lucy (3); Christy Chambers, mother of Nigel (2); Diana del Pozo, mother of JoJo (2); and Sharri Hefner, mother of Sydney (1).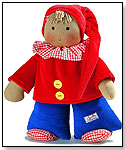 SILKE Line: Dwarf from KOESEN USA INC.
Age: 3 and Up
Gender: Boys and Girls
Category: Plush
MSRP: $56.50



TD

monthly rating:





What It Is: A colorful and tactile rag doll.

What the Moms Thought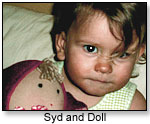 Penelope appreciated the toy's durable construction. She knows from the name that it is a high-quality product made of materials that will be safe for her child. Christy appreciated the Waldorf style. Sharri liked the quality of the product, but was disappointed that Sydney (1) did not respond more strongly to the toy. Diana believes the scale and color drew her daughter, JoJo (2), to the toy. And Rebecca felt that the shape and color of the product did more to inspire Collin's (3) imagination than other similar products.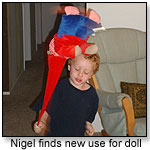 What the Kids Said
Sydney (1) likes cuddling with the doll, and Collin (3) likes playing pretend games with the doll. His mom Rebecca said, "Since it is so ambiguous, the doll has had many names — it has been a boy, a girl, a pirate, a fishing pole ... you name it. " Nigel (3) told his mom he didn't like the doll, but she doesn't believe him as he loves to swing the doll around by its hat. JoJo (2) dragged the doll around by its long hat and would not let it go when a cousin tried to take it. "Mommy, I named her 'Tired' because she's very good for sleeping," Lucy (3) said. When Penelope asked her what was the best part of her dolly, Lucy said, "Getting her."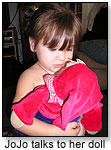 What the Kids Learned
Christy believes doll play is an important part of child development and that the simple face and cloth construction of the SILKE toys allow a child's imagination to be limitless. Collin (3) has really used his imagination while playing with the doll, and Lucy (3) learned nurturing techniques. JoJo (2) discovered new ways to interact with a baby. Sydney (1) did not respond to the doll long enough to learn from it.

How to Improve It
The moms thought this product was perfect as is.

Would You Buy Another Toy Like This?
All moms said that they would definitely buy another product like this one, and recommend it to friends.
---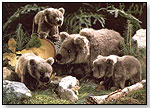 KOSEN Line: Bear from KOESEN USA INC.
Age: 3 and Up
Gender: Boys and Girls
Category: Plush
MSRP: $64.50



TD

monthly rating:



What It Is:
A realistic plush bear.
What the Moms Thought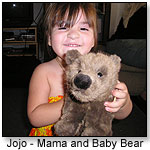 Penelope is a firm believer in the quality and safety of the product line and was thrilled to receive a naturalistic plush bear for animal-lover Lucy. Even though she does not like button-type eyes on stuffed animals, Diana, mom to JoJo (2), thought the scale of the toy was perfect for her daughter's grasp. Rebecca said she appreciates the pride the company has in its products at a time when outsourcing and cost cutting are popular among other manufacturers. Sharri loved that her daughter Sydney (1) recognized that the toy was a bear without having to be prompted.

What the Kids Said
As soon as her mom showed her the toy, Sydney (1) said "bear" and cuddled it. Lucy (3) growled, "GGGGRRRR," pretending she was the mommy bear and the toy was the baby. Collin (3) liked that this toy is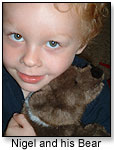 not your average stuffed teddy bear. Nigel (3) named his bear "Coco Bear" and takes him to dinner with the family. JoJo (2) liked pretending the bear was her baby.

What the Kids Learned
Penelope really enjoyed going through the Koesen catalog with daughter Lucy. The book was useful to stimulate learning about different types of animals. Diana felt the toy was a little over JoJo's (2) age range because of the button eyes and would not leave her daughter alone with the toy. [Note from Editor: The age range was first erroneously given as 2 and up, but the toy is actually for children ages 3 and up. Sybille Hartmann of Koesen USA told

TD

monthly that the eyes are actually called "safety eyes" and are tested by an independent testing facility for pressure to be sure that young children cannot easily dislodge them.] Collin (3) is generally not interested in stuffed animals, but he did enjoy making animal noises and integrating the bear into his imaginative play. Christy said, "This bear is very real to Nigel (3) and he cares for it a great deal." Sydney (1) learned to recognize a bear.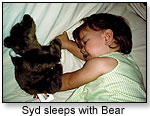 How to Improve It
Diana would prefer a different style of eye, but the other moms thought the product was perfect as is.

Would You Buy Another Toy Like This?
Christy, Penelope and Sharri gave a resounding yes. Diana said she would wait until JoJo was older. Rebecca said she might purchase another like this one.

Writer's Bio:
Sharri is a freelance writer living in Los Angeles. Most recently, Sharri wrote a one act titled "Spice" for Gene Rhee's "The Trouble With Romance," which stars David Eigenberg ("Sex and the City"). "Georgia Heat," a script Sharri wrote with fellow NYU alum Mora Stephens, is slated for production Summer 2007 (Janet Yang, Executive Producer). Sharri received her MFA from NYU's Tisch School of the Arts. Before NYU, Sharri was graduated summa cum laude from California State, Long Beach. While Sharri was completing her thesis, USAToday selected her as one of the top college students in the country. Sharri is the proud mom of Sydney, who was born in June 2006.
Read more articles by this author
THIS BANNER IS AN AD:
---
---