Tools:








Kookeys Aim for Webkinz Jugular
New Company Schemes to Dominate Online World
Think plush is cute? What about the hungry creators behind it? Kids may be playing with KinzCash, but Ganz is raking in real millions, and manufacturers want in. (Read Webkinz are Exploding and Webkinz Knows What Kids Want)

The latest contenders are the Kookeys by 10Vox.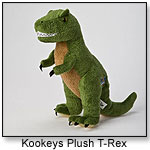 "The guys are software developers. It sounds like the website is more dynamic than Webkinz, and it's somehow tied in with Scholastic," Bill DeFusco, owner of Toyz Toy Store in Cheshire, Conn., told

TD

monthly Magazine.

STARTING WITH THE WEB

10Vox means business. They've designed some of their plush and several of their online "neighborhoods" to appeal to boys, who've been largely ignored by products such as Webkinz, Shining Stars and Ty Girlz. A T Rex is among their first offerings, with another dino to follow in November.

Their website mission statement bluntly trumpets their intention to "become the international industry leader in web-based interactive entertainment through a virtual, web-based world geared primarily towards children ages four to fourteen, often accompanied with a physical product."

They just might make it, too. Co-founder Alex Reece worked in toy distribution during Ty's Beanie Baby craze and owned Quality Collectibles — toy stores that specialized in hot fad products such as Beanie Babies, Razors and Pokemon. His team of seven co-owners includes designers and programmers who all have expertise in web-based technologies.

A PRIMED MARKET

"In 2003, I started looking at how we could integrate technology with traditional toys," Reece told

TD

monthly. It took him three years to assemble his team. By the time they had a prototype ready, Ganz had hit the market with Webkinz.

"Webkinz did us a huge favor by introducing virtual products to the marketplace so people are comfortable with them," Reece continued.

So comfortable, in fact, that when articles on the Kookeys appeared in Beckett's Plushie Pals, "tens of thousands of kids were calling and emailing us," said Reece. Then thousands of retailers began calling, too.

CONTROLLING SUPPLY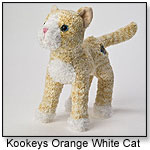 "We're only opening accounts with 1,500 stores," Reece assured

TD

monthly, and they've almost reached that goal. Retailers are limited in the number of products they can order, too. "We're basing our distribution plan on Ty's," he said.

Though Reece foresaw the delays that have already hit his retailers, 80% of Kookeys merchants are now waiting for product that was supposed to have been delivered on October 15. To appease his customers, 10Vox has pushed up the grand opening of the Kookeys website to coincide with the launch of an ad campaign on Cartoon Network that will reach a projected audience of 96 million all across the nation.

But some retailers were miffed with the company before the delays, claiming that 10Vox had hired an actress with a strong New York accent to call into their stores demanding Kookeys for their kids (see comments below this article).

At the Fall Toy Preview in Dallas earlier this month, however, Reece denied using any such tactics to promote his product. On October 22, he told

TD

monthly that the company had its own sleuthing since the show and discovered that the marketing company it had hired to do some "viral marketing" via emails and forums may also have been responsible for the phone calls.

"We may be in a lawsuit with them," said Reece, who insisted he had not okayed the phone calls. He also stressed that the 10Vox employee who'd worked with the marketing company was no longer with 10Vox. "If [the phone calls] did happen, it'll never happen again," he promised.

PLAYING FIELD FILLS

Webkinz have already lost part of their market to Russ Berrie's Shining Stars and Ty's Ty Girlz. Will the Kookeys finish them off?

"They've slowed in the last two weeks," Betsy Mouk, owner of Magic Box in New Orleans, said of the original plush pets who live in a virtual world.

"No one seems to want [Webkinz], but they do want the accessories," continued DeFusco.

Retailers hypothesized that the recent Webkinz shortage lasted long enough for kids' mercurial interests to shift.

The Webkinz shortage also caused serious friction between specialty retailers and Ganz, especially when the hard-to-get toys started popping up in larger chains such as Hallmark and were even rumored to be hanging out at the local Pathmark and 7-Eleven. Many toy-store owners have threatened to sever their relationship with the company once the Webkinz craze dies down. (Read Webkinz: Boom, Bust or Both? and

TD

monthly's Forums pages)

WEBKINZ STILL AHEAD

Nonetheless, of the 63 retailers who spoke with

TD

monthly last month about their hottest toys, 15 said Webkinz are it.

"Teens actually buy [Webkinz] for themselves," said Monica Beasley, owner of Doodles in Tupelo, Miss. And if teens are buying, adults may not be far behind … which could start a whole new feverish buying frenzy, a la Beanie Babies.

As for the challengers, two retailers predicted that Kookeys will be a big Christmas hit, two others mentioned Ty Girlz, and only one projected hot sales for Shining Stars. None of the toy-store owners mentioned Tomorrow Inc.'s Jellybeanies, which add scent to the mix.

CONFUSING CHRISTMAS

With so many plush/computer toys to choose from, parents may be a little befuddled about what Junior really wants. And since some Webkinz fans are barely out of diapers themselves, they might not know either, which is a perfect opportunity for specialty toy-store owners to indulge in a little product edification. (Read Turn a Mass-Market Fiend into a Specialty Lover, in the next issue of

TD

monthly.)

Here are the contenders:







.

AD
---






.

AD
---






This cuddly kitty holds the key to an online world filled with games and rewards.

.

AD
---






.

AD
---






.

AD
---






This plush beagle is one in a collection of 24 stuffed animals produced by Russ Berrie in partnership with the International Star Registry® and AGE® Inc. With every RUSS Shining Stars friend comes the opportunity to register and name a star with the International Star Registry. Each plush piece is cis identifiable by the star icon and embroidered Shining Stars logo on its paw pad. Each pet also comes with a tag that contains an online code, giving kids access to the Shining Stars site, where they can play games, enter into safe chats with other Shining Star owners, and build a virtual world for their plush pets.

.

AD
---






This 14" soft-sculpt doll is dressed in the latest trend-setting fashions that can be mixed and matched, and each Ty Girlz outfit comes with complementary accessories. The dolls have soft, realistic hair that can be easily combed and styled in numerous ways. Their clothes, hair and makeup are coordinated in monochromatic hues for a distinctive look, and the dolls are accompanied by a 3-D interactive virtual world. Launch date: July 2007.

.

AD
---






.

AD
---






.

AD
---






.

AD
---






This 6" cuddly horse comes with an activation certificate that introduces the consumer to the magical world of Bella Sara online, where girls can play games, meet other horses and care for their virtual friend. The gift set also includes one Ancient Lights seven-card pack. Jewel, Nike and Fiona horses are also available.

.

AD
---
Catalog Request Form
THIS BANNER IS AN AD:
---
---