---
Collect These Cards
Classic and New Games Stack Up
"The Xeko cards [by Matter Group] – that's the one I'd emphasize." — Scott Loveless, Toys That Teach

The plethora of card games on the market makes it difficult to distinguish one from the other, 32 specialty retailers told

TD

monthly Magazine, though classic decks for Old Maid, Rummy, Gin and Go Fish still make the "cut." New trends include collectible packs that emphasize the environment or are matched with other types of toys, such as Ganz's Webkinz trading cards.

WHAT'S NEW

The eco-friendly trend has invaded the playing card industry, at least according to one retailer.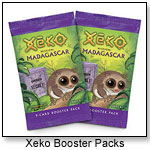 "The Xeko cards [by Matter Group] — that's the one I'd emphasize," Scott Loveless, owner of Toys That Teach in Bothell, Wash., told

TD

monthly.

Birdcage Press also makes cards that emphasize the environment by including rich color photographs and educational information.

"Their artistic cards have been well received," said Phil Wrzesinki, owner of Toy House and Baby Too in Jackson, Mich.

Card games involving the computer or a virtual world are trendy, noted Shirley Reilly, owner of Let's Play in Hillsboro, Ore., and Donna Sedgwick, owner of The Toy Mill in Tiverton, R.I., also pointed to the "Webkinz phenomenon," which has now moved into trading cards.

Of course, collectible card games such as Pokémon and Yu-Gi-Oh still have their audience, retailers said.

WHAT'S SELLING

In addition to the classics and those on

TD

monthly's Top-10 Most-Wanted Card Games list, retailers had a variety of favorites from Gamewright, University Games and Cranium.

"Slamwich, which I just got in from Gamewright," is doing well for Cheryl Richmond, owner of Punkin Doodles in Havre, Mont.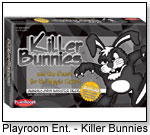 The Killer Bunnies series by Playroom Entertainment is getting picked up by bigger kids at Amazing Toys in Great Falls, Mont., said Owner David Campbell, while small fries are slamming down Bye-Bye Balloons by International Playthings, according to Jane Beck, owner of BJ Beck's Toys in Cedarburg, Wisc.

Both kids and adults have been ringing up Julie Manning, owner of Two Boys Toys in Palmer, Mass., hoping to get their hands on Jungle Speed by Asmodee. "It's a card game with a totem pole in the middle," she explained to

TD

monthly.

WHAT TO MAKE OF IT

While it's hard to pinpoint a new hit, classics sell steadily and there are plenty of novel games to keep the interest of your customers. Here are the card games retailers say get played:







This game gets players guessing — and celebrating — each other's favorite things. Players must choose between very different experiences and items while other players must guess their selection. It recently won an Oppenheim Toy Award.

.

AD
---






Costa Rica is the setting for the second Xeko adventure. Meet the fearsome jaguar, the intelligent bottle-nosed dolphin and some of the most amazing birds, turtles and frogs in Mission: Costa Rica.

.

AD
---






In Jungle Speed, you must rely on your keen sense of observation and quick reflexes. The wooden Totem sits in the middle of the table, waiting for the player with the fastest reflexes to snatch it up and win the game. Each player is dealt a hand of cards. In order to win, you must be the first player to get rid of all of your cards. Each turn, all of the players reveal one of their cards. If two cards are identical, those players must make a grab for the Totem. The faster player then gives his or her cards to his or her unfortunate adversary. To add to the difficulty, certain cards are almost identical, which can trick a hapless player into grabbing the Totem by mistake — a grave error. Other cards force all players to make a grab at once, change the method of play or otherwise add to the difficulty.

.

AD
---






.

AD
---






.

AD
---






.

AD
---






.

AD
---






Killer Bunnies is a fast-paced, action-filled card game, in which players must try to keep as many Bunnies alive as possible, while eliminating opponents' Bunnies. The problem: Opponents are armed with weapons and will stop at nothing to keep players from winning the game, which can get dreadfully vengeful, horribly nasty, hilariously messy and just plain fun. Killer Bunnies are back again and sporting new Specialty Bunnies, which make taking double turns a snap. The Violet Booster Deck adds another 55 cards to an existing set, plus a clear 20-sided die.

.

AD
---






With these new Diamond & Pearl Pokémon cards, players will discover new game-play options such as Pokémon with Berries, new Fossils and a parallel set with holographic images. The collection is compatible with previous releases, includes more than 120 new cards and features two theme decks, "Armor Fortress" and "Skull Charge." Each booster pack includes 10 randomly inserted game cards.

.

AD
---






.

AD
---






.

AD
---






This four-in-one card game assortment is based on four of Dr. Seuss's most popular books: The Cat in the Hat; How the Grinch Stole Christmas; One Fish, Two fish, Red Fish, Blue Fish!; and Thidwick the Big-Hearted Moose. Each card game in this family-fun assortment can be learned in five minutes. Launch date: September 2007.

.

AD
---






Discover 52 amazing national parks as you play dozens of card games. Collect canyons, mountains, caves, deserts, and other amazing places as you play "Go Fish" and read fun park facts on each card. Or use this complete 52-card deck to play all your favorite card games. Launch Date: February 2007.

.

AD
---
THIS BANNER IS AN AD:
---
---