---
Retailer Spotlight: Child's Play and Green Frog Toys
Community Stores Thrive With Sincere Service and Attentive Staff
"I love the big-box stores, because they make our stores look so great!" — Patricia Fiedler

In January 1982, Patricia Fiedler saw a need for a new variety of store in her hometown and decided to act on the opportunity.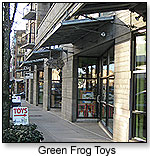 "We lived in a suburb of Portland, Ore., and every Christmas we would take the children into the city to see all the decorations and visit Santa," she told TDmonthly Magazine. "We would always stop in a toy store that was completely different than anything we had in our town. Eventually, we decided that our town needed a 'real' toy store, so I went to the library and started researching."

Eight months later, Patricia and her husband, Dale, partner and co-owner in the businesses, opened their first store, Toy Bear, Ltd., in Gresham. In 1996, they purchased Child's Play, a specialty toy store that had been in business since 1979. They closed Toy Bear in 2006 because of a lease dispute, and the same year, opened Green Frog Toys in Portland's Pearl District.

One of Patricia's biggest mistakes, she said, was starting without a long-term vision, even though there was a business plan in place.

"We just went from year to year, and we didn't have a five-year, 10-year or 20-year vision," she explained.

BENEFITING FROM COMPETITION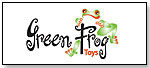 Competing with big-box and online stores has been challenging, too, but Patricia embraces a philosophy someone presented to her years ago: Never worry about the competition. Use all your energy to make your store the best possible.

"I love the big-box stores, because they make our stores look so great!" she told TDmonthly. "When Target began a specialty toy section I was very concerned, until I visited their 'upscale toy department.' It was a mess. When I did find a sales clerk, they had absolutely no idea what they were carrying.

"Big box, keep up the good work! Our customers would much rather shop where they are greeted sincerely, receive informed help, and then leave with a gift-wrapped package (free, of course) and a smile and a thank you from sales people," she said.



Patricia's Advice for Start-Ups



- Make sure initial loan is affordable

- Stick to a budget

- Keep down credit card debt

- Pay off debt as quickly as possible

- Be wise about sales, as they can cut into profit margin

- Take advantage of free consulting and seminars

- Join ASTRA

- Consider how business will impact your family life

KEEPING STAFF INFORMED

Running more than one store often presents challenges in communication, meaning staff must be trained and well informed.

During recent recalls and issues with CPSIA compliance, communication has been especially important. At Green Frog Toys, staff keep a binder with pertinent vendor information and convey messages via a daily log book. Patricia also finds it particularly important to communicate with a staff member when behavior is not acceptable, and to always keep an "atmosphere of teamwork."

"My new plan is to use e-mail on a regular basis, have more staff meetings, ask reps to train employees on new products, and update our employee manual," she said.

Patricia recently read the eBook "In the BLACK: TDmonthly's Essential Toy Retailing Tips," and has asked both of her managers to read it, too.

"I plan to break the pertinent information into parts and share it with the staff on an individual basis, during staff meetings, and group sessions."

Sometimes, just making a staff member aware of a shortcoming encourages change, Patricia said.

"I once had a great employee who started being neglectful of the customer. I brought this employee into my office and quietly explained that I was certain she wasn't aware of her behavior," she said. "I reminded her to use the 'How can I please this customer?' mindset instead of the 'This customer really annoys me,' mindset. There was an immediate turnaround."

Patricia also makes sure to pass along positive customer comments to the appropriate staff member in front of peers.

BECOMING A MEETING PLACE

One of the business's biggest successes was a combination of Children's Week and a Teddy Bear Parade, an event Patricia began in her community in 1983.

"We are no longer a part of it, but the parade still continues to delight young and old. I was named Gresham's Citizen of the Year in 2002 for my contribution to the community," she said. "When you are doing it right, your toy store isn't just a business, it's a meeting place for families."

On Mondays, Green Frog Toys offers Tiny Tots Play Time, an unstructured time for children to play, sing, and share.

"Moms use this time to play with their children and visit with other parents," Patricia said. "It allows me to spend time with our customers. … The other days, I'm ordering products, paying bills, moving merchandise from the warehouse to stores, networking, and putting out fires."

BUDGETING AND KEEPING MERCHANDISE FRESH

When it comes to ordering, Patricia has found the Internet to be a good tool for looking up new products. [See Green Frog Toys' best sellers.]

"We appreciate TDmonthly's coverage of new items, and we especially like to see what they found at the different toy shows," she said.

One lesson Patricia has learned is to stay out of debt and follow a budget.

"It wasn't until this economic downturn that I realized that no matter how financially sound you think you are, the unthinkable can happen. Because we were doing so well, we opened a new store and completely remodeled our old store," she said. We had no idea what was coming in the fall of 2008. Luckily, we had no debt."

The bottom line?

"Owning a business is work," she said, but you should "never burden your customers with your problems. … They come into your store to enjoy themselves, and they should always leave happier than when they arrived."

Writer's Bio:
Brenda Ruggiero is a freelance writer from western Maryland.
Read more articles by this author
THIS BANNER IS AN AD:
---
---