What makes a particular line of action figures successful? Perhaps the single most pertinent answer would be associated television shows, movies, comic books, etc. While there are certainly other obvious factors that play into the success of various action figures, such as quality of craftsmanship and timing as to when the figures will hit the market, it sure helps if the public has already come to know the characters. Here are some of the latest in shall we say, celebrity figures?
Toy Biz Means Business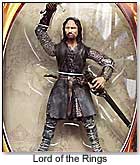 The award-winning The Lord of the Rings is one of the most powerful and memorable movie trilogies ever produced. Commemorating such a cinematic accomplishment is Toy Biz's line of The Lord of the Rings Collector Series Action Figures ($5.99). Created with highly articulated laser technology, each 6" figure captures the essence and uniqueness of its associated movie screen character. There are four assortments designed for each movie, with a total of 12 assortments to collect. The last three assortments are scheduled to be released in October.
Toy Biz has also released a large assortment of Spiderman 2 action figures to add momentum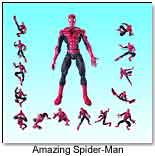 to the public's anticipation of the Spiderman 2 movie, due to be released in July. These figures include the 18" Amazing Spider-Man ($24.99), which features 67 points of articulation and a removable wrist launcher. There is also The Ultimate Water Shooting Spider-Man ($19.99), which comes with three water web-shooting attachments that shoot water over ten feet. The Ultimate Web Shooting Spider-Man ($19.99) features a removable handle and shoots projectiles over six feet. There is also a line of 6" Spiderman 2 action figures ($7.99) which come in four assortments, primarily featuring variations of Spiderman, but also including Dock Ock with Tentacle Attack Action and Doc Ock with Bendy Tentacles.
In June, Crime Fighting Spiderman ($16.99) will hit the market. This figure features a virtual action controller, enabling movements such as a various punches and kicks, complete with sound effects.
Be on the lookout for Electronic Floor Crawling Spiderman ($16.99), coming out in August. This figure crawls at two different speeds and features a turning head and eyes that light up.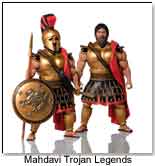 Mahdavi Visits 1200 B.C.
Mahdavi Toys (ToyShow) has chosen to launch their line of ancient Greek and Roman action figures in conjunction with the long awaited movie, Troy, starring Brad Pitt. The Mahdavi Trojan Legends Action Figures ($9.99 to 11.99, ages 4 and up) collection features some of the mythological greats such as Achilles, Oddyseus, Hector, and Aenas, as well as other Greek and Roman soldiers. Each is 6 inches tall, highly detailed, and comes with removable gear, including helmets, belts, armor, capes and various weaponry.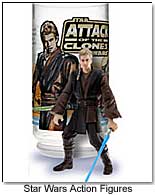 The Force is With Hasbro
Hasbro has got galaxies to offer Star Wars fans with their latest line of 3 3/4´" collectible action figures. There are several memorable characters to choose from, all designed with appealing and masterful detail. The sets are distinguished in "waves" one through six. Of note is a collector's set featured exclusively at Target Stores, whereby each figure comes with a colorful and highly collectible Star Wars glass. There is also a Han Solo AT-ST Driver action figure, as well as an Ewok with attack glider.
More From Hasbro (Than Meets the Eye)
Hasbro has also released a 20th Anniversary Edition Optimus Prime action figure ($79.99, ages 5 years and up). This 12 inch tall figure is modeled after the original comic book and 1984 TV animation of Optimus Prime. The die-cast figure is equipped with many appealing features such as light up Matrix Annex, spring-loaded suspension, removable hands, Data Com interface screens, a Megatron Pistol that can be disassembled, an Energon Axe, an Ion Blaster and, of course, the ability to transform into a semi-truck.
Playmates Is Talking Simpsons
Playmates has unleashed two new and interactive Simpsons products to the toy market. The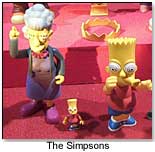 first of these is a World of Springfield Figure Assortment, which includes various Simpsons characters such as Benjamin, Gary, Doug, Evil Homer, Brainfreeze Bart and others. These 5" tall figures can be placed on top of the World of Springfield Town Square Environment ($24.95), a recreation of the Town Square as it appears on The Simpsons TV show. Once a figure is placed on The Springfield Town Square Environment, it plays audio clips of random phrases exclusive to that particular Simpsons' character. The Town Square Environment comes with an exclusive Jebediah Springfield figure.
Dark Horse Offers Hellboy Collectibles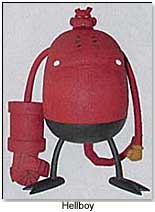 Eric So has created a special limited edition version of Mike Mignola's Hellboy ($165.00). Only 999 figures were made and the majority of those are being sold in Hong Kong and Japan. Nevertheless, Dark Horse (ToyDirectory) has obtained a quantity of the figures to be sold in the United States and Europe. The figures are 13" tall, highly detailed, and feature an embellished and modernistic approach to anatomy. The Hellboy figure comes with a trench coat, utility belt and gun, as well as a certificate of authenticity signed by Eric So and Mike Mignola.
Dark Horse will also be releasing two boxed sets of 3.5" plastic figures ($14.99), commemorating the characters as they appear in the Hellboy film. There is a "Good Guys" set featuring Hellboy, Liz Sheridan and Abe Sapien. The "Bad Guys" set includes Grigori/Rasputin, Kroenen and Sammael.
McFarlane Toys Salutes "The King of Rock n' Roll"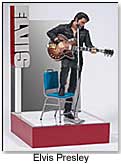 Marking the 50th anniversary of Elvis Presley's first record release, McFarlane Toys has created the Elvis Presley Super Stage action figure ($12.00-$15.00). The highly realistic and collectible 6" figure was designed after the 1968 Comeback Special, which was broadcast on television and which put Elvis back in the limelight. The figure is clad in Elvis's signature black leather costume, and depicts the King of Rock n' Roll playing his guitar and singing while propping a foot up on a chair.