---
Construction Toys: Building With H2O
New Sets Boast Creative Freedom, Just About Anywhere
The Aquastruct Toy System (ToyShow) takes construction to an unfamiliar place — the shower — employing pipes, hoses, sprayers and more so that tweens can enjoy the laborious task of getting clean. Other innovations that manufacturers told

TD

monthly Magazine about include Cardtivity sets that feature patented lightweight cards to make bigger, more graphic creations. And the Fortamajig from The Happy Kid Company (ToyDirectory) modernizes fort construction with a portable unit that offers creative freedom minus the hassle.

See where else companies have gone with the latest in construction: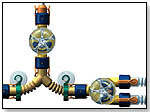 MSRP: $34.99

Age Range: 7 and upLaunch Date: August 2007Gender: Boys And Girls





Created by Jim and Lori Phipps, parents of five who faced the dilemma of getting their children into the shower, The AquaStruct Toy System lets tweens plumb and replumb the walls of their baths and showers with stylish, suction-cup-mounted pipes, hoses, valves, sprayers, misters, nozzles and squirting devices. This is accomplished using proprietary zero-insertion force, easy release and no-twist connectors that provide a leak proof, plumbing grade seal. The X Kit includes 16 parts, the XL Kit ($64.99) includes 26, and the XXL Kit ($94.99) includes 44. Launch date: trade - February 11, 2007; public - August 1, 2007.
― Diana Glasier, owner of Green Caboose in Stroudsburg, Pa., was "looking" at this bath-construction kit, and will "possibly" order it. "Everyone loves to shower, and this makes it fun," she shared with TDmonthly.

ToyDirectory Product ID#: 11005

(added 1/8/2007)

.

AD
---




MSRP: $49.95

Age Range: 3 to 12Launch Date: February 2007Gender: Boys And Girls





The Fortamjig provides a fun, easy way to build cool play spaces anywhere. The Fortamajig measures an open 8' square and is created out of durable nylon ripstop with no hard pieces to break or lose. It has open-able, stretchy loops around the interior and exterior edges for attachment to chair backs, tree branches, doorknobs and more, and features a closable mesh window, a flap door and four corner pockets. A reversible double-layer design is available for $89.95. This product is a Fall 2007 Parent's Choice Gold Award and Summer 2007 Dr. Toy Best Product Award winner. Launch date: February 2007.
— "The Fortamajig's open-ended design allows kids to create any play structure they can imagine, both indoors and out. Parents will appreciate the versatility the Fortamajig offers in one lightweight, portable and washable unit," founders Katherine Huck and Kristen Stocking of The Happy Kid Company told TDmonthly.

ToyDirectory Product ID#: 10998

(added 1/8/2007)

.

AD
---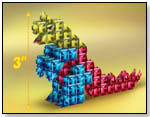 MSRP: $29.99

Age Range: 7 and upSKU or Item #: 9103Launch Date: September 2007Gender: Boys And Girls





This plastic card building system uses patented, diagonally scored, lightweight, thin panels with a tab/slot interlocking system. It allows for bigger, fuller building with high-intensity graphics. The set gives children step-by-step model instructions for creating a 3.5' tall T-Rexerator, and includes a limited edition 1st Series Collector Trading Card model picture. It presents a "new way to build" and includes 300 plastic cards that measure 3.5" by 3.5". Other sets include the X-Cycle and ShipVenture.
— "Cardtivity builds simple because of its patented 'one card' design. Most of the major brand construction gifts for kids, ages 7+, have brilliant model playsets, but the number of different-sized pieces and their gazillion-page instruction booklets can be mind boggling to figure out," Chief Imaginologist Jamie Greenberg of Cardtivity told TDmonthly. Launch date: Fall 2007.

ToyDirectory Product ID#: 10940

(added 1/5/2007)

.

AD
---




MSRP: $34.00

Age Range: 5 and upSKU or Item #: 90Launch Date: February 2007Gender: Boys And Girls





DragonBonz joins a series of colorful, anatomically incorrect and interlocking construction pieces that enable children to assemble whimsical characters from their imaginations. It includes 55 construction pieces and is compatible with other Bonz sets. Specially designed hooks allow any DragonBonz character to "fly," using lengths of monofilament included in the package. Featured pieces include a bright green and blue dragon head with moveable jaw, translucent orange tongues of fire, rattling snake tails, a teal chrome sword and six poseable eyes.
— "What makes it so innovative and distinctive is that it's not electronic but it's totally modern!" Susan Holden, head of Curious Toys, told TDmonthly. Launch date: February 11, 2007.

ToyDirectory Product ID#: 11007

(added 1/8/2007)

.

AD
---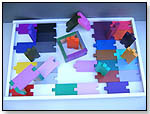 MSRP: $189.99

Age Range: 5 and upLaunch Date: March 2007Gender: Boys And Girls





Created by award-winning designer Karen Hewitt, TINTE is both an art object and a toy that appeals to children and playful adults. As an interactive art object, the myriad design combinations become intriguing, two-dimensional works of art, equally at home on the living room wall or a child's bedroom. As TINTE is both a plaything and educational toy, builders of all ages delight in constructing three-dimensional structures with TINTE's 42-color, modular, hardwood blocks while exploring the basics of color theory: hue, value and intensity. The product comes with a hardwood frame with a sliding Plexiglas cover. An illustrated booklet on color theory is included. Launch date: March 2007.

ToyDirectory Product ID#: 10964

(added 1/5/2007)

.

AD
---

Writer's Bio:
Julie L. Jones has written articles for both newspapers and magazines. Before joining the staff of TDmonthly Magazine, she worked as a communications writer and provided editorial support for a market research company.
Read more articles by this author
THIS BANNER IS AN AD:
---
---