---
Sporting Goods: Toys Talk Back
Innovative Items Run Out the Old and Tell a New Story
These days, even flying discs need to be high-tech to lure in kids: Duncan Toys' Throw & Tell lets chatty tykes throw messages clear across the field, thanks to a recording device in the disc. Other innovations that manufacturers shared with T

D

monthly Magazine include Astone's inflatable, electric-powered Ocean Scooter, and ACT International's Zogo (ToyShow), a skateboard that gets kids going with a rope-powered propulsion system.

Read on for more sporty innovations: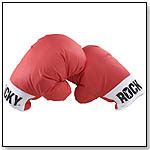 MSRP: $19.99

Age Range: 5 and upSKU or Item #: 79019Launch Date: September 2006Gender: Boys





Now "Rocky" fans can duke it out just like Rocky and Apollo with Jakks' electronic, real-sounds Rocky Boxing Gloves. Each padded glove contains a motion-activated audio chip that allows kids to hear audio clips from the movie, as well as authentic sounds from the boxing ring. Launch date: September 2006.

ToyDirectory Product ID#: 11161

(added 1/12/2007)

.

AD
---




MSRP: $99.00

Age Range: 5 and upSKU or Item #: 8910Launch Date: March 2007Gender: Boys And Girls





This is the world's first skateboard with a patent-pending propulsion system. With this simple and easy-to-operate skateboard, the Zogo rider just sits or stands on the board and pulls up on the ropes to make Zogo go. A pivoting caster assembly in the front makes it easy to turn simply by putting more weight on the left or right foot. It does not only bring the zooming fun, but also provides kids with plenty of exercise, especially for the upper body, and improves balance and coordination. Three colors are available: red, blue and green. Kids will like its racecar-like look. This model is a limited edition with only 1000 units available. Inventor Hong Prodnuk told TDmonthly that her young daughter "loves it so much and can also sit down and pull the ropes. [It's] just very good for the beginners." Launch date: March 2007.

ToyDirectory Product ID#: 10635

(added 12/12/2006)

.

AD
---




MSRP: $24.99

Age Range: 6 and upLaunch Date: February 2007Gender: Boys





The Hot Wheels® Racing Timer lets kids create a race course right in their own backyard. Victory flags, "applause" and an announcer voice reveal a clear winner, and a digital LCD screen displays both time and speed for two racers. It can be used on foot or with bicycles.
— "Hot Wheels is encouraging kids to get out and play with a cool new line of performance products that will get kids moving," Michele Sturdivant of Mattel Brands Public Relations told TDmonthly. "The Hot Wheels Racing Timer delivers a complete competitive experience all in one toy." Launch date: February 2007.

ToyDirectory Product ID#: 11021

(added 1/8/2007)

.

AD
---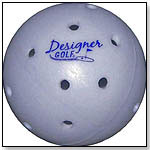 MSRP: $7.95

Age Range: 4 and upSKU or Item #: 853109000026Launch Date: January 2007Gender: Boys And Girls





This revolutionary plastic golf ball features a weight and hole pattern that has been tested and endorsed by golf professionals to simulate true golf ball flight with the best possible feel. It is extremely durable and will only fly a maximum of 130' when struck with a driver. The Designer Golf Ball allows golfers to practice their swing in the comfort and safety of their own backyards.
— "Unlike ordinary wiffle balls, which have erratic flight characteristics, the Designer Golf Ball reacts just as a real golf ball would," Andy Golden of Designer Golf told TDmonthly about the ball's unique quality. Launch date: January 1, 2007.

ToyDirectory Product ID#: 10997

(added 1/8/2007)

.

AD
---

Writer's Bio:
Julie L. Jones has written articles for both newspapers and magazines. Before joining the staff of TDmonthly Magazine, she worked as a communications writer and provided editorial support for a market research company.
Read more articles by this author
THIS BANNER IS AN AD:
---
---