---
TDmonthly's Developmental Expert
Toys That Do More Than Play
Christina Liu uses toys to help kids with or at risk for developmental delay reach their full potential. Her goal is to educate parents on how children develop and to sensitize them to the uniqueness and individuality of their child. Here she shares her opinions about some of the toys that came

TD

monthly Magazine's way, rating them on a scale of from 1 to 5 TDs (for

TD

monthly!), with 5 being the highest score.

This month, she gets kids drawing … on their faces, takes off in a space module, and more.

Push Up Face Paints by CRAFTY DAB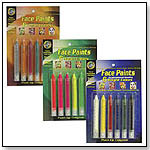 Age: 6 and Up
Gender: Boys and Girls
Category: Arts & Crafts
Price: $4.00



TD

monthly rating:




First Impressions
Each package of face paint comes with six different neon or bright colors. They are non-toxic, hypoallergenic and easy to wash off. The paint is shaped into a crayon, which makes application easy. As the colors are used up, kids just have to push up on the clicker and they're ready to go.

Skill Reinforcement
These face paints are great for creativity and arts and crafts activities for all occasions, from holidays to school projects. The girls who used the paints loved them because they felt like mommy putting on her makeup. The paints allowed children to draw on each other's faces … without getting into trouble!

Recommendations
Push Up Face Paints were incredibly easy to use. The narrow tip of the crayon-like paint allows for precise application, especially around sensitive areas such as the eyes and lips. Contact with fabrics, carpets and upholstery should be avoided. They may melt, so do not leave near heat.

---
Space Module by PACIFIC PLAY TENTS INC.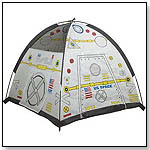 Age: 3 and Up
Gender: Boys and Girls
Category: Play Houses



TD

monthly rating:




First Impressions
The play tent is designed to look like a spacecraft. There are two roll-up "hatch flaps" for easy access in and out of the space shuttle. The material is durable, washable and has a waterproof floor. It sets up like a tent and comes with a carry bag.

Skill Reinforcement
The Space Module is a great tool for the imagination. A younger child can pretend he or she is an astronaut heading out on an important mission. An older child can use it as a secret hideout or take it outside for a night under the stars.

Recommendations
Adult assistance is needed for assembly, especially with the tent poles. This was a great addition to the dramatic area, and provided a quiet place for the children to sit, read, or listen to music.

---
Veggie Rattles by BLABLA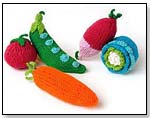 Age: 0 to 2
Gender: Boys and Girls
Category: Infant & Toddler
Price: $28.00



TD

monthly rating:




First Impressions
These veggie rattles are beautifully hand knit and the cotton material is extremely soft and colorful. The veggie set comes with a carrot, radish, pea, tomato and cabbage. Each contains a rattle cushioned by soft cotton.

Skill Reinforcement
Sound recognition and vision localization are some of the skills reinforced with these rattles. Different colors and names of vegetables can be introduced as the child gets older.

Recommendations
The Blabla collection features a variety of hand-knit items, from mobiles and dolls to sweaters and booties. Each is absolutely exquisite. The veggie rattles have a loving and homey feel, as if your grandmother had made them just for you.

---
I Spy Eagle Eye by BRIARPATCH INC.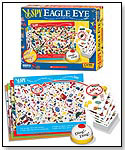 Age: 5 and Up
Gender: Boys and Girls
Category: Games



TD

monthly rating:




First Impressions
Familiar with "I Spy" books? This game version can entertain any group of children. It comes with four double-sided game boards, 30 double-sided cards and a bell. Up to four players can play, and there are instructions for three different play patterns.

Skill Reinforcement
The gameboards are like the books; they have familiar rhymes that prompt a player to find specific objects. As with any I Spy product, children enhance their visual acuity as well as their reflexes as they ring the bell first to win the round.

Recommendations
I Spy products stimulate the mind and are fun for children. The children loved searching for the objects. I Spy Eagle kept them well occupied. This game version allows the children to use the boards like the books, or in a group with their friends.

---
Letter Hold 'Em by ON THE SPOT GAMES


Age: 12 and Up
Gender: Boys and Girls
Category: Card Games



TD

monthly rating:




First Impressions
The Letter Hold 'Em cards are like regular playing cards, but with a twist: Each card comes with a letter. To play a game like poker, a word must first be made with the cards before a poker hand can be played. If a player makes a three-letter word, for example, he can only use those three cards for his poker hand.

Skill Reinforcement
This game is a combination of Scrabble and poker. The player must try various combinations to make a word and figure out which word will make the best poker hand. This reinforces language and vocabulary development.

Recommendations
It was more difficult to make a poker hand, being limited to the cards in a word. But since the cards are also playing cards, kids can go on to play any regular card game, too.

Writer's Bio:
Christina Liu has worked for more than three years as an early intervention specialist, concentrating on children 0 to 3 years old. She uses toys to foster development, which makes the whole process a lot more fun. She has a B.A. in Child Development and Family Studies from California State University and is currently pursuing an M.A. in Human Development at Pacific Oaks College and Children's School.
Read more articles by this author
THIS BANNER IS AN AD:
---
---