---
Simple Toys Teach Best
Imagination Prepares Babies and Toddlers for School and Beyond
"When you're a baby, everything is an education." — Maggie Wattenmaker, The Village Toymaker

With additional reporting by regional correspondents Dennis Furlan, Elizabeth Greenspan and Brenda Ruggiero

Two-thirds of the retailers

TD

monthly surveyed indicated that educational purchases begin with ages 4 and younger. "Birth to 5," is when parents buy these toys because they're "most concerned about [teaching] their kids before they go to school," Char Mcaulay, manager of Toy Town in Casper, Wyo., told

TD

monthly.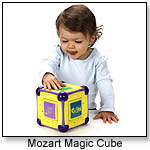 Dr. Kathy Hirsh-Pasek, child psychologist and co-author of "Einstein Never Used Flash Cards," believes parents buy educational toys out of fear. "I've never met a parent who doesn't want the best for his or her child. We've been convinced by marketing ploys that if we buy educational toys…our children will be in a better place entering school."

But "educational," for older as well as younger children, can mean many things.

What's Selling

At Frankenmuth Toy Co. in Frankenmuth, Mich., educational means Playmobil (ToyShow). It sells because "it allows children to use their imagination," owner Judy Bergelin said.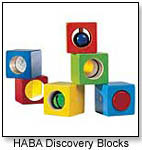 Dr. Hirsh-Pasek commented that the best educational toys for young children are "90 percent child and 10 percent toy," and foster imagination. Old-fashioned toys — blocks, crayons, clay and balls — really matter, she added, and puzzles are extremely educational. For example, a 2005 to 2006 study funded by MEGA Brands and led by Dr. Dimitri Christakis at the University of Washington, conducted with children ages 1 ½ to 2 ½, revealed that block play contributes to improved language development. [1]

Maggie Wattenmaker, manager of The Village Toymaker in Memphis mentioned Brio and Small World Toys blocks, and touted engaging products from HABA (ToyShow) and Manhattan Toy (ToyDirectory). "When you're a baby," she said, "everything is an education."

Three of 18 retailers mentioned wooden puzzles by Melissa & Doug as best-selling educational toys. "They put a lot of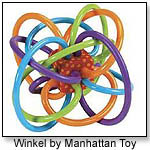 quality into them," said Joel Hardy, co-owner of Magpie Toys in Red Lodge, Mont.

What to Make of It

Though parents are prone to purchase educational toys for children of all ages, it's key to remember the importance placed on early development. Because when it comes to infants and toddlers, everything really is an education.

Here are the products retailers said are teaching little ones (and older kids):







Wood Creations Farm is made of classic natural wood with the proven versatility of the Maxi Blok building system. Farm set includes basic building elements, detailed themed parts and adorable animals.

.

AD
---






A new cannon, more pirates, more gadgets and a hoist to swing through the air! The new Skull Pirate Ship is a pirate's dream come true. It's filled with secret compartments for booty and all the accessories needed for a swashbuckling adventure at sea. Available at Target, Toys "R" Us and specialty for an estimated retail price of $29.99.

.

AD
---






.

AD
---






.

AD
---






.

AD
---






These solid rubberwood blocks are cut into a variety of fun, architectural shapes, and finished to prevent splinters and slightly rounded at the corners to keep play safe. Each of the precisely engineered blocks — rectangles, columns, pillars, arches, triangles and more — is exactly related in size to the basic unit blocks, which helps develop problem-solving and perception skills while nurturing creativity.

.

AD
---






This classic fill-and-pour toy has a fun, contemporary twist. Whenever toddlers place a bug in or out of the frog's mouth, they hear sounds such as "ribbit," "burp" and "buzz." A door in the frog's belly opens for easy emptying, and moving the bug-shaped pieces helps develop motor skills. The product comes with three soft winged insects and a battery. Launch date: January 2006.

.

AD
---






.

AD
---






.

AD
---






.

AD
---






.

AD
---






This Figure 8 Set includes a stone bridge, water tower and cargo car along with Thomas, Sir Topham Hatt and more. The assembled set measures 42" by 22". It received an iParenting Media Award and an Oppenheim Toy Portfolio Award.

.

AD
---






.

AD
---






.

AD
---






With this portable, lightweight system, letters, words and numbers come to life with the touch of a Magic Pen, and interactive learning games, sing-a-longs and word play give kids a full-throttle jump into the exciting world of reading. Children can just snap in a book, pop in a cartridge, and be ready to read and play.

.

AD
---






.

AD
---






.

AD
---






.

AD
---






The Gymini Total Playground Kick & Play is a 2006 Oppenheim Toy Award winner for its versatile structure and 17 developmental activities. The borders of the activity mat can be opened or closed to provide baby with a large play area or a cozy, womb-like environment. The Musical Kick & Play response pad can be set upright as a kickboard or placed flat for baby to touch with her hands. In either position, the pad provides 10 minutes of classical music.

.

AD
---






This new line of assorted building blocks features red, green, pink, black and white blocks for creative play. The small-scale blocks are perfect for young hands.

.

AD
---






.

AD
---
[1] Source: http://www.megabloks.com/en/corpo/pdf/children_language_acquisition.pdf
THIS BANNER IS AN AD:
---
---