---
Hollywood ToyBoy: Carteens
Toons for Teenagers are on the Rise
Synergy! Tweens! Bradjolina! When will the cutesy word mash-ups end? And now there's another one. Yup, an honest-to-Walt new word is sweeping Hollywood and the merchandise that surrounds it: Carteens.

"That would be a cartoon targeted for the always-hungry teen market," explained a platinum-haired goddess who also doubles as a development VP at a major cartoon studio. "We have the preschoolers, the 'classic' seven-to-10 audience, the tweens... which no one has figured out yet, and then we saw the demographics: teenagers watch a lot of cartoons, but with a twist...."

Sure they watch "Family Guy," "The Simpsons" and "Futurama," but they're also watching Adult Swim and weird YouTube stuff that daddy and mommy would freak about if they knew.


"We had a spike with the Batman and superhero toons a few years back," lectured a long-haired executive producer who looked like a cross between Sonny Crocket and a Deadhead as he laced his latte with an extra shot of espresso. "But then we saw that those darker actioners weren't enough. Urban Vinyl and alternative comics were where the teens were going, like RabbitHead, Interiorae and the rediscovery of the British 2000AD."

But the teens were also going back to the future: "'The Monkees,' the 'Banana Splits,' Sid & Marty Krofft," pointed out a close personal friend of mine who, unfortunately, is also an entertainment lawyer for a major Century City firm. "All the stuff we liked as kids, they like as teens now. It's hip, but also safe. And it's recently all been released on DVD."

The cartoon companies are noticing. Cartoon Network has started a long-form unit that is much more teen oriented. Disney has always had a strong teen live-action presence, but is ramping up for teener cartoons. Nickelodeon is holding out for the moment (they're strongest in pre-school, anyway), but MTV and others, more homemade and YouTubish, are rushing to fill the gap.

"Our merchandising is skewing that way now, too," put in a studio PR hack between bites of a jumbo Salad Nicoise at French 75. "It's good for collectors, but the teens are becoming collectors now. Also, the grapevine on blogs is so fast, they know what's coming out before I do half the time."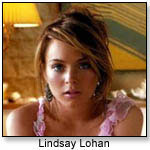 The next big synergy between Hollywood and toys that leave tweens behind, gives a whole fresh set of merchandise without Bradjolina butting in. We're talkin' carteens. Be there, or be square. Now let me get back to my reruns of "Land of the Lost" and try to figure out how to update it with a role for Lindsay Lohan … now that's a carteen.

Here a couple of carteen-inspiring comics:
RabbitHead
by
ALTERNATIVE COMICS
Other products from ALTERNATIVE COMICS
Shop for It!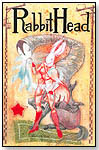 This weird and wonderful surreal western adventure inspired by Sergio Leone and Polish literature tells the many-branching story of RabbitHead and her faithful steed, Horsey, in a twisted tangential, parallel, Rashomon manner, introducing myriad characters both friendly and funny, as well as dark and dangerous. It's a hero's quest with a great heroine done in an experimental manner. By Rebecca Dart, this is one not to miss.

ToyDirectory Product ID#: 10861

(added 1/2/2007)

.

AD
---
Interiorae Vol. 2
by
FANTAGRAPHICS BOOKS
Other products from FANTAGRAPHICS BOOKS
Shop for It!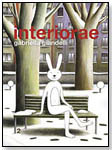 This is Gabriella Giandelli's second volume of tales featuring the characters from the apartment complex of European nowhere who meet and interact, all the time watched by the ghostly shape-shifting white rabbit who keeps tabs on them before reporting back to his shadowy master in the building's basement. It's a slice-of-life with a twist.

ToyDirectory Product ID#: 10862

(added 1/2/2007)

.

AD
---
Writer's Bio:
Mark Zaslove is an entertainment industry veteran in developing content (writing, directing and producing television and feature films) for the major studios, including Disney, Universal and Warner Bros. A two-time Emmy Award winner for writing and recipient of the Humanitas Prize (for writing uplifting human values in television and movies), Mark is also Head of Content Development for Nice Entertainment.
Read more articles by this author
THIS BANNER IS AN AD:
---
---