---
TDmonthly's DVD Expert
Videos Where Kids Are the Focus
"Tell Gwyneth to just say 'goo-goo'!" I scream into my phone. "And I don't care if Britney's found the light and wants to shake her thang for the good of all children! Tell them all that video is not the answer!" When will the madness end?

Everyone everywhere is making videos for kids. They're not writing a treatise on non-Euclidean topologies because they can add and subtract. Nor are they curing cancer because they can open a childproof cap. But give someone a kid, and they'll make a DVD — go figure. And it isn't just celebrities; every Tom, Dick and Hand-Held Camcorder Operator is doing it. But there is hope. And I shall watch these recent DVDs featuring kids themselves to bring it to you.

Going to School in India distributed by Master Communications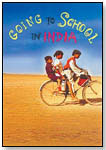 Age: 5 and Up
Gender: Boys and Girls

Kids like to see other kids on video. And when those other kids are doing cool things or living in interesting places, it's even better. Distributed via the non-profit Going to School organization, this video makes great use of both attributes as kids themselves tell their fascinating stories. Twelve-year-old Zahida Jahn, for example, lives and attends school in the middle of a lake in Kashmir.

The producer is a filmmaker named Lisa Heydlauff, who lives in India and knows of what she shoots (as does the all-Indian crew, special kudos to director Vikash Nowlakha). It's solid meat-and-potatoes video-making with good composition, snappy editing and a modern Indian soundtrack that bounces right along.

But the real stars are the places: Kashmir, Bombay, the monastery in Ladakh and the mud desert of Godhra... and that's the clincher for the audience. Plus, each kid is charming, charismatic and likeable. Who doesn't want to go to school by boat? Or walk to school in the dark? Or live high in the mountains? This video takes viewers far away for a unique look at something as familiar as school.



TD

monthly Rating:

| | |
| --- | --- |
| Budget | |
| Creativity | |
| Bells & Whistles | |
| Usefulness | |
---

Girls Gotta Dance With Ballerina Jen by Start Smarter Videos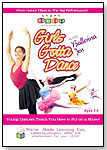 Age: 5 and Up
Gender: Girls

Everybody wants to dance ... or so the number of dance DVDs suggests. Why this DVD? Jenny Gould is a real ballerina, having performed with the New York City Opera and Atlanta Ballet, so that's a start. Second, it's supposedly all about the performance — from getting up en pointe to applying makeup to receiving roses.

Despite "American Idol" and "America's Next Top Model," the 7th- and 8th-grade girls in this video are not too slick, bulimic or unattainable. In all shapes, colors and sizes, they could be any-girls USA — a good thing.

Ballerina Jen is personable and knows her stuff (hey, even a reviewer has to go to the barre sometimes). Three dance numbers are performed, and two are discussed from warm-up to final performance.

Though the case says "Young Dancers Teach You How to Put on a Show," it's almost a "day-in-the-life" video, and not instructional. No dance is taught, and costume-making isn't demonstrated. It's more about the girls going through preparation in sound-bite form. Viewers get a feel for girls being girls, but it seems to limit the audience.

The videography is just a step above shoestring, neither revealing nor particularly creative. There's a lot of the "home movie" feel to it, and for $14.99, one expects more. Still, for little ballerinas, it's a positive look at the fun of taking ballet and performing.



TD

monthly Rating:

| | |
| --- | --- |
| Budget | |
| Creativity | |
| Bells & Whistles | |
| Usefulness | |
---

Yoga Ma Baby Ga by Down Dog Productions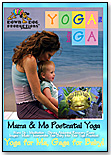 Age: 0 and Up
Gender: Boys and Girls

OK, this isn't strictly a kids-teaching-kids video; it's really for moms who just had kids and want to get back into shape the yoga way. It has lots of babies in it, and newborns and rug rats will likely be fascinated by the on-screen goo-goo ga-gas.

Built in three parts — mom and child, just mom and just kid (a repeat of background footage from part one) — it's nicely shot in a budget-conscious manner, and takes the viewer through a yoga routine step-by-step. Soothing background images (mostly of ocean, undersea and beach) and soft New Agey yoga music accompany the instruction.

The well-written video has a truthful first-person mom and yoga instructor feel (Jo Ann Colker Arison, R.Y.T.). Anyone with a new kid will relate to and benefit from this DVD. It's a good example of what a small-production DVD should be, and it's definitely recommended for the yoga ma in all of us.



TD

monthly Rating:

| | |
| --- | --- |
| Budget | |
| Creativity | |
| Bells & Whistles | |
| Usefulness | |

So, those are this month's DVDs — all of them with a big on-screen kid focus, which makes sense. More kids, less celebrities! "Hold my calls! I'm gonna have hot cocoa."
Writer's Bio:
Mark Zaslove is an entertainment industry veteran in developing content (writing, directing and producing television and feature films) for the major studios, including Disney, Universal and Warner Bros. A two-time Emmy Award winner for writing and recipient of the Humanitas Prize (for writing uplifting human values in television and movies), Mark is also Head of Content Development for Nice Entertainment.
Read more articles by this author
THIS BANNER IS AN AD:
---
---