---
TDmonthly's Book Expert
One Educated Bookworm's Opinion
If you want to know which books to sell in your toy store, find out what the kids have to say. Each month, children's book author Dorothea DePrisco Wang reads new titles to kids and then gives her educated opinion on positioning and sales to

TD

monthly Magazine readers, and rates them with 1 to 5 TDs (for

TD

monthly!), with "5" as the highest rating.

This month, she gets in a gunfight, celebrates Ramadan, travels with Odysseus, and more.

Title: Gunfight at the O.K. Corral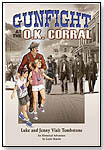 Author: Gayle Martin
Company: Five Star Publications Inc.
Ages: 9 and Up



TD

monthly rating:




What It Is: An historical (but fictional) account of the gunfight at the O.K. Corral with Wyatt Earp, Morgan Earp, Virgil Earp and Doc Holliday.

Why You Should Carry It:
I love the history of Tombstone, so this was an exciting find for me. I'm also bored with friendship reads and the Harry Potter knock-offs, so I was pleased to see something different for both boys and girls.

Gayle Martin is a living history speaker. She brings life to this story and includes relatable new characters. Luke and Jenny are siblings whose mother takes them to Tombstone, Ariz., as part of a vacation. They are swept back to the past to relive the time when Wyatt Earp stood up to the cowboys at the O.K. Corral. If you're a fan of this period in history, it's a good retelling. For parents, homeschoolers and teachers, it opens up discussions about morals, judgments and accountability.

What Kids Think:
I asked some boys and girls to take a look at a few chapters and also asked children who are familiar with these events to read it. They enjoyed it and said it was a quick and "cool" read.

---
Title: Be Careful and Stay Safe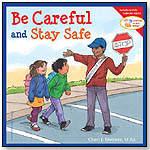 Author: Cheri J. Meiners, M. Ed.
Company: Free Spirit Publishing
Ages: Early Childhood



TD

monthly rating:




What It Is: A paperback book for kids about being careful and safe in neighborhood situations.

Why You Should Carry It:
If you carry books from Free Spirit Publishing, you probably want the next book in this series. If you want to carry Free Spirit Books because you like their approach and support their mission statement, "helping kids help themselves," it wouldn't hurt to try some a few at a time, because they don't jump out as stand-alones.

If the type of parent who buys these books is coming into your store, they will relate to more than a few subjects. Other books in this series include "Accept and Value Each Person," "Talk and Work It Out," "Try and Stick With It" and "When I Feel Afraid."

The tone of the books is fine, although I am reminded of Joy Berry's "Help Me Be Good Book Club" from Scholastic Inc. Many teachers, parents, day-care providers and homeschoolers may find the Free Spirit line useful.

What Kids Think:
Are kids purchasing these kinds of books? Probably not. But the parents, teachers and librarians who do will offer them to kids.

---
Title: The Adventures of Odysseus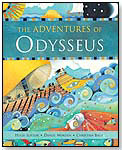 Authors: Hugh Lupton and Daniel Morden
Illustrator: Christina Balit
Company: Barefoot Books
Ages: 5 and Up



TD

monthly rating:




What It Is: A hardcover book based on Homer's "The Odyssey," the epic poem that lauded the Greek warrior Odysseus.

Why You Should Carry It:
This is not a book for average 5-and-up children. What we think in publishing is appropriate "technically" is not always accessible to the general public. The art, design, text and execution is more appropriate for an 8-year-old bookworm who likes adventure. And I love it because I was an 8-year-old bookworm!

The bold, dimensional illustrations by Christina Balit reminded me of the work she'd done on "The Zodiac," published by Frances Lincoln Ltd. (VIEW ARTICLE) This book focuses on the story of Odysseus. Ten years after the Trojan War, he sets out on the open sea to return to his homeland, and his struggle with Poseidon, God of the Sea, begins.

Professional storytellers Hugh Lupton and Daniel Morden give the old Homer classic new life. "The Adventures of Odysseus" is a wonderful way to introduce children to the myths and magic surrounding this ever-popular tale.

What Kids Think:
I let some of the older kids (8-year-olds) in our neighborhood give this a look. Some loved the illustrations, though they thought they were a touch odd (but, as they admitted, so is the story).

---
Title: The Barefoot Book of Classic Poems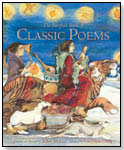 Compiled and illustrated by Jackie Morris
Introduced by Carol Ann Duffy
Company: Barefoot Books
Ages: 5 and Up



TD

monthly rating:




What It Is: Seventy-four famous and favorite poems from various deceased poets.

Why You Should Carry It:
This would make a lovely gift book. The production is well done, particularly the front and back endpapers, cover and jacket. The cover features tasteful gold-foil stamping. The poems include such classics as "The Owl and the Pussy-Cat," "The Jabberwocky," "Furry Bear," "If," "Dreams," and "The Tale of the Custard Dragon." A compilation of Edward Lear, Lewis Carroll, A.A. Milne, Rudyard Kipling, Langston Hughes and Ogden Nash is a great treasure for stores where customers take their time to peruse the shelves.

What Kids Think:
I showed this book first to adults, who loved it for themselves and their children. The children who looked at it, 8- to 10-year-olds, thought it was pretty, but their attention span for the poems was shorter than I'd anticipated. Many of the children commented that they liked the illustrations. This is probably the kind of book that kids appreciate more when it's in their homes and they can look at it at their leisure.

---
Title: Maisy's Book Tower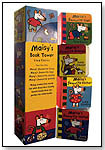 Company: Candlewick Press
Ages: 2 to 5



TD

monthly rating:




What It Is: A vertical boxed tower of four mini "Maisy" books.

Why You Should Carry It:
It's a good impulse buy and a good gift, especially for Maisy followers. The books are simple one-word concept books.

What Kids Think:
The 3-year-olds grabbed the book tower immediately. The kids who liked Maisy loved it — especially the girls. The boys built towers with the books and asked if Maisy were a girl or a boy and if she were a dog or a mouse.

---
Title: Tic Talk: Living With Tourette Syndrome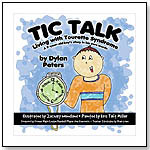 Author: Dylan Peters
Company: Five Star Publications Inc.
Ages: 8 and Up



TD

monthly rating:




What It Is: A true story about 9-year-old Dylan Peters living with Tourette Syndrome.

Why You Should Carry It:
When you look at the cover of this book, as a buyer you may see it as dealing with a very narrow subject. However, the other messages that are delivered in this book are worth trying it on your shelves. You will need to be creative when placing it. Do you have an area for inspirational titles?

"Tic Talk" is an amazing read because a 9-year-old writes about his life with Tourette Syndrome, but his story is relatable to any illness, challenge or child. It is a wonderful class discussion and parent-child read. Baseball player Jim Eisenreich (who also suffers from TS) gives a great forward to the book, and Brad Cohen, author of "Front of the Class," offers a few pages of class discussion and resources for teachers.

What Kids Think:
The kids really liked that Dylan was honest and unembarrassed about his struggles. They called Dylan "brave." They liked the pictures quite a bit and had many questions. It led to a nice discussion about how we are all different and how boring life would be if we were the same! The story was quite inspirational and left everyone feeling positive.

---
Title: A Dragon on the Doorstep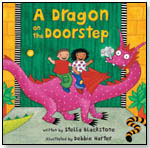 Author: Stella Blackstone
Illustrator: Debbie Harter
Company: Barefoot Books
Ages: 0 to 7



TD

monthly rating:




What It Is: A paperback and CD about children playing peek-a-boo with animals.

Why You Should Carry It:
I was truly disappointed in this one. The book is about a boy and girl who find wild animals in their house and then hide them.

"There's a spider in the attic, Quick! Get out of here!
Let's put him in the toy chest and hope he'll disappear!"

But nothing hilarious happens in the illustration or the text. It would have been better even if they'd used (and I hate to say this) a peek-a-boo or "come out, come out wherever you are" phrase.

What Kids Think:
Some of the kids liked the alligator hiding in the laundry room and some liked the dragon and gorilla hiding in the car. Some were scared of the lion in the laundry.

---
Title: Star Seeker: A Journey to Outer Space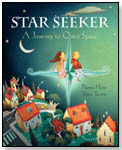 Authors: Theresa Heine and Victor Tavares
Company: Barefoot Books
Ages: 0 to 7



TD

monthly rating:




What It Is: A poetic journey through space for young ones.

Why You Should Carry It:
You should carry this title because it's hard to find a terrific space book for kids! Clearly the publisher took great efforts to put together a higher-end space book. It's really a 6- to 7-year-old read.

"Star Seeker" is a poetic, beautiful introduction to the planets, and is a lovely read-aloud. Although some of the text gives the reader facts on each planet within the poetry, it's not a non-fiction reference book. It's a beautiful book, which Barefoot is good at, right? The backmatter has good information about the planets, sun, moon and stars, and it comes with a pull-out poster of the solar system.

What Kids Think:
The children I read "Star Seeker" to were 5- to 6-year-olds. Even though not all of them were familiar with the stars, constellations and planets, they enjoyed the adventure!

They preferred pages such as this:
Like a comet I'll zoom
Over Mars's red crust,
And spy on his mountains
And valleys of dust.

Whereas stanzas like this were a touch more ambiguous:
I'll spin like a pinwheel
Through the Milky Way's froth
Take a ride on the Great Bear
And never fall off.

---
Title: Celebrate Ramadan & Eid Al-Fitr With Praying, Fasting and Charity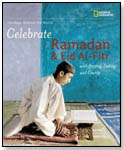 Author: Deborah Heiligman
Company: National Geographic Society
Ages: 10 and Up



TD

monthly rating:




What It Is: A photographic book that teaches children about the month-long holiday celebrated by Muslims.

Why You Should Carry It:
If you already carry the National Geographic series that I've been reviewing over the past two months, there's every reason to carry this title as well. Most children who are Muslim do not discuss their faith and community. This is an opportunity to speak about the Qur'an, Allah and Mohammed. This holiday is a time when people visit with loved ones and share their good fortune with those who are in need.

What Kids Think:
The children who read this book with me were interested in this holiday. Many did not know it existed. Many did not know anything about Muslims or what fasting was. Some of the children were too young to grasp the concepts, but the older children responded to the photographs.

---
Title: Flora Segunda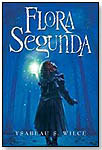 Author: Ysabeau S. Wilce
Company: Harcourt
Ages: 12 and Up



TD

monthly rating:




What It Is: A young adult novel about a girl, Flora, who lives in a house with 11,000 rooms and takes the wrong elevator, finding her family's butler (who'd been banished by her mother) and goes on an adventure to save him.

Why You Should Carry It:
"Flora Segunda" is the most confusing story for ages 12 and up I've read in a while. I liked it because it was original and a little strange. It will intrigue children, make them think, and bring a new definition to fantasy. From the positioning and the writing, I sense there will be more stories involving Flora, so if you are lacking fantasy material in this age range, try it because it is done well. It's not an easy read for this category but that could be because kids at this reading level aren't reading as much as we'd like them to.

What Kids Think:
I did not review this with children.

Writer's Bio:
Dorothea DePrisco Wang is the author of more than 40 books for children. Dorothea has 14 years of experience in the publishing industry, beginning her career with Scholastic Inc. She later became executive vice president and publisher of Intervisual Books Inc., where she created and executed 300 titles. She is best known for her titles published by Piggy Toes Press, such as "Eight Silly Monkeys" and "Who Stole the Cookie From the Cookie Jar?"
Read more articles by this author
THIS BANNER IS AN AD:
---
---